Farmers count loses as millers get cane from Uganda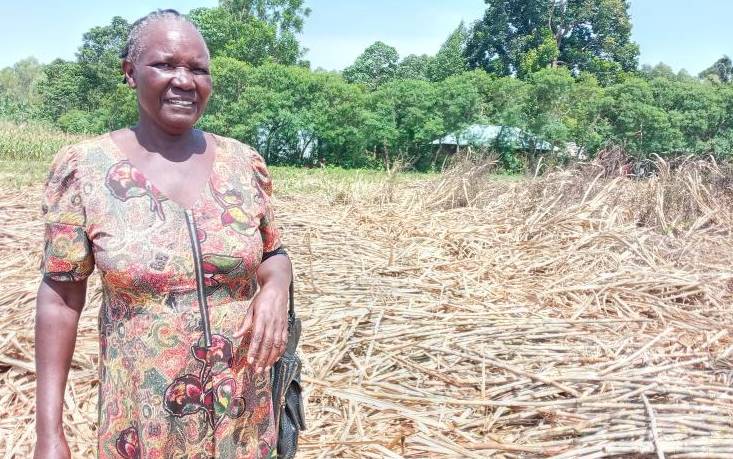 Farmers in Busia now want the government to stop the importation of sugarcane from Uganda by millers in the region.
The importation has left farmers with nowhere to sell their sugarcane. The farmers have now threatened to block entry of cane from Uganda if action is not taken in two weeks.
At least 50 trucks and 70 lorries bearing Ugandan registration numbers cross the border daily, delivering cane to factories, most of which are based in western Kenya.
Farmers from four constituencies narrated how they are being frustrated by the local millers.
In some cases, the cane matured but the farmers have not received permits to harvest. Others harvested three weeks ago and the cane has not been collected by the contract miller.
Francisca Apondi from Bukhakhala in Butula Constituency is a contracted farmer whose harvested cane has been rotting in her farm since early last month.
Apondi is worried how she will repay the bank loan she acquired to cultivate sugarcane on her four-acre piece of land.
"I have tried all means to ensure the cane is collected to no avail. I feel very bad when I see sugarcane being imported into the country whenever I am in Busia. The government needs to save us because millers are now going for cheap raw materials from Uganda," she said.
In Budalang'i Constituency, Peter Munyolo has tried to get a permit from his contracted miller to harvest the cane but he is has not been successful.
"Anytime I call officials of the miller that contracted me, I am told Budalang'i is very far and I wondered why then did they ask me to join them and plant sugarcane?" Munyolo posed.
James Opata from Sieywe struggled for three weeks before his cane was collected.
"Things have changed and the cane can stay in the field for upto a month before it is collected because the millers have opted for cheap sugarcane from Uganda," Opata said.
The Standard has established that a tonne of cane is procured from Uganda at Sh1,500, while in Busia, the same goes for between Sh3,500 and Sh3,700.
In Uganda, Masil Cane Growers Association Ltd chairman Robert Magoma said: "We have a lot of sugarcane here but the millers are few. An agreement between Kenya and Uganda has opened up the Kenyan market."
Busia Sugar Industries and West Kenya's Olepito Sugar Factory in Busia were given a window to import the raw material from Uganda last August.