Kenya risks losing Sh4.2tr as pandemic eats into economy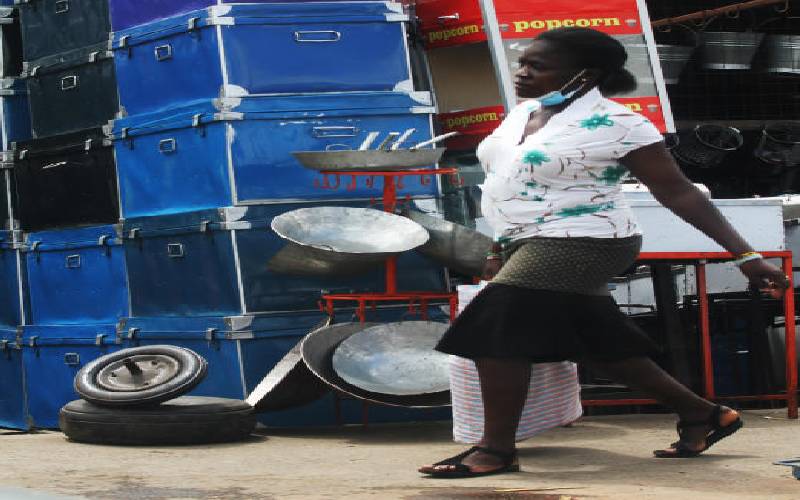 The Covid-19 health crisis will cost Kenya Sh4.2 trillion cumulatively over the next three years if recovery is slow.
According to projections by the Institute of Economic Affairs-Kenya (IEA), if the economy rebounds quickly, the cumulative losses could be less at Sh3.3 trillion by 2023 from this year's gross domestic product (GDP) levels.
With economic growth estimates scaled down in recent months as Covid-19 continues to send shockwaves across the world, even the government is at risk of defaulting on payment of salaries, according to IEA Chief Executive Kwame Owino.
The government has made effort to cushion citizens with a fiscal policy response (through tax reliefs), expenditure measures to strengthen the healthcare system, relaxation of the fiscal deficit and increased cash transfers to the vulnerable.
A monetary policy stimulus and liquidity support initiative has seen the Central Bank of Kenya reduce its benchmark lending rate from 8.25 per cent to 7.25 per cent. This was meant to make it easier for banks to lend at lower interest rates and help them offer moratoriums on customer loans.
An IEA Economic Outlook report indicates that tax income is expected to fall significantly between now and next year.
Slashed tax
The Kenya Revenue Authority, which collected Sh292 billion in corporate income taxes in 2018-19 and had a projection of Sh340.9 billion in 2019-20, might end up collecting Sh308 billion in 2020-21 even as it slashed corporate income tax from 30 per cent to 25 per cent.
Pay As You Earn total value, which was at Sh393.4 billion in 2018-19 and Sh395.4 billion in 2019-20, might dip to Sh377 billion in the next financial year.
"Fiscal incidence studies by the World Bank show that personal income tax for the top income tax bracket is regressive," says John Mutua, the head of public finance management at IEA.
"We have Sh2.95 million personal income payers in Kenya, and the many workers in the informal industry do not feel the effects of the tax relief measures," he said yesterday during a webinar on the outlook for Kenya's economy that was organised by IEA.
He said the tax relief measures should be reversed.
Value added tax however, which was at Sh414.1 billion in 2018-19 and was projected at Sh412.6 billion this year, might rise to Sh481.6 billion in 2020-21, indicating increased domestic spending.
Since the viral disease struck, about two million workers in Kenya have been directly affected through pay cuts, unpaid leave, deferred payments and lay-offs.
Notably, 83.6 per cent of Kenya's working population is in the informal sector. But even then, a disruption in the formal sector has a ripple effect on the huge informal sector.
According to Jacob Omolo, a senior lecturer at Kenyatta University, there are many informal workers in the formal sector.
"Workers that are outsourced, contracted or operate under piece-rate work agreements are informal," Dr Omolo noted.