Kenya's forest stations get hand sanitisers from KPC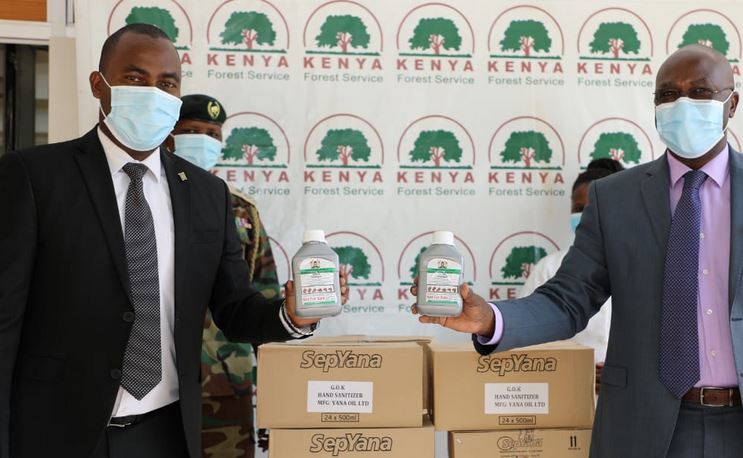 Kenya Forest Service has received from Kenya Pipeline Corporation (KPC) 20 cartons containing 480 pieces of half-litre hand sanitisers.
The Corporation has extended this assistance to the Service to support the implementation of forest protection, conservation, management activities and service to Kenyans during the prevailing COVID-19 pandemic.
The hand sanitisers will be distributed to KFS field officers and forest rangers who are located in over 170 forest stations and operation bases countrywide. KFS field staff, particularly the rangers continue to protect our forests and are the first line of engagement with the public and also in the apprehension of forest offenders, hence the need to ensure they remain protected against the pandemic.
The Chief Conservator of Forests, Mr Julius Kamau, while receiving the donation appreciated the gesture and thanked Dr Macharia Irungu, the Chief Executive Officer of KPC for the consignment. This is a sign of existing mutual collaboration between KFS and KPC in many areas which directly contributes to national development.
During the ceremony, the KFS Adhoc COVID-19 Response Committee received the hand sanitizers and noted that the consignment was a boost to KFS efforts of providing the protective equipment for use by KFS field staff.
Collaboration between KFS and KPC has been ongoing over the years. KPC has previously engaged the Service in discussions to chart out ways to support tree seedlings production and afforestation programs in areas along the pipeline as well as engagement in the adopt –a– forest program. KPC intends to support rehabilitation works within specific forest blocks, as part of the organisation's Corporate Social Responsibility that will contribute to Kenya's achievement of ten per cent forest cover.