We'll fight off receivership of Mumias, leaders vow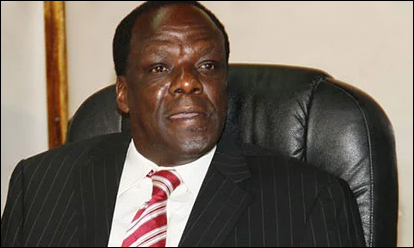 Politicians from Kakamega County have vowed to stop the takeover of Mumias Sugar Company by a bank.
The leaders voiced discontent on how revival of the miller is being treated and termed the recent notice of receivership as breach of the trust the farmers had placed in the government.
On September 24, the Kenya Commercial Bank (KCB) appointed Ponangipalli Venkata Ramana Rao of Tact Consultancy Services to act as receiver manager at the miller.
Incensed by the move, leaders now want dialogue between the bank and other stakeholders to agree on amicable ways of reviving the company before it is taken over by the receiver.
Kakamega Senator Cleophas Malala said the county government should be given an opportunity to revive the factory.
Mr Malala also urged all leaders from Western to unite and fight for a revival of the sugar industry.
"We need all leaders from the region led by Musalia Mudavadi and Moses Wetang'ula to show us the way by fighting for the revival of sugar millers," he said.
Malala asked Kakamega county government to table its proposal on how it plans to revive the miller and engage all leaders from the region.
"We are not against the revival of Mumias Sugar but we have to stop KCB from taking over only to later sell company assets, including land," said the Senator.
Kakamega Woman Representative Elsie Muhanda asked the bank to hold talks with Governor Wycliffe Oparanya over the company's future.
Former Sports Cabinet Secretary Rashid Echesa warned that the KCB takeover was not geared towards reviving the miller but to recover money the bank is owed by Mumias Sugar.
"I warned our people that this company was destined for takeover by KCB. We should not mislead our farmers that the bank can revive the miller," said Mr Echesa.
He said the miller is owed money by several individuals and institutions and called on the board of directors to claim their dues too.
"If we can have those who owe the miller pay their debts, we can in turn pay creditors and lenders their dues," Echesa said.
But even as they push for the local county government to take over operations at the miller, the leaders are now pleading with farmers to return to sugarcane farming.
They spoke on Friday during the burial of Elly Owinyi, a lawyer based in Kakamega, at Eluche village in Mumias East.
Later on Friday, the leaders led by governor Oparanya were scheduled to meet other Mumias Sugar Company stakeholders to discuss the way forward for the miller following the receivership.
The county government is also scheduled to meet the bank to discuss the receivership.