Nyeri farmers to get coffee education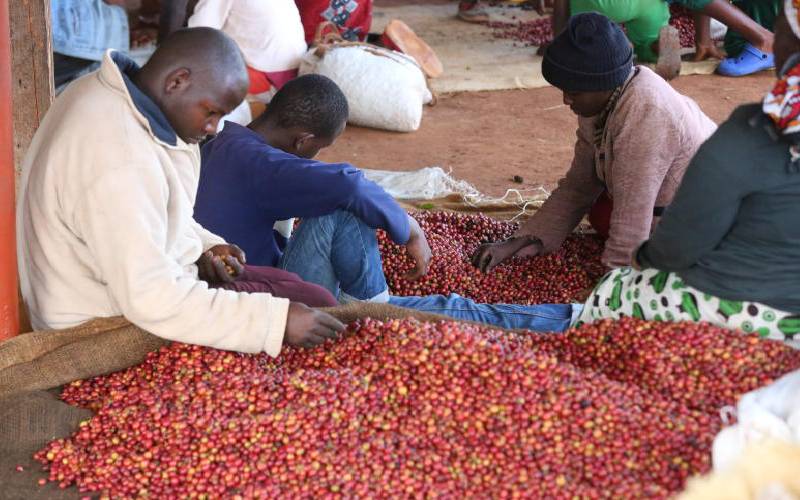 Low productivity, dilapidated infrastructure and poor governance in cooperatives have been identified as some of the challenges facing coffee farmers in Nyeri County.
The issues emerged during a stakeholders' forum bringing together county government officials, the Kenya Coffee Platform and the Coffee Sub-Sector Implementation Committee.
The coffee task force led by Joseph Kieyah educated farmers and stakeholders on coffee regulations. Prof Kieyah said the committee was focusing on creating policies to govern the disbursement and recovery of Sh3 billion from a revolving cherry fund
According to the county government, the current coffee bush production is 2kg while farmers have the potential to produce up to 30kg per bush.
Agriculture CEC James Muturi attributed the low production to unsustainable farming practices that have degraded soil quality.
"Nyeri Agriculture Department has purchased three mobile soil scanner machines as a move to promote soil fertility in the county," Mr Muturi said.
He revealed that farmers had been provided with subsidised fertilisers at a cost of Sh1,500 a bag. "This is one of the ways to help reduce the high cost of production," he said.
Governor Mutahi Kahiga emphasised the need to understand coffee regulations, saying it was the only way to bring about positive changes in the sector that would benefit farmers.
"The management of coffee factories should set standards of employment because if employees are educated, they will steer the cooperative in the right direction," Mr Kahiga said.
A preliminary report from a recent coffee cooperatives audit conducted by the national government showed that the majority of management staff only reached Standard Eight or Form Four.