Agents' licences revoked over unremitted Sh1b air ticket fee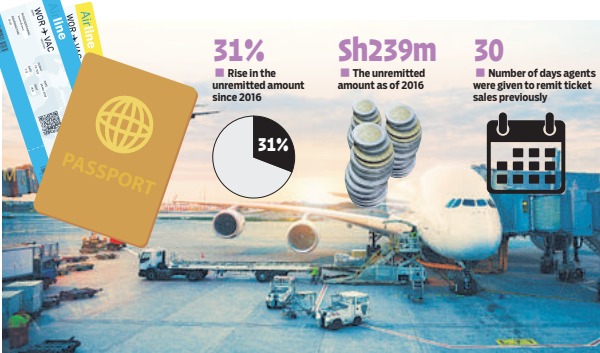 An insurance company is seeking to recover close to Sh1 billion from air ticketing agents after they failed to remit fees for tickets they sold on behalf of airlines.
The mass default has seen the licence of about 20 air ticketing agents revoked by the International Air Transport Association (IATA) after investigations revealed that some of them may have pocketed the cash instead of remitting it to IATA, an umbrella for global airlines.
IATA, which is the insured, lodged the claim under a type of cover known as default insurance cover that they have had taken with Saham Assurance Kenya. According to the Insurance Regulatory Authority (IRA), ticketing agents are expected to remit certain amounts of monies for every ticket purchased from them to IATA after 15 days for onward forwarding to respective airlines. The travel agents are the policyholders.
"This is to ensure that IATA's interests are taken care of. They (IATA) expect their accredited agents to get cover to assure them that even if the agent defaults in making the remittances, IATA does not suffer losses," Noella Mutanda, head corporate communications at IRA, told Weekend Business in a past interview.
Some of the affected ticketing agents belong to close relatives of a senior government official who owe the insurer - Saham - millions of shillings.
Saham Assurance - which religiously paid the money as soon as it fell due by more than 15 days - continues to hunt down the rogue travel agents.
Blacklisted
"They cannot do ticketing because immediately they were found to have engaged in fraud, IATA revoked their licences," said a source involved in the recovery of the money who did not want to be named.
One of the agents owes Saham as much as Sh260 million. The second highest defaulter owes the insurer, which is part of Sanlam Group, Sh31 million followed by two others with debts of Sh21.9 million and Sh20 million respectively.
The unremitted amount has risen by 318 per cent since 2016 when it stood at Sh239 million, according to a report by the regulatory body - IRA.
Saham has since hired a debt collector to try and recover the money. A source said some agents had since been blacklisted even as others opted for a resolution through the court.
Kenya Association of Travel Agents (KATA) Nicanor Sabula said he was not certain what the cause for defaults was. "I suspect non-payment by government departments could be the cause," he said
Kenya Association of Travel Agents (KATA) Chief Executive Nicanor Sabula said while the cause of the mass default by the ticketing agents could point to outright fraud, it could also be as a result of non-payment by clients, mainly State agencies.
Following massive defaults by ticketing agents, IATA in 2016 made some changes in its payment cycles, requiring air-ticketing agents to remit their money in 15 days.
Initially, air-ticketing agents were permitted up to 30 days to remit their money to the airlines' body making it possible for travellers to book their air-ticket on credit.
"Effective September 1, 2016, the credit period enjoyed by IATA accredited air-ticketing agents will be reduced to 15 days from the current 30 days," KATA told its members in a notice at the time.
Existing terms
The notice went on to explain that agents who failed to meet the payment deadline would see them declared as defaulters and denied facilities to issue tickets.
The notice, which was signed by Mr Sabula, advised corporate entities and government departments to make necessary adjustments as "existing credit terms for air tickets would be discarded in favour of cash payments."
"Consequently, in order to protect the industry from a crisis arising from potential massive defaults, existing credit terms for air tickets will be discarded in favour of cash payments," said Sabula.
Travel agents have also been accused of playing a part in Kenya Airways' loss by overcharging the premium on ticket prices to the airline's corporate clients, making its tickets non-competitive in the market. A report by audit firm Deloitte gave an example in which in 2014 and 2015, travel agents overcharged corporate clients by $312,650 (Sh31.3 million).
The insurance sector has been roiled by massive frauds. However, most of them go undetected. According to a report released earlier this year by audit firm KPMG, while Kenya had a low volume of fraudulent claims detected-18-when compared to Tanzania's 104, it had the highest number of undetected fraud cases in the region.