M-Akiba bond lists on NSE as it misses Sh250 million target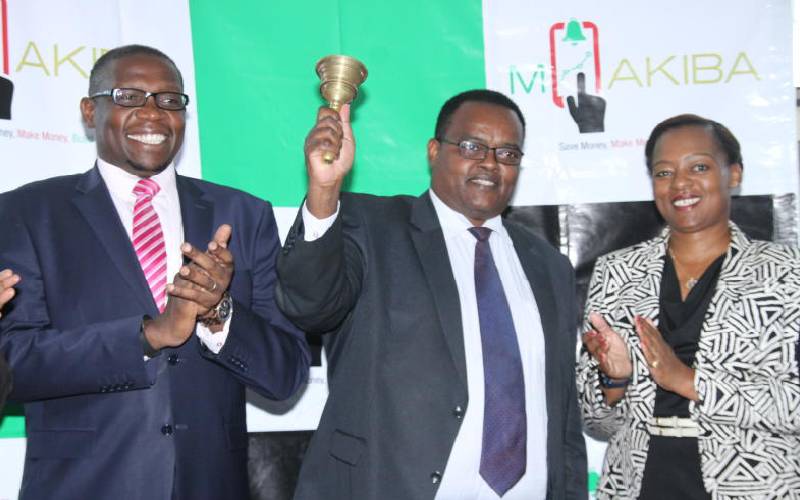 The National Treasury's second listing of the M-Akiba infrastructure bond has begun trading at the Nairobi Securities Exchange (NSE) after falling short of the Sh250 million target.
The bond issue, which was expected to attract depositors who have been earning peanuts on their deposits from banks, raised Sh179 million, representing a 79 per cent subscription rate.
The first listing in 2017 in which the Government offered bonds worth Sh1 billion failed to excite the market after it only attracted Sh247 million from the market, representing a 17 per cent uptake.
However, the current scaledown offer of Sh250 million marks a major turnaround for Treasury's bid to raise cash for infrastructure development despite failing to hit its target.
"The 79 per cent subscription rate is a clear indication of Kenyans' investment appetite and an affirmation of the need for more innovative financial products in our market," said NSE Chief Executive Geoffrey Odundo in a statement.
Prospective investors can begin trading the bond from as little as Sh3,000 on their mobile phones, with the government offering an interest rate of 10 per cent payable every six months.
The bond went on offer from February 25 and closed last week, with over 82,829 new investors registering. The maturity date has been pegged at September 7, 2020.
"The NSE will offer a world-class trading facility for the bond as it commences trading on the secondary market, enabling any investor who missed an opportunity to purchase the M-Akiba bond to do so and enjoy the myriad of benefits the bond offers," said Mr Odundo.
M-Akiba was first proposed by the Government as a vehicle to deepen financial inclusion and open up investment opportunities for investors who often shy away from the capital markets. The first issue flopped despite a two-month extension by Treasury and tax-free on return offer.
Treasury is, however, optimistic that the bond is slowly picking momentum and has since attracted more than 450,000 new investors onto the capital market's bond platform.
"The total collected during the two weeks stood at Sh197 million and we now host a total of 459,586 M-Akiba bond CDS (Central Depository and Settlement) accounts," said Central Depository and Settlement Corporation Ltd (CDSC) Chief Executive Rose Mambo.
"Since the first issue in March 2017, CDSC has paid out a total of Sh47,282,500.10 in interest, to M-Akiba investors on behalf of the Government," she said.
"CDSC paid an additional Sh12,387, 500 on Monday, March 11, 2019, bringing the total amount paid in interest to Sh59.67 million."
CDSC will maintain its role as the issuing and paying agent for M-Akiba bond, with telecommunication service providers Safaricom and Airtel as well as the Kenya Bankers Association's PesaLink listed as partners.