KRA says it has been losing Sh3 billion tax a month from Africa Spirit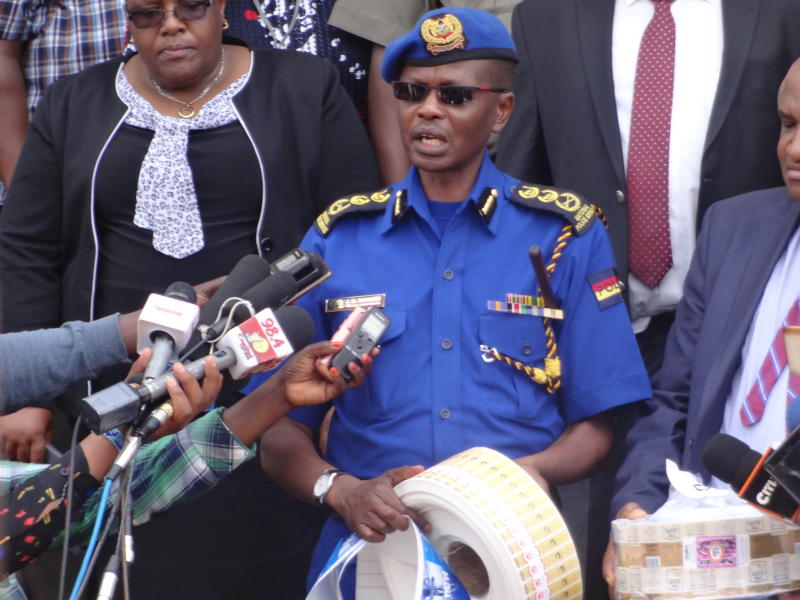 A week-long operation at a Thika-based liquor manufacturer turned up claims of tax evasion running into billions of shillings.
Inspector General of Police Joseph Boinnet, DCI director George Kinoti, Flying Squad boss Musa Yego and officers from the Kenya Revenue Authority (KRA) announced that Africa Spirits Ltd may also be dabbling in manufacture of counterfeit alcohol.
"The operation has confirmed our suspicion. This is a case of massive tax evasion and manufacture of outright counterfeit products, which is a danger to alcohol consumers," said Mr Boinnet. KRA commissioner in-charge of intelligence Githii Mburu said they seized counterfeit KRA stamps. He also claimed the company was involved in smuggling of illegal ethanol which is a key product in the manufacture of alcoholic products. "After the operation, we found out 21 million counterfeit stamps which could have made the tax collector to lose Sh1.2 billion. When the stamps are fixed on products it means no tax is paid," said Mr Mburu.
He said in one shift, the amount of tax that KRA would have lost amount to Sh93 million adding in one month, they suspect the agency could have be losing about Sh3 billion a month from the company.
"The investigation is going to continue. The entire factory is marked as a scene of crime for tax evasion and making alcohol that endanger lives of Kenyans. We have already served notice to this company to show cause why their licence should not be suspended," he said.
The commissioner said KRA has been investigating smuggling of ethanol into the country from Tanzania. "Ethanol is the main product that is used in the manufacture of alcoholics' beverages like the spirits.
"In one liter of ethanol, the tax involved is about Sh200 and so if one is able to smuggle they are able to evade huge sums of tax," he added.
The police confiscated 22,000 liters of ethanol suspected to be from Tanzania that was stored in 80 drums.
KRA said they are investigating how the ethanol came into the country and warned that any government officials who could have aided the smuggling will face the law.
During the operation that commenced on January 31, an estimated 21 million counterfeit excise stamps and 312,000 litres of illicit products valued at Sh1.2 billion tax were seized.
Mr Boinnet added all those who will be found culpable after the investigations will be held accountable. The police chief said the owner and directors of the company have since gone underground but police were in hot pursuit of them. "I want to warn other companies doing similar business to know that we are coming for them," he added. Earlier, Mr Kinoti who led the raid together with Mr Yego took to task Kenya Bureau of Standard (KEBS) officers to reveal ingredients of some of the firm's brands.
He went though the company sampling all the alcohol brands that were manufactured others that were imported and repackaged.
Seized the servers
The DCI boss said they have already seized the servers to retrieve information dating back to a couple of years.
"We are confident that we are going to win our case against them," said Mr Kinoti.
Established in 2004, Africa Spirits Limited has brands of Brandy, Gin and Vodka.
Some of their products are Legend Gold Brandy, Blue moon Vodka, Blue Moon Vodka flavours (Apple, Mango & Ginger), Gypsy King Gin and The Furaha Range among others.
A production manager at the factory was arraigned in court last week and was detained for seven days to allow further investigations.
The operation is part of the government crackdown on illicit trade to ensure compliance with tax and consumer protection laws.