The long, nightmarish process of getting a Kenyan Passport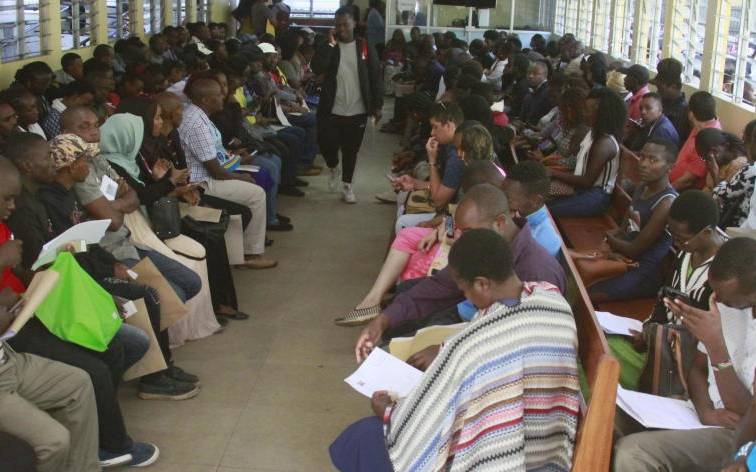 On the eCitizen digital platform, the Immigration Department sells the passport application process to applicants as an easy, streamlined and stress-free experience.
"You can apply for, renew or replace your passport and pay for it online. You'll have to print out a form at the end. You must sign and date the form, add any documents or photographs that are needed, and return it for processing," a notice on eCitizen reads.
One, therefore, expects that after paying and submitting their personal biodata online, the submission of the physical application form should be equally speedy and uncomplicated.
Applicants also expect that their passports will be ready at least two weeks from the date of application. After all, the Immigration Department states, "It should take at least 10 working days to get your first passport once your form has been physically submitted at the Immigration offices. For all other application types, it should take at least five working days."
Solicit passers-by
But the reality at Nairobi's Nyayo House, the main passport application centre in the country, is far from the straightforward picture painted by the Immigration Department. Few applicants are prepared for the physically, mentally and emotionally draining experience awaiting them.
In the end, these frustrated Kenyans take to social media to vent their anger. Many feel let down and cheated by the system.
It is barely 10am on a Thursday morning and Nyayo House has been abuzz with activity since 6am, when operations start on weekdays. As one enters the compound, a handful of men and women aggressively advertise their services and solicit passers-by.
"Madam, passport?" asks one man with a small camera slung over his neck and a large, white rectangular cloth in his left hand to use as a backdrop when he snares a client in need of passport photos.
A woman next to him advertises Internet services, which range from help with the eCitizen application to printing and photocopying.
Inside the Nyayo House premises, a yellow building that was recently put up to serve as a waiting bay is crammed with applicants seated on hard benches in a series of rows.
Despite the room overflowing with people, it is so silent in there. The mood is one of dejection and resignation. To pass time, people check, scroll and click their phones, or listlessly stare at each other, due to the face-to-face seating set-up.
It is a room that one passport applicant described on Twitter as 'a cattle dip', due to the way people are stuffed inside. He added, "If there was an emergency, it would be a total disaster. No space between the 'pews'. I got there at 6.30am and was given number 215. Imagine the total number of hours wasted."
Control entry
Uniformed officers control entry into the waiting bay, only letting in people with passport application documents.
Inside the main passport application area, the situation is not any better. The waiting area is filled to capacity, dimly-lit, noisy, chaotic and stuffy. While most of the stations are open, the ticketing system does not work in some and attendants have to call out the name of the next person in line.
Sometimes, they cannot be heard clearly by those seated at the back, and it is easy for one not to hear their name. In some counters, the staff appear unmotivated to serve, are slow and appear to take inordinately long breaks.
Outside the yellow waiting bay, a slow-moving queue starts to build up. When The Standard checked an hour later, the queue had barely moved.
Each applicant has a different story. Jane Njoki, a 21-year-old woman, is applying for a passport so she can travel to the Gulf for a waitress job.
John Musa, a middle-aged businessman, leaves the premises, agitated. "I made my application in late November and was told to collect the passport in December. When I came, it was not ready. I have returned and they have told me to come back next week."
For Mr Musa, who says he lives in Naivasha, the inefficiency is a major inconvenience and waste of valuable time. On Thursday, he had left his home at 5am and was at Nyayo House by 7am, but all for nought.
A couple of men hang around the queue and attempt to chat with anyone who passes by. A staff member who did not want to go on record told The Standard that the men are cons, often soliciting money from applicants with the promise of helping them get their passports faster.
From time to time, police officers drive away anyone who is not in a queue, including the cons, but they return just as fast as they left.
The complaints by Kenyans against the Immigration Department are legion.
One applicant, having waited in line from 10am to nearly 5pm, took to Twitter where she compared the process to a "night runner's marathon" or taking part in the Survivor TV series.
Another applicant used Twitter to advise Kenyans to 'fast and pray' before visiting Nyayo House.
The process, however, is a lot faster when applying for an emergency passport or collecting a ready passport.
Work efficiently
These stations are situated in two small white tents behind the main building. Applicants seeking emergency passports are few while staff handling collections work briskly and efficiently.
But despite the long delays, majority of the applicants manage to obtain their passports in the end. The worst experience, however, is when Immigration staff misplace application forms and birth certificates, or passports submitted for renewal.
Director of Immigration Services Alexander Muteshi, who took over on July 6 last year, acknowledged that there is a problem but was quick to state that the department is formulating solutions.
Mr Muteshi, in an interview with The Standard, termed the loss of users' documents as isolated incidents. He said the department had devised a solution whereby applicants could hold on to their old passport as they wait for the new one.
Soon, he said, applicants will no longer have to submit their birth certificates. Instead, the Immigration Department will obtain birth details from the Civil Registration Services Department.
"Our officers work hard. They are supposed to work from 8am but they begin work at 6am and go on until 6pm or 7pm. We have also increased the number of booths and number of staff helping with applications," said Muteshi.
He also explained why applicants have to submit personal biodata afresh when replacing passports: "A passport expires after ten years. Within that time a lot about an individual will have changed, including their physical appearance. Some people get passports when they are children and you find that after ten years, they are adults.
"It is also a way of verifying that the applicant is a Kenyan. We have had cases of passports landing in the wrong hands."
Mass application
The main challenge the department is facing, according to Muteshi, is the mass application for passports, in readiness for the August 31 deadline move to e-passports.
"The applications are very many, especially with the approaching deadline for the new generation passports. There is an average of 1,200 applications in Nairobi each day and 300 in the other centres."
Muteshi also expressed doubt that the department would be able to issue all Kenyans with new passports by the August deadline, given the current trend.
He said the deadline for the move to biometric passports would be extended, with the new date to be agreed on during an upcoming summit of leaders of the East African Community. The move is backed by EAC.