Dairy cows drive boda boda operators out of poverty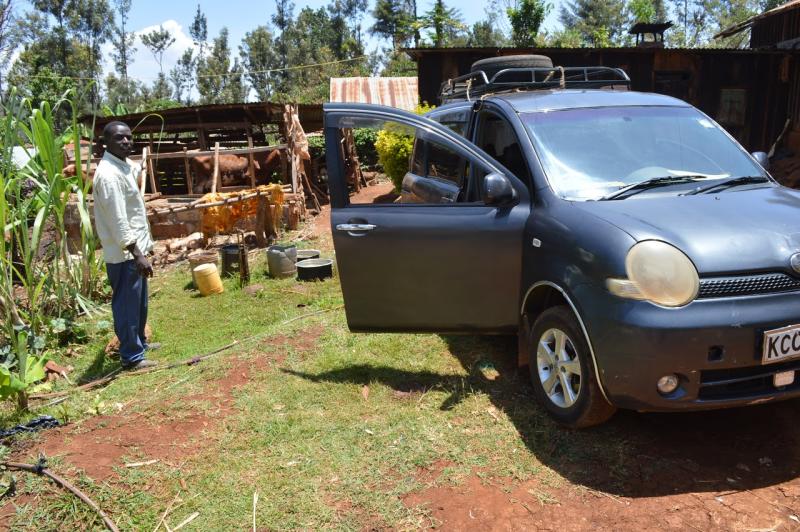 Just over three years ago, Joshua Mutethia and Edward Kiogora were boda boda operators at Equator in Central Imenti, Meru.
The two men and nine other members of Ruimba Self-Help Group, which was made up of fellow boda boda operators, had it rough ferrying dried maize leaves and stalks to dairy farmers in the region.
Mr Mutethia, 31, said after seeing how much the dairy farmers were earning from milk sales, the boda boda operators decided to start their own dairy project.
"We ferried milk from the homesteads and delivered it to the collection centres for between Sh50 and Sh100. We envied the dairy farmers because they were making good money," said Mutethia.
He used his income from his boda boda business to support his young family on the quarter-acre parcel he inherited from his father, but the money was never enough to meet their needs.
Mr Kiogora said the boda boda operators came together and opened an account to deposit their savings.
They were lucky to secure assistance from the Upper Tana Natural Resources Management Project. "Our idea was to have enough money to start a dairy project to increase our earnings because what we were getting from the boda bodas could not sustain our young families. We did not have enough money but someone who had benefited from the development agency made us aware of its existence," said Kiogora.
They wrote a proposal to the Upper Tana Natural Resources Management Project, which is a partnership between the national government and various partners that provide financial assistance and inputs such as dairy cows and farm materials to facilitate sustainable livelihoods among residents. Their proposal was approved.
Dairy cows
The operators received Sh1.4 million from the project and invested the money and their own savings in Ayrshire dairy cows.
Mutethia delivers at least 30 litres of milk daily to Ruiga Rurii Dairy Society and is paid Sh32 per litre.
His payments, just like other members', are sent to his sacco account.
"In the past two years, I have been saving my earnings from boda boda and the dairy cow business. The sacco advanced me a Sh550,000 loan with which I bought a car. I earn as much as Sh5,000 daily from the taxi and continue saving from the three streams of income because my aim is to buy more cows and establish a big dairy farm," he said.
Project Officer Simon Mumbere said the boda boda operators were one of several groups that were financially empowered through dairy farming.
Project Coordinator Faith Livingstone said the project had funded over 2,000 community projects in various sectors such as livestock, fisheries, rearing of silkworms, beekeeping, water and value addition.
"The project will continue supporting community groups until 2020. We are encouraging the youth and vulnerable persons in particular to participate in our call for proposals so that they can increase their chances of engaging in development activities," said Ms Livingstone.
Milk deliveries
Each member of Ruimba who got a calf four years ago is now earning from milk deliveries at a local dairy. In addition to operating taxis, other members have bought additional motorcycles and hired riders.
Mr Mumbere the project would provide the groups in Meru, Tharaka Nithi and other counties with inputs and financial assistance to improve members' purchasing power.
He said the initiative had pulled many rural families out of poverty and enabled them to meet their basic needs, including education.
"We gave the Ruimba group 11 heifers and assisted them with Sh1,355,500 to get milking and feeding equipment. We also provided the members with an extension officer to train them on best practices for them to get desirable amounts of milk from the cows," he said.
Mutethia was full of praise for the project. "I have shares worth Sh200,000 in the sacco. My dream is to use the income from the taxi and milk sales to start a three-acre farm," said the father of one.