Back to the roots: Rich ideas displayed in county's cultural fete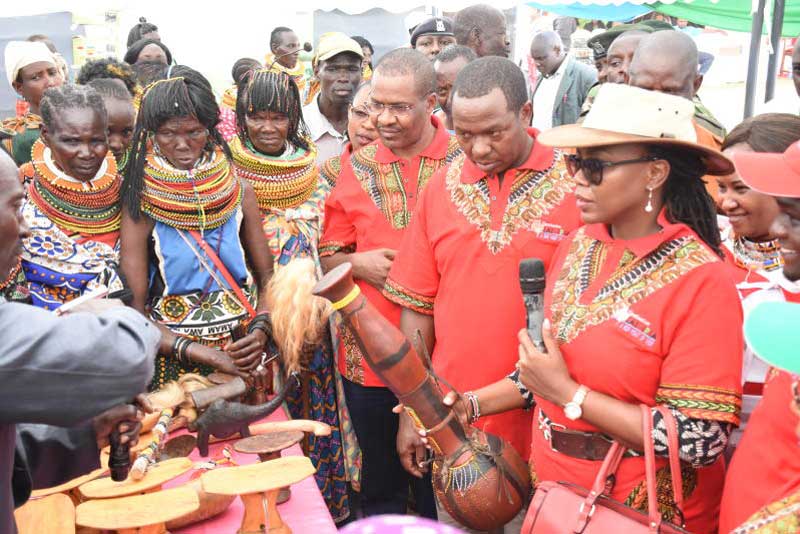 Rumuruti in Laikipia West was the centre of attraction yesterday as more than 20 communities converged in the town for the inaugural Laikipia Cultural Festival.
The two-day cultural showpiece brought together communities such as Turkana, Maasai, Samburu, Kikuyu, Pokot, Kalenjin and Meru, which showcased their indigenous technologies in weaponry, manufacturing, food preservation and other traditional expertise.
Guests drawn from across Likipia and neighbouring counties visited one exhibition stand to another to catch a glimpse of the traditionally made products in the two-day event.
Men and women from Kikuyu communities showed how they preserved meat for over a year using honey, while Turkana communities showcased their weapons and herbs for treatment of varied ailments.
This group was optimistic that with a little help from sponsors they could package and sell preserved meat to retail stores.
Speaking when he officially opened the event, Governor Ndiritu Muriithi pledged that groups and individuals from different communities who exhibited their traditions would be given rights to the ideas.
"The (county) legal department will take it up," said Mr Muriithi.
Researchers from Mpala Research Center and Kenya Bureau of Standards are expected to guide the owners of the patented products on improving quality and large-scale production.
Among the groups that presented their rights were the Yaaku people, whose culture is going extinct due to integration with the Maasai community. Their official said their way of living could be tapped for documentation.
The festival that ends today will see participants also recall their olden ways of communicating.
"The communities in Laikipia had their traditional ways of weaponry, food processing, manufacturing and skin preservation, but due to industrial evolution some of these ancient traditions were abandoned," Laikipia County Executive for Trade and Tourism Nicholas Biwott said.
More NCPB officials arrested
Five officials of the National Cereals and Produce board (NCPB) and two other people have been arrested over maize scam.