Cattle herders enjoy sweetness of cane farming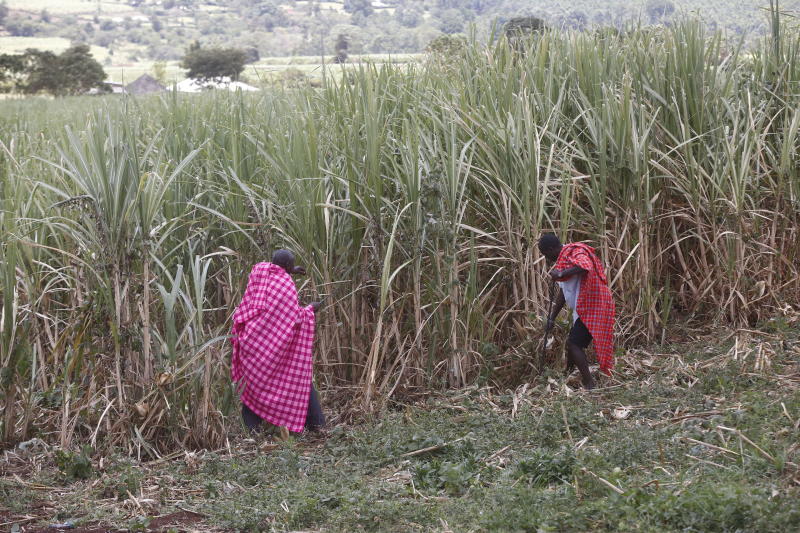 When Lenteyion Magiro, 48, was born, his father's main occupation was herding family cattle in the expansive Enoosaen group ranch in Trans Mara.
Then, unlike now, the grazing area was not limited because the group ranch and those neighbouring it had not been subdivided.
His late father, according to him, had about 900 cows and an unknown number of goats and sheep.
"They used to graze freely. There were no fences," says Magiro, who is now a regional manager for Mara Sugar Company Ltd for Nkararo and Moita growing areas. He says other families in the area kept more than 1,000 cattle - it was a status symbol.
Magiro recalls that none of his age mates attended school because they had to herd cattle, nor did their children.
But after many years of moranism, residents of formerly Enoosaen group ranch have abandoned rearing indigenous cattle for sugarcane farming.
Because of adequate rainfall and favourable soils, in 1985, sugarcane planting started in small scale.
Former President Daniel Moi, who was given land in the neighbouring Keiyan area, started the planting and later, more locals followed suit. In 2010, production went large scale with households planting the crop in more than 50-acre farms.
"The former president helped turn around our lives," says Charles Saiwa, a large scale farmer in Enoosaen.
He says Moi returned the 300-acre land to the community in 2004, and other farmers started delivering their cane to South Nyanza Sugar Factory (Sony), many kilometres away.
He says when farming expanded, the community saw the need to lobby for establishment of a crushing factory, and that a local elder, Takaka Nayioma sold 30 acres to the investor, Mara Sugar Company Ltd.
The investor was introduced to the community by Joseph Siparo, also an elder, says Saiwa who is former Trans Mara County council chairman. "We do not regret abandoning livestock rearing to embrace sugarcane production.
"Because of favourable weather and good soils, we are harvesting between 80 to 100,000 tonnes of sugarcane per acre per year," he says.
Sugar enslaves
Most farmers, he says earn good money, with the highest getting about Sh20 million for only one delivery, a development that is responsible for rapid expansion of acres under the crop.
Siparo says the factory now serves between 35,000 to 45,00 farmers from the area, including Gucha and Migori.
"In a few years, they may catch up with neighbouring communities that embraced sugarcane production before them," says the retired educationist.
He says the factory employs 60 per cent locals, remedying unemployment in the larger Trans Mara.
Locals, he adds, have also taken their children back to school, they are no longer depend on county government bursaries to fund education. But some view sugarcane farming as a curse.
Tubune ole Saiwa says it is unfortunate that locals have abandoned livestock keeping, their heritage.
"In a short time, poverty will creep in. We have opened up our land for cane production without considering where cattle will graze.
"Sugar enslaves. It is even recorded in history books. We will become other people's slaves," he says.