We lose close Sh1 billion in moving maize across the country says CS Mwangi Kiunjuri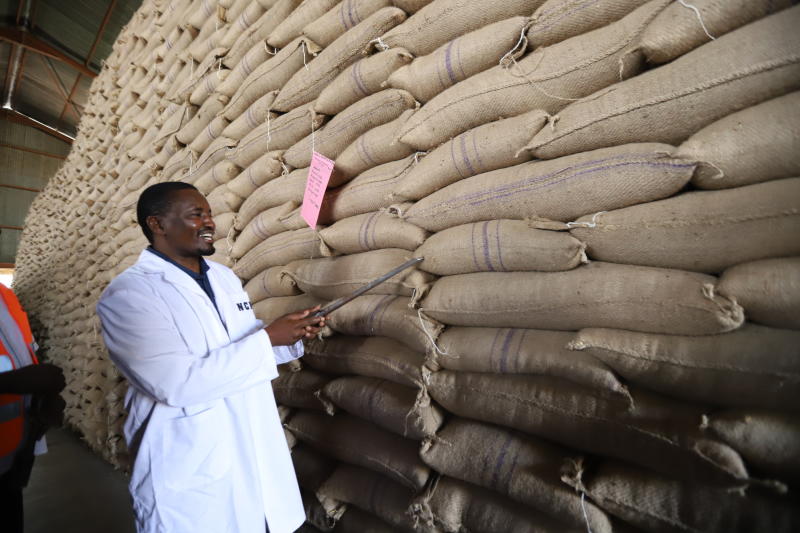 Agriculture Cabinet Secretary Mwangi Kiunjuri has claimed that the country loses Sh1 billion every year moving maize from one location to another because designated maize storage facilities around the country have been leased out to private businessmen.
In an interview with Saturday Standard, Kiunjuri said negligence, omissions or intentional bad decisions were costing the country millions of shillings. The CS fingered some National Cereals and Produce Board (NCPB) for the losses.
Based on a fact-finding mission of Western Kenya that took him to Eldoret, Kitale and Kisumu depots, Kinjuiri said it was not going to be business as usual in the cereals board if the country was to secure its staple food's storage.
"We lose a billion shillings every year because of moving maize from one store to the other because depots, including those that are critical, have been leased out to business people. I have ordered that this must stop," said Kiunjuri.
"We want to free all the two billion kilogramme capacity stores so that we can address the issues of post-harvest losses which cost farmers and the government billions."
According to the CS, even busy depots like Eldoret, Kisumu, Bungoma, Moi's Bridge and Kitale were operating at half their capacity, forcing the government to spend millions transferring maize kilometres away.
Good condition
"How do you rent out your house, then tell your children to go sleep outside? There is something wrong and we must address it. Once we take back what belongs to us, we will move to the second phase of refurbishing them to ensure that they are in good condition and modernised," he said.
"We want to do an audit of the space, improve where we must and ensure that at any given time, the cereals in the stores are in the best quality and good for human consumption at any given time."
Kiunjuri pointed out an instance at Moi's Bridge, where 500,000kgs of maize are discoloured. when he asked, he was told that there were no gunny bags, but on probing, he found out that there were 275,000 bags lying idle in the stores.
Every year, maize farmers across the country go through the same problem, braving long queues to deliver their maize to the state agency and waiting with bated breath for them to be paid their dues. Almost always, it is brokers who get the first priority for payment, leaving farmers angry and broken.
This year, 152 people, mainly NCPB officials and what the government, through Kiunjuri, termed as unscrupulous traders, were investigated and face possible prosecution.
Those targeted were accused of having connived with the NCPB officials, infiltrated the process, as there was hardly vetting conducted, and taken advantage of the poor recording systems to swindle in excess of Sh2 billion using fictitious figures of bags they pretended to have delivered in silos. At the time, Kiunjuri revealed that the cartel claimed to have remitted two million 50kg bags of the overall 6.52 million delivered to NCPB.
"It is interesting to note that they were paid between 63 per cent to 90 per cent of their delivered quantities by December 2017, amounting to Sh2.053 billion, and are claiming an additional Sh1.47 billion," the CS said at the time. A presidential directive was later made to ensure that genuine farmers who delivered maize to NCPB are paid.