Safaricom lines ring in Sh31.5b in six months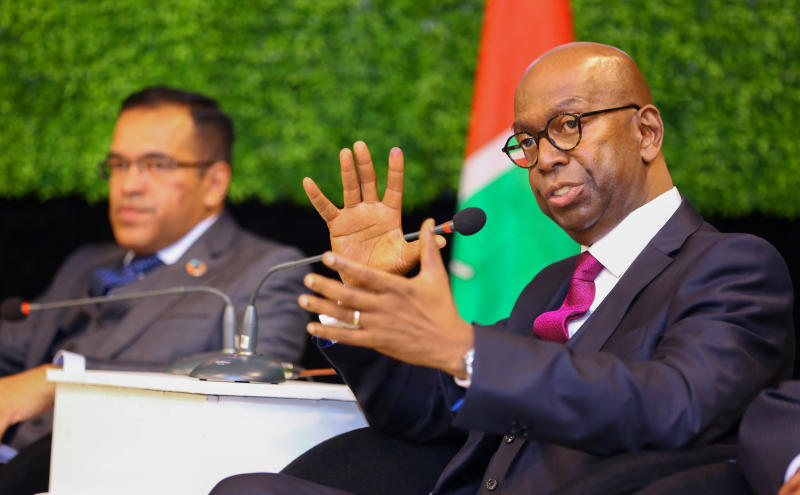 Mobile service provider Safaricom has maintained its position as Kenya's most profitable company, announcing a 20.2 per cent rise in half-year net profit.
The telco in its financial results released yesterday said profit after tax hit Sh31.5 billion for the first six months of the 2018/2019 financial year driven largely by growth in its mobile money transfer service M-Pesa and data services.
This was up from Sh26.20 billion recorded a year earlier. Earnings from M-Pesa rose 18.2 per cent to Sh35.52 billion, up from Sh30.05 billion in a similar period last year.
Softer revenue
The giant telco's mobile data revenue also recorded an upward trend of 10.8 per cent to Sh19.45 billion even as SMS revenues contracted 1.2 per cent to Sh8.8 billion, down from Sh8.9 billion last year.
Revenue from voice, on the other hand, stood at Sh48 billion, a modest one per cent increase from the Sh47 billion earned over a similar period last year.
Non-voice revenue accounted for Sh74 billion of overall earnings over the same period, with the company now training focus and resources on the lucrative data and mobile money services.
"M-Pesa is the biggest driver contributing 64 per cent of total service revenue growth, further accelerating displacement of traditional voice and messaging services," said Safaricom Chief Executive Bob Collymore while presenting the results in Nairobi.
At the same time, fixed service revenue, which includes the company's broadband offering to home and businesses, grew 21 per cent to Sh3.9 billion even as data revenue slowed during the period under review.
"Despite the softer revenue growth recorded, we are encouraged by the strong increase in usage, with average usage per subscriber growing 67 per cent year-on-year to 640MBs," Mr Collymore said.
With more Kenyans getting access to smart devices, Safaricom is investing on establishing the network infrastructure that will enable the company tap into the arising opportunities.
According to data from the KNBS, Internet service providers delivered three million Mbps (Megabits per second) of data last year. Internet users, however, consumed only 916,000Mbps, with two thirds of the capacity going unutilised.
This has prompted Safaricom to explore new strategies in service offering and pricing to drive user uptake and ultimately more revenue.
"Mobile data usage per user per month has grown four times from 160MB in 2016 to 639MB this year and we are keen to grow this even further because we have realised 70 per cent of the data-capable phones in our network register usage of below 100MBs," said Sateesh Kamath, the company's chief finance officer.
The company has further enhanced its fibre infrastructure, adding another 800km on its countrywide network. The number of homes with access to the company's network now stands at 200,000 up from 90,000 last year out of which 79,000 have been connected.
Safaricom, however, urged the Government to consider scrapping recently introduced taxes on data services, which the company warns could retard growth in the sector.
"Our ability to pay taxes is reliant on the ability of our business to grow which depends on Kenyans being able to afford our products so it is our hope the government will reconsider its position on the new taxes," said Mr Collymore.
In the Finance Bill, 2018 President Uhuru Kenyatta recommended a raft of new taxes to bridge the Sh600 billion budget deficit, doubling excise duty on fees charged by banks and money transfer agencies from 10 per cent to 20 per cent.
The government further introduced a 15 per cent excise duty on telephone and internet data services.