Cartel, which Cartel? Pole deal union denies cartel tag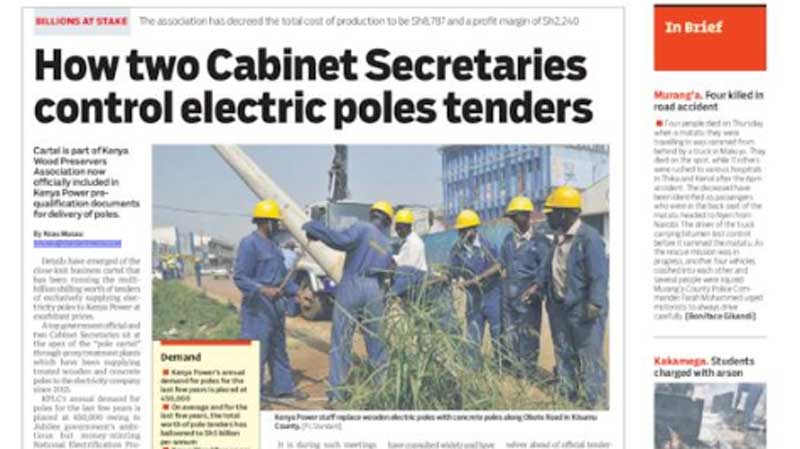 Barely a week after an exposé on Kenya Power poles tender deals, the Kenya Wood Preservers Association has denied the cartel tag and patronage by two cabinet secretaries.
Chairman of the Kenya Wood Preservers Association, Michael Kandie had threatened to swarm the Standard Group offices with his committee to drum up a firm understanding of the group role the multi-billion scam but turned up alone to brace the hot seat.
Towering but quite affable, the bespectacled Kandie said they only stepped in to help Kenya Power manage the quality aspect of their poles after their newly installed 'cheap' poles, supplied by unscrupulous businessmen, kept falling after being eaten up by ants.
He fumbled on the registration status of the organization, the legal basis for making the association the entry point for supply of poles, membership of the two CS's either by themselves of proxies but came out unmistakably that they brought order into an otherwise chaotic industry.
"The MD himself reached out to us after the embarrassment and the losses they went through. They wanted us to help them at the quality element and we agreed to help if they assured us of getting the business, and that is all we have been doing of course with complaints from the few who are unable to meet our stringent demand for quality poles," Kandie explained.
Despite our being in possession evidence of the group fixing pole prices, Kandie flatly denied them saying members are competitors "and everybody has their price." He agreed he had seen the purported evidence but said it was all a fabrication.
"It's all concocted to give that impression but the truth is that when we meet, our only talk is on quality. We tell our members to focus on quality," he said.
Asked the physical location of such a crucial organization which is helping the country avert huge losses, Kandie rummaged through a long-winded answer, picking up a phone call in the middle, and providing no physical location in the end.
"We only have two people in our employ and most of the times they are on the road to inspect poles from our members. Like today, they are out there in the field. And by the way, our membership is only Sh50,000 per year although we are considering changing it to Sh20 per every pole supplied," he said.
A similar inexplicit response obtained on the question of the two CS's. Adjusting his reading glasses, he said if the association had CS's it would have benefited from the political patronage during crisis such as the one they are facing and that he wouldn't mind to have them so long they played by the rules:
"There is none that we know of," he said after which we prodded: "Even through proxies?" "Not unless he comes through me of which I do not know how that would happen," he responded and while opening his eyes wide, concluded the matter in style: "I am not saying that it's impossible…"
Kandie also said the wood preservers were forced into union by the threat of concrete pole makers who were overthrowing them from the sector and despite huge investments they had made. Kenya Power had struck out a 30:70 ratio of concrete and wooden poles but flipping it over to the benefit of concrete makers.
"Through our efforts, we turned the tables on this ratio back to 70:30 in favor of wood and to the benefit of millions of farmers who had planted trees. Let me be honest, anyone promising to supply poles at Sh6500 is dishonest, fraudster and possibly a thief," he said.
He did not remember the precise year the organization was set up but he remembered to tell us that it would expel members who are grumbling next year. He said they will not stop anyone from being their member but they will rout out the betrayers of their cause.
"You must now have a factory to be our member because we do not want to deal with briefcase companies anymore. They are the ones who are causing all this mess," he warned.