Energy CS Keter criticises state crackdown at Kenya Power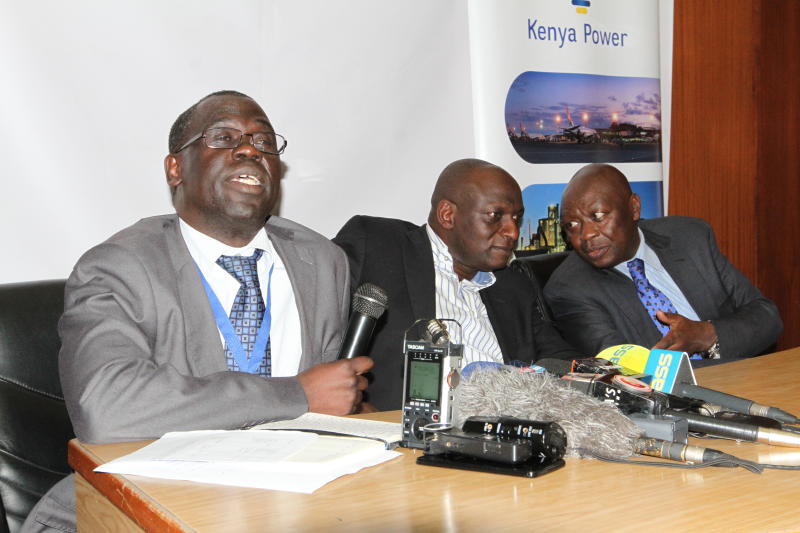 Energy Cabinet Secretary Charles Keter has expressed dismay over the manner in which senior Kenya Power managers were arrested.
The visibly angry minister used an occasion at Stima Plaza last evening, which was to unveil new officials led by acting Chief Executive Officer Jared Omondi Othieno, to lash out at State agencies.
Keter said that although he supported the fight against corruption, the crackdown at the power utility that netted 19 top managers was in bad faith and a mockery of the rules of natural justice.
The CS compared the operation that almost crippled Kenya Power to the 1993 fatal plane crash that killed an entire Zambian national football team.
"It is such a difficult time for me to talk when we have a team of very competent engineers who are not with us. This is like the time Zambia lost a whole football team. A whole senior management team gone is like losing a whole football team," he said.
He added: "Sometimes you wish you can be that sacrificial lamb for others to survive; especially the innocent ones. I don't want to talk about the merits of the case as I know the law will take its course but at times we have to speak out for the innocent."
The CS also criticised the police over the manner in which they conducted searches and arrests, wondering why Kenyans who hold senior positions were being hounded in their houses at midnight.
"Let's be humane even in arresting people. You can't go to someone's house at midnight. Why can't you call someone and ask them to report to a police station? If it is Charles Keter you want and can't find him on phone, call my security or my wife and I will show up to face the law."
Keter said the new officials would act for about three months before the board makes any further decisions, adding that those charged would stand suspended but would not lose their jobs if cleared.
"The board has met from this morning and they have looked around and proposed some names, on which they have consulted us. The team will be in charge for the next three months," he said.
The minister encouraged remaining staff not to be discouraged by the events that led to the arraigning in court of their 19 colleagues.
"Let's not shy away and let's make decisions that are good for the country. If KP goes down, the whole energy sector collapses. We want to encourage you to be firm and strong. We also want to encourage shareholders and our donors that, as Government, we will all offer support to this company to ensure operations are normal."
Energy PS Joseph Njoroge, who was also present, said: "In spite of the challenges we are facing, let's not forget about the customer. Service to the public is critical. I want to plead that despite the challenges we are facing, let's put our best foot forward to ensure customer satisfaction."
The interim top management includes: Eng. Omondi, Peter Waweru Njenga (In charge Street Lighting), Joseph Kathuru (GM, Connectivity), Joyce Achieng Awinja (GM, Supply Chain), Aggrey Chesambul (GM, Customer Service Regional Co-ordination), David Mwaniki, Charles Cheruiyot retained as GM Internal Audit, Titus Makau Kitavi (GM, ICT), David Mnandi (GM, Human Resources and Administration), Elmelder Bore (GM, Corporate Affairs), Tagichu Kiru George (GM, Business Strategy) and Ambrose Lemaoni (GM, Finance).