Battle Lines drawn as MCAs set to face off with governor over budget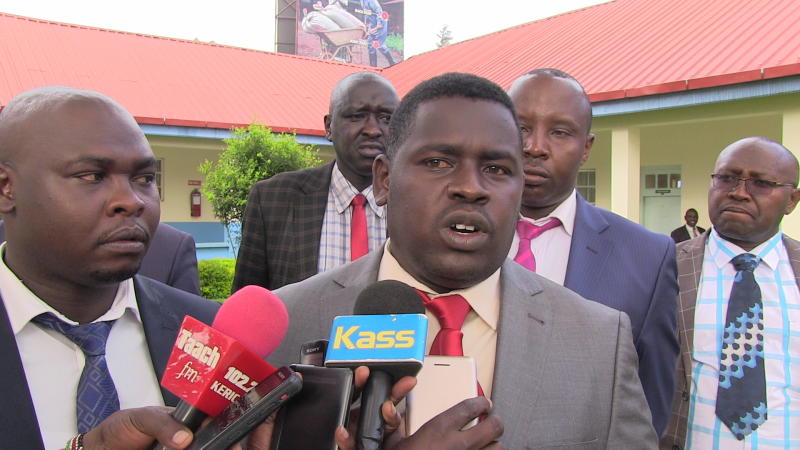 The battle lines are drawn after Members of the County Assembly starved the governor's multi-million shilling pet projects of funds.
The Sh7.18 billion budget report for the 2018/2019 financial year was presented to the House by Budget and Appropriations Committee chairman Albert Kipkoech.
Governor Paul Chepkwony had proposed to spend Sh83 million in a compensation suit against the British Government for historical injustices against the Kipsigis and the Talai clan during the colonial period.
Mr Chepkwony had also sought Sh141 million to equip a specialised eye treatment facility, which the county seeks to establish in conjunction with Egypt's Alexandria University.
Specific objectives
Mr Kipkoech, however, said available resources had been directed to programmes that would contribute to specific objectives as agreed upon in a document that was written this year.
"The budget estimates are projected to support strategic interventions among all the programmes facilitated through the county executive departments."
Chepkwony had tussled with a section of MCAs last December over Sh100 million his administration said it needed to upgrade the Kerenga Airstrip. Assembly members had slashed the figure to Sh25 million, saying the remaining Sh75 million would be allocated to more pressing projects.
The current budget estimates comprise Sh5.71 billion transfer from the national Government, Sh491.2 million from local revenue resources, Sh271.6 million generated by county and sub-county hospitals, and Sh706.3 million in conditional grants.
The recurrent expenditure for the financial year is Sh4.5 billion, which constitutes 63 per cent of the budget, while the projected development budget is Sh2.6 billion.
"The Public Works, Roads and Transport department got the lion's share of the development vote at Sh651.1 million, followed by Lands, Housing and Physical Planning, which got Sh475.9 million," said Kipkoech.
The department of Water, Environment, Forest and Energy got Sh214 million of the development vote, the Agriculture and Fisheries docket got Sh191 million while Education and Youth Affairs got Sh147 million.
The Information, Communication, E-government docket secured Sh118 million, while Trade, Industrialisation, Cooperative Management, Tourism and Wildlife got Sh31 million, the lowest allocation in the development vote.