Treasury CS Henry Rotich raids pockets of the poor to fund Uhuru legacy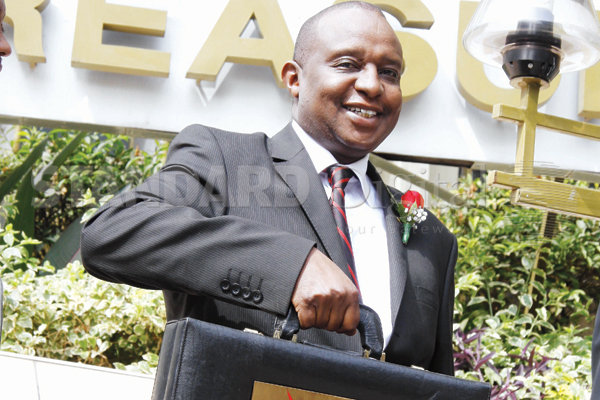 Debt-ridden Jubilee government will raid the pockets of poor Kenyans to indelibly curve President Uhuru Kenyatta's name in the country's annals.
In a bid to finance his legacy Big Four agenda to set up half a million houses, create more jobs, shore up manufacturing and offer healthcare to all Kenyans, President Kenyatta has, ironically, taken from the poor to give to the poor.
Although National Treasury Cabinet Secretary Henry Rotich, in his budget speech to Parliament on Thursday, said he would take from the rich to give to the poor -- a scheme known as Robin Hood taxes -- a close reading of the budget shows it is the poor who will finance President Kenyatta's pet agenda.
Limited space
With limited fiscal space and little room to chalk up more debt, there were questions as to how the government would finance the expansive Big Four Agenda.
Rotich answered these by going after activities and items associated with the poor like mobile money transfer, betting and kerosene.
According to Bloomberg Economist Mark Bohlund, creditors were keen to know whether Kenya would borrow massively to fund it yet the government was already highly indebted.
"How Kenya delivers on implementing the planned fiscal consolidation and the Big Four Agenda will matter the most for the cost of refinancing the 2019 bond as well as global financial conditions will matter (so called risk-on, risk-off sentiment)," said Bohlund.
But as the Finance Cabinet Secretary stood before the august House, it became apparent that taxpayers will fund the legacy agenda.
The CS then allocated Sh44.6 billion for the provision of universal healthcare (UHC), setting the stage for every Kenyan to access quality healthcare by 2022.
After announcing that the UHC scheme will be piloted in NASA leader Raila Odinga's Kisumu backyard, former President Mwai Kibaki's home county of Nyeri, Wiper leader Kalonzo Musyoka's area of Machakos and the North Eastern county of Isiolo, Rotich then set out to outline the source of funding. He turned to mobile money, Kenya's most prevalent and ubiquitous way of sending cash that registered more than 139 million transactions last year alone.
"In order for the government to get a fair share of revenue from these financial activities and to finance critical programmes, I have increased excise duty fees charged on money transfer services by cellular phone service providers from 10 per cent to 12 per cent. The revenue realized from these measures will be used to fund UHC," said Rotich.
The CS also imposed a Robin Hood Tax of 0.05 per cent on any amounts of Sh500,000 or more transferred through banks and other financial institutions.
He then turned to the betting craze that has hit the country and charged that betting firms should retain part of the winnings which will also go to financing healthcare.
"I propose to amend the Income Tax Act to clarify that the revenue realised from the tax on winnings shall be used for the development of sports, arts and cultural activities for the youth, as well as critical social development initiatives including UHC," said Rotich.
The government also wants the National Hospital Insurance Fund (NHIF), a state corporation that provides health insurance to the public after deducting monthly premiums, to increase enrollment from the current 16.5 million to 25 million by the end of 2018 as a means to attainment of UHC.
Already, any pregnant woman who wants to benefit from free maternity under the Linda Mama programme is required to register with NHIF. To fund healthcare during old age, the government has set up another contributory body, the Medical Fund, where members can contribute during their working life, just as they do with their pensions, and from which they can purchase medical cover upon retirement.
Regulation
Friday, the government proposed to amend this regulation so that individuals who are unable to pay into the medical funds during their employment can use a portion of pensions for post-retirement medical cover. "To further promote this policy and support UHC under the Big Four plan, I propose to introduce amendments to the same regulations to allow members who are unable to build medical funds during employment to utilise a portion of their retirement benefits for post-retirement medical cover," said Rotich, adding that he would exempt the Fund from the retirement benefit levy to boost the member's contribution.
To fund housing, the government will introduce a new deduction to your pay slip to go into a fund that will help make housing affordable.
CS Rotich proposed an amendment in the employment law that will see 0.5 per cent of your gross salary or a maximum of Sh5,000 sent directly to the National Housing Development Fund. Employers will also be required to contribute the 0.5 per cent to the kitty.
"An employer shall contribute to the National Housing Development Fund, in respect of each employee' in his or her employment 0.5 per cent of the employees' gross monthly emolument subject to a maximum of Sh5,000 while the employee will contribute 0.5 per cent of their monthly gross earnings," he said. Analysts have warned that this will increase labour costs on employers.
Housing fund
"The introduction of 0.5 levy on both employer and employee for housing fund though not significant would increase labour cost in our country," said Ibrahim Khalif, senior manager Deloitte East Africa
Housing and Urban Development PS Charles Hinga said the money will be sunk over five years and would be used to buy back houses built under President Kenyatta's Big Four agenda that would not have been sold off by private developers.
The government expects that guaranteed demand in a huge public service together with counties will take up the bulk of the half a million houses.
The government has also established the Kenya Mortgage Refinance Company (KMRC), which was subsequently incorporated in April 2018 and has started raising capital. In seeking to create jobs by boosting local manufacturing, Rotich will indirectly raid your shopping list if you prefer imported vegetable cooking oil. He hopes to raise $500 (Sh50,000) per tonne or 35 per cent, whichever is higher.
Rotich has also imposed a number of protectionist policies targeting the growing trade on mitumba and booming cheap Chinese clothes business.
Furniture in households will also be hit by transmitted costs after the government introduced a specific rate of duty of $110 (Sh11,000) per tonne on particle board.