Flower exporters seek to have space in Kenya Airways' US direct flights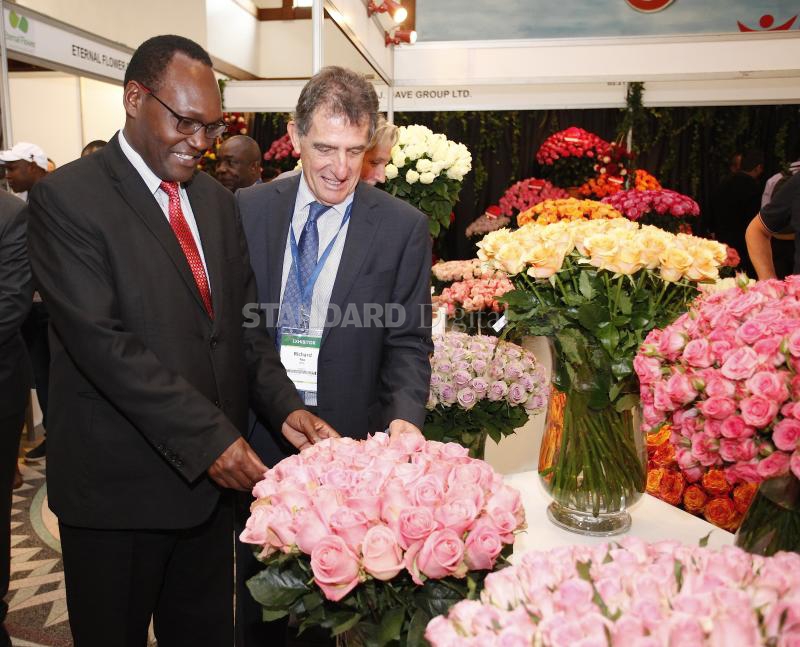 Kenya Airways (KQ) is yet to commit that it will offer freight space for flower exporters as it begins maiden direct flights to the US in October.
According to Kenya Flower Council (KFC) CEO Clement Tulezi, KQ appears focused on growing passenger numbers as opposed to promoting trade through provision of space for cargo. "One thing we are looking at is how much of cargo space they (KQ) will have to airlift flowers from this country to the US. At the moment, we are not sure because in their business strategy, they are more focused on passenger numbers than cargo," he said.
Ongoing talks
Speaking yesterday in Nairobi after the opening of the International Flower Trade Expo, Mr Tulezi said flower exporters were in talks with KQ to help them leverage on direct flights to grow trade.
Currently, Columbia dominates the US flower market, taking up about 70 per cent of the supplies. Kenya is yet to break beyond four per cent of the market, but exporters are keen to make inroads above 10 per cent, boosted by the direct flights. "We want to go into this market since we have a whole range of flowers, from low attitude to high attitude, than the South Americans are able to supply," said Tulezi.
The expo, now in its seventh year, brought together more than 135 exhibitors from Kenya, Spain, Russia, Tanzania, Uganda, Rwanda, Ethiopia, South Africa, European Union, Ecuador and India.
At the same event, Trade Principal Secretary Chris Kiptoo said he was also keen to see KQ commit some space for cargo - even though he was still in the dark on the issue, just like the exporters.
"We have optimism, even though when I spoke to the KQ chief executive (Sebastian Mikosz), he did not seem to give me good indication that we are actually going to carry flowers directly. We are really hoping that our flowers will be carried directly," he said.
According to Dr Kiptoo, even though about 18 per cent of the cut flowers go to the EU market, while nearly half are sold through the Dutch auction, sales are beginning to grow in places where there are direct flights from Nairobi.
According to the 2018 Economic Survey, Sh115 billion worth of exports came from horticulture, about 19.4 per cent of total exports. Cut flowers accounted for Sh82 billion, translating to 71 per cent of horticultural exports.
KFC has already started promotions in the KQ in-flight magazine, Msafiri, to warm up to the American market and also wants more vigorous marketing hinged on foreign missions.
Market study
"We need a good study to understand the retail market, which is different from the auction market that we are traditionally used to," said Tulezi.
But of concern will be the freight charges. Exporters are concerned over the huge cost of transportation and are keen on negotiating with airlines to bring them down.
Tulezi said charges are shifting from actual weight to volume, which means that exporters will have to pay more on freight than they have done before.
This has caught the attention of the Government, which says about half of cost incurred to export horticultural products are contributed by freight charges.
Sh48b pipeline ready next month
The controversial Sh48 billion upgrade of the Mombasa-Nairobi pipeline- also known as Line 5- will be completed next month.