Traders cry out as gangs in police uniform reign terror on them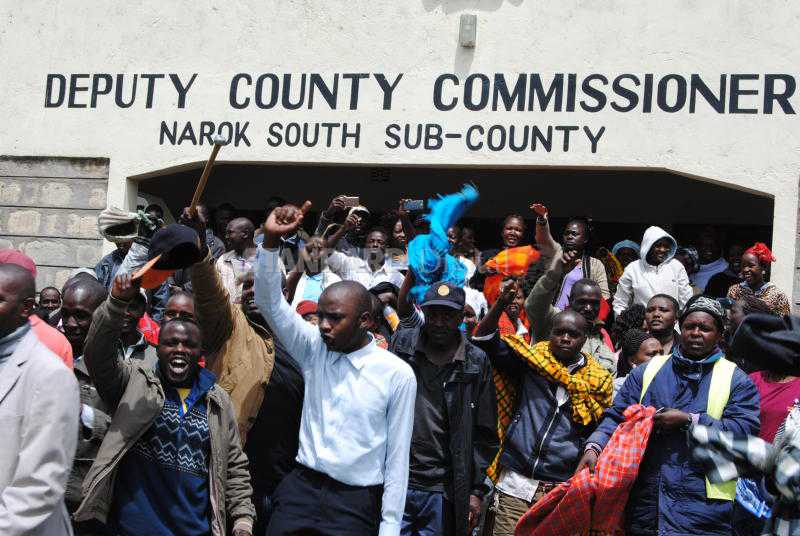 Businessmen in Ololung'a Trading Center, Narok South Constituency have decried rampant insecurity by a gang allegedly dressed in regalia resembling Administration Police (AP)uniform.
Over 300 traders who protested outside the Deputy County Commissioner's office Thursday accused police of failing to act on the gang despite them recording statements numerous times.
The business people operating within the trading center narrated their ordeals in the hands of the armed criminal gang they claim seems to be working in cahoots with some rogue police officers.
The protest was occasioned by an incident where three notorious criminals suspected to be part of the gang were cornered by residents stealing from a shop in the center.
"I had left my wife in the shop but I was called and told she was being harassed by some people suspected to be thugs. I rushed and found the trio being beaten by the irate locals. It was then that I realised that they had stolen Sh27,000 from the counter," said Samuel Omari, one of the traders.
He told journalists it was the fourth time his shop was being raided by the gang and despite reporting to Ololung'a police station, none of the criminals has ever been arrested.
"I have four Occurrence Books (OBs) from reporting the incidences since 2014 but interestingly, anytime I follow up the police tell me that the cases were still under investigations. I want the three who were arrested in my shop to be prosecuted forthwith," said Omari.
Another victim Nancy Koilel, a nurse at a local dispensary, lost her car a few days ago from her rental house which is barely 50Meters from the police station. She is yet to find it.
"It was last week I had parked my car outside but when we woke up with my husband, we found our vehicle missing. We have the keys and we wonder how they got the vehicle without starting it. I reported the incident but so far no clues," said Ms Koilel.
The Traders' Chairman Omar Adam asked the county security team to intensify patrols as runaway insecurity was threatening their investments.
Following the outcry, area OCPD Anthony Shimoli, has banned all night entertainment from 9pm saying the criminals hide in these areas before they commit crimes.
"As security we are now banning night clubbing, pool games, video halls. These are the hideouts of criminals. However, police alone cannot weed out crime without you (locals) cooperating with us," said Mr Shimoli.