Poor strategy dug Kenya into Chinese trade hole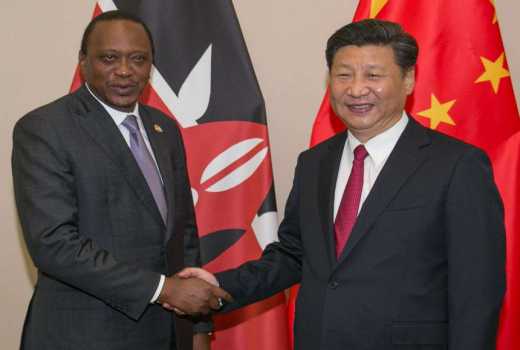 ?Kenya's trade relationship with China has been severely skewed, with the Asian nation receiving more but giving less in the last decade.
China has stretched Kenya's hospitality, taking advantage of the country's open-door policy to flood the market with all manner of goods. Construction machinery, building materials, used clothing, onions, tilapia, tooth picks, toilet paper - no sector is safe from the 'Sino-invasion'.
To paraphrase words of one Chinese state official, cited in a 2017 McKinsey report, Kenya and other sub-Saharan peers such Nigeria and Tanzania, have simply been tactless in their engagement with the world's second largest economy.
"These three governments recognise China's importance, but they have yet to translate this recognition into an explicit China strategy," read the McKinsey report.
"Each has several hundred Chinese firms across a diverse set of sectors, but this presence has largely been the result of a passive posture relying on large markets or historical ties; much more is possible with true strategic engagement."
Even as China has eaten into Kenya's hard-to-come-by foreign currency reserves with a high import bill, valued at around Sh500 billion, and debt repayments, it has not returned the favour.
The Chinese have not consumed as much of Kenya's products as the latter has avariciously spent on Chinese goods. At Sh9.9 billion, exports to China in 2017 were dismally low compared to imports of Sh390.6 billion, according to the Kenya National Bureau of Statistics (KNBS).
The United Nations values the imports at around Sh500 billion.
"Kenya exports little to China because it is an oil importer and relatively resource-scarce. With fewer natural resources, Kenya has been unable to take advantage of the commodity boom from China's growth," said a World Bank paper, titled; Deal or No Deal: Strictly Business for China in Kenya?
"What's more, the growth does nothing for Kenya's agricultural sector because it lacks a comparative advantage in China's main food imports (wheat, corn, beef, soybeans), making it difficult for Kenya to increase its exports of agricultural products," added the report done by Apurva Sanghi and Dylan Johnson.
Tourism receipts from Chinese visitors, although higher than the three-year average of 95,000 between 2013 and 2015, have been anything but laughable. With China gobbling up more than a third of what Kenya earned from its exports, Kenyan hotels deserved more than 192,000 Chinese guests in 2017.
True, the Chinese middle class is not as rich as the German one, for example. About 762,000 Germans spent a number of nights in Kenyan hotels last year.
But the Chinese consumer class has been growing, increasingly travelling around the world for leisure. Africa, unfortunately, has not been their preferred place to splurge their cash, a good chunk of which they earned from the African continent.
Overseas visits by the Chinese surged from 10.5 million in 2000 to 145 million in 2017. According to the United Nations World Tourism Organisation (UNWTO) Chinese tourists overseas spent $261.1 billion (Sh26 trillion) in 2016, up from around $10 billion in the 2000.
The spend for 2017 is likely to top $300 billion. Few African countries have reaped this cash from Chinese globe-trotters. Thailand, Japan, Vietnam, South Korea and Singapore, Italy and United States have been the main beneficiaries.
Huge debate
There is a huge debate on whether or not the inundation of the local market with cheap Chinese goods is to blame for the slow death of the country's manufacturing sector, which has in turn consigned millions of young Kenyans into joblessness.
When Zhou Yuxiao, a Sino-African relations envoy visited Kenya last month, he defended the trade imbalance between Kenya and China, noting that at this juncture it was "unavoidable."
He said that in the first phase of industrialisation, where Kenya is, the country will have no choice but to import investments, technology and equipment.
"So at this period, you might suffer trade imbalance," said Mr Zhou.
Unfortunately, in the last 10 years Kenya's imports from China have not been just capital goods such as computers and phones that it could use to improve its productivity, as he put it.
Consumer goods such as onions, clothes, toilet paper and cement that can, and have been, easily produced locally have also been shipped en masse from China.
The textile industry, on which President Uhuru Kenyatta has anchored his Big Four Agenda, has been the hardest hit. Imports increased more than ten-fold to Sh134 billion in 2016 from Sh12.6 billion 10 years ago.
Besides new, knit women and men suits, textile imports from China have also included used clothing that has been blamed for the death of the cotton and textile industry in Kenya.
Kenya, the home of the Chandaria Industries and other toilet paper-makers, also imported tissue worth Sh5.6 billion in 2016 from China.
Perhaps the biggest wound has been importation of fish from China, a revelation that kicked off a huge outcry from areas that rely on fishing such as Nyanza. Even as the country's fish industry struggled, Kenya imported non-fillet frozen fish worth Sh3.04 billion in 2016.
If Kenya imported fish from China 10 years earlier, then it must have been negligible as the item never featured in the United Nations' trade tabulation.
Kenya, whose comparative advantage is agriculture, also imported onions worth Sh640 million.
Chinese products have not only rattled local manufacturers in their own market, they have also elbowed them out of Uganda, Tanzania and Rwanda, with the East African countries ditching Kenya's products for the cheaper Chinese alternative.
The 2016 working paper by the World Bank cited earlier noted that China's foray into the region might have hurt Kenya's exports into the four East African countries.
It noted that Kenya's exports to Uganda and Tanzania were falling.
"Chinese goods may have also hurt Kenya's exports to its neighbours. Exports to Tanzania and Uganda are quite similar to China's, compared to both countries' exports to the United States or the UK," read the report.
Many African leaders have also been endeared to China by the latter's deep pockets, most of whom have grown wary of lectures from their traditional donors from the West. China's cash comes with no strings attached.
But critics have argued that China has only contributed to burdening African countries with more debt. The Asian giant denies this, saying that those pushing this narrative are naysayers who have failed to help Africa improve its infrastructure.
In the next five years, Kenyans will contribute a staggering Sh362 billion to China's coffers in debt repayment. As at end of 2017, China's debt stock stood at over Sh500 billion.
These loans, which have been issued together with a contractor to undertake a project for which the money is borrowed, have come with more strings attached.
The Chinese contractors have in return imported materials from their country which they have used in the construction of roads, railways and houses.
In the 10 years to 2015, the value of imported metals used in the building and construction sector surged to Sh8 billion from Sh2.4 billion in 2005. And with the construction of the Sh327-billion Standard Gauge Railway (SGR), Kenya imported iron products worth Sh5 billion in 2015 alone.
The Chinese contractors have also brought in heavy machinery from their home country. The value of machinery brought into the country in 2015 increased 15-fold from Sh9 billion to Sh131 billion in 2015.
Lifting machinery valued at Sh8.4 billion was brought into the market in 2015. This was 140 times the value 10 years earlier, at Sh55.7 million.
It might be that Kenya does not need to boot China; if anything, Kenya desperately needs China. But it should be strategic, to protect its infant industries, especially now that it has come up with a development plan to improve food security and manufacturing.