East Africa Community ministers approve ten-year plan to cut drug imports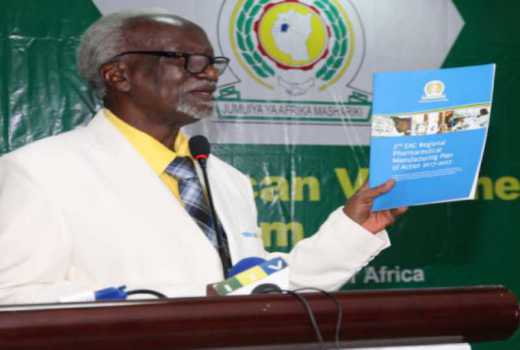 ARUSHA, TANZANIA: The East African Community patner States have embarked on a long-term plan to facilitate production of drugs within the region and cut out on imports running into billions.
The community which is made up of six patner States has a total population of 175 million people and imports 70 percent of pharmaceutical products with no single plant producing sensitive drugs such as he human vaccines.
Kirunda Kivejinja, the Chairperson of EAC Council of Ministers said they have approved a ten-year regional pharmaceutical manufacturing plan of action with help of German Government through GIZ & GFA to provide a clear road map to boost drug manufacturing.
The new plan targets to reverse dependency on pharmaceutical imports from more than 70 percent to less than 50 percent and also influence member states to purchase half of medicines needed from local manufacturers.
A number of potential niches for expansion of the local product portfolio have been highlighted in the plan such as production of advanced formulations for non-communicable diseases, veterinary pharmaceuticals and development of traditional medicines.
The plan also focuses on supporting production of active pharmaceutical ingredients as well as promoting the sector specific service industry.
"In view of the importance of the regional pharmaceutical sector with regards to improvement of health and overall well-being of the people of East Africa, I urge all of you to take appropriate measures as outlined in the new plan to ensure successful implementation," said Kivejinja.
"We have to ensure that regulators, medical procurement agencies, private sector, non-state actors, relevant ministries all talk the same language of promoting local production and local sourcing," he said.
The EAC Council of Ministers Chairperson also disclosed that the action plan targets to support the expansion of product portfolio of EAC firms to cater for more than 90 percent of disease conditions and ensure that at least 50 percent of purchases by EAC national medicines procurement agencies is sourced from EAC pharmaceutical manufacturers; and at least five companies to produce more advanced pharmaceutical formulations.
Dr. Kirsten Focken, GIZ Programme Manager challenged EAC governments to support investors who have already set up pharmaceutical manufacturing facilities through prioritising procurement of drugs manufactured within the region.
She noted that the new goal should ideally be to grow the market share of locally manufactured medicines from the current average of below 30 per cent, and to over 50 per cent by 2027. This will support job creation and it is the most sustainable way to grow investors' appetite for setting up new factories within EAC.
"Investors need support from East African governments, they cannot succeed on their own, procurement procedures and processes should support domestic job creation and youth employment, as envisioned in the EAC Common Market Protocol. The launch of the new 10 year EAC Pharmaceutical manufacturing action plan creates a new opportunity for the region to focus its energy on fully utilising the already installed factories production capacities, and value addition through new products with a specific focus on vaccines," she said.