MPs, teachers and pupils winners in 2018 budget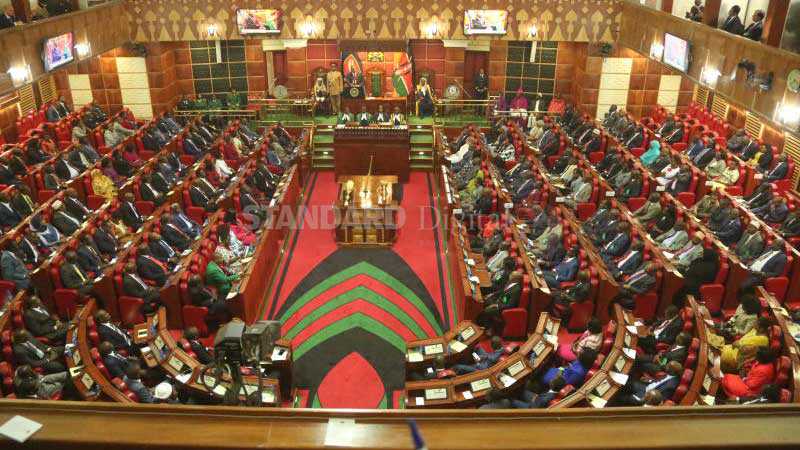 Lawmakers have awarded themselves an additional Sh4.2 billion in the revised budget.
The money is about half the amount allocated to recruit thousands of new teachers.
The Government has earmarked Sh8.6 billion for recruitment of new teachers. It has set aside another Sh2 billion to purchase laptops for primary school beginners.
To cushion families, Parliament has also allocated over Sh2 billion to distribute liquefied petroleum gas cylinders.
Additions to the legislators' collective budgets include Sh2 billion they say will be used to supervise county governments. There is also Sh108 million the MPs will use to attend a regional games tournament.
Monitor counties
Details of how the MPs plan to monitor counties were not revealed. But the move will no doubt put them on a collision course with governors.
A report by the Budget and Appropriations Committee, headed by Kikuyu MP Kimani Ichung'wa, has listed the proposed changes to the original spending plans tabled by National Treasury.
Major re-allocations were made towards agricultural, including Sh500 million and Sh875 million to support Mumias Sugar and Kenya Meat Commission respectively. Survival of the two institutions depends on government support.
Ichung'wa's committee has the final say in budget preparation. The House is unlikely to make any alterations to the budget considering MPs' welfare has already been catered for.
Austerity measures
But the generous new allocations to the Parliamentary Service Commission came amid "tough" austerity measures involving a three per cent cut for recurrent budgets of all ministries.
Thousands of staff who worked in the constituency offices during the previous Parliament were awarded Sh550 million as gratuity. The money is part of the Sh2.1 billion that will be spent on recruitment, capacity building and support for President Uhuru Kenyatta's "Big Four" plan.
It is unclear why the MPs would require the Sh100 million to support the President's development agenda or how the money will be spent.
Plans were already underway to hire 12,000 additional teachers in the next financial year, beginning July 1, at an estimated cost of Sh4.1 billion.
But the higher allocation could mean TSC may double the number of teachers it will hire for both primary and secondary schools.
Recruitment of new teachers is expected to ease the burden on the current tutors amid a sharp increase in student enrolment due to the free education policy.
TSC had told MPs the teachers are unable to deliver because they are overworked. In justifying the request for the funds, TSC also noted classrooms are too big. The commission's request has been more than honoured.
Another Sh2 billion would be set aside to buy laptops for pupils starting on primary schools. However, the programme has remained a moving target through Kenyatta's first term from 2014.
Only a handful of public primary schools have been given the digital learning equipment, but only on a piloting phase.
Apart from teachers, 4,000 prison warders will get government-sponsored housing in the spending plans that gave Sh230 million to fund a leasing scheme.
It will be a relief to junior officers who currently live in shanties made of iron sheets within prison facilities around the country.
Other major winners in the budget plans include the Konza Technology City whose managers were given Sh2.37 billion to complete an office block and construction of roads.
The technopolis, launched during former President Mwai Kibaki's regime, however, remains a dream after missing major timelines were missed.
Ichung'wa's committee also proposed Sh300 million that would be spent on reforming the once-lucrative coffee sector and Sh160 million for development of new sugarcane varieties.
During drought.
Livestock farmers in the arid regions will get Sh500 million for the animal take-off programme during periods of drought.
About 600,000 poor households could be left out of plan to distribute subsidised cooking gas cylinders after the budget was slashed by half.
Parliament has given the Government over Sh2 billion to distribute liquefied petroleum gas cylinders even though the ministry only managed to distribute 6,000 cylinders last year.
The government had put a target of giving out 1.2 million cylinders a 0.5 per cent success rate.
Last year, the Government borrowed Sh2 billion from PTA Bank, East African trade-finance bank based in Burundi, to finance the LPG programme.
Distribution of LPG is aimed at reducing reliance on kerosene.
The LPG project, estimated to cost in excess of Sh14.5 billion, will see State-owned oil marketer National Oil (Nock), import at least three million gas cylinders.
Under the project, 6kg complete cylinders (gas, burner and grill), trading under the brand name "Gas Yetu", is being distributed at a discounted price of Sh2,000 to households which would otherwise not afford.