Bodabodas helped themselves to Nakumatt stock as retailer was evicted from mall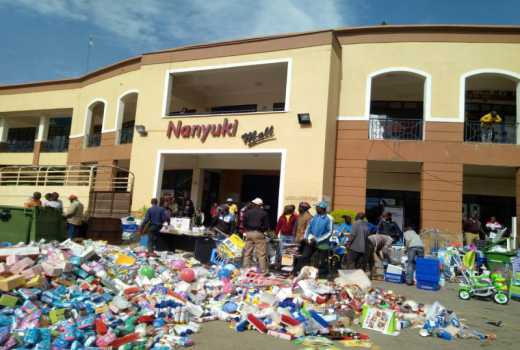 Passers-by and bodaboda taxi operators scrambled for Nakumatt stock when the retail chain was evicted from Nanyuki Mall on Tuesday.
Police shot in the air to disperse them.
Standard Digital has learnt the chain was kicked out over rent arears amounting to Sh36 million.
According to an employee at the supermarket who sought anonimity, the proprietor of Nanyuki Mall where the supermarket was housed arrived at the premises at about 3am and started throwing out the stocks.
"The Supermarket had accumulated unpaid rent ofSh36 Million prompting the owner of the mall to evict the retailer," said the employee.
He said over 52 workers had resigned in past few months due to nonpayment of salaries while only 42 were in the payroll by the time of closure.
According to the employee, the proprietor intends to rent the Mall to a Choppies Supermarket from South Africa which has other few branches in the country.
The eviction came two months after the supermarket closed down when the owner of the mall hired welders to permanently close the doors owing to rent arrears.
However the store's management put a notice indicating that the closure was temporary and business operations at the shop would resume soon.
Even after the closure some employers were still reporting to work arguing that the business was closed by the landlord and not their employer.
Stock at the store, which was opened in March 2010, had dwindled in the last few months promting locals and tourists to shift to the newly opened Mega Cedar Mall.
Nanyuki branch is among the other many branches closed down across the country due to a financial crisis that has hit the giant retail chain in East Africa.