Agency bosses ouster bid now heads to court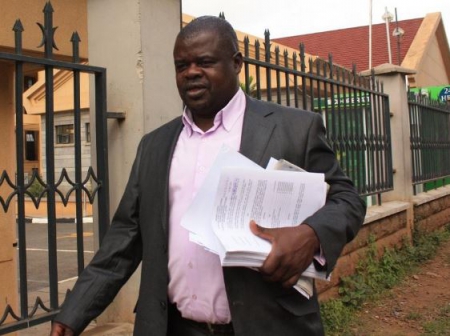 The fate of two officials of a State agency that vets medical products from the multi-billion-shilling pharmaceutical sector now lies in the hands of the Employment and Labour Relations Court.
Activist Okiya Omtatah filed a petition seeking to have the Ministry of Health and Public Service Commission (PSC) compelled to sack Hezekiah Chepkwony and his deputy Pius Wanjala from the National Quality Control Laboratory (NQCL).
The petition also wants the court to declare the two unfit to hold any public office for alleged abuse of office.
The State agency is responsible for testing the quality and efficacy of medicines and related products imported or produced locally by the pharmaceutical industry before they are approved for use.
Mr Omtatah alleges in his petition that despite various incidents of misconduct by the two officials, Health Cabinet Secretary Cleopa Mailu and PSC Chairperson Margaret Kobia have failed to institute disciplinary action against the two.
Attorney General Githu Muigai is also listed as a respondent in the petition.
Numerous allegations
The petition argues that failure to act against NQCL's officials endangers the public, which relies on the agency to test and ascertain the quality of medicines in the country.
"The circumstances prevailing at the critical NQCL of the Ministry of Health, which is a very strategic Government agency, is untenable under the law and must be stopped by the court enforcing the law," read the petition.
Mr Omtatah said on June 5, he wrote to the Ministry of Health and PSC drawing their attention to the alleged failure to decisively and effectively act on numerous allegations of misconduct made against Dr Chepkwony and Dr Wanjala. On June 27, PSC responded and said it had handed the matter to the ministry for action, but the latter had not responded to his queries by the time of filing the petition.
The petitioner claims NQCL failed to account for at least Sh182 million of taxpayers' funds, citing a recent report from Auditor General Edward Ouko.
Mr Ouko had raised concerns about a disparity between the amount of money channelled to the institution as a Government grant and the records at the ministry.
Omtatah said Chepkwony also failed to account for another Sh90 million and further endangered the public by using expired and substandard chemicals for the analysis of drugs and medicines.
He is also accused of irregularly allowing his deputy Wanjala to be absent from work for 18 months to attend law classes and pupilage without study leave authorisation from the parent ministry while getting a full salary.
Omtatah also wants Wanjala removed for allegedly creating "an untenable working environment" at NQCL.