Objective of the financial institution is to accelerate growth and development in the region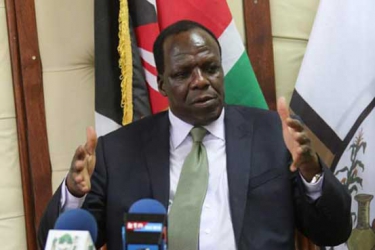 KAKAMEGA, KENYA: Plans are in top gear to establish a fully-fledged investment bank in western Kenya.
Governors from 13 counties in the western region and Nyanza are working on having the joint investment bank set up.
Kakamega Governor Wycliffe Oparanya said the main objective of the bank was to accelerate growth and development in the region.
Mr Oparanya said efforts to fast-track development in the region were disrupted by a faulty Integrated Finance Management Integrated System (IFMIS) and irregular and delayed disbursement of devolved funds by the National Treasury.
Several projects initiated earlier in the counties were severely affected by IFMIS malfunctioning, with most governors being forced to go for alternative sources of funding to be able to meet their obligations.
According to him, the county governments would focus on pooling resources through collective investment in the next five years in order to uplift the living standards of the local people.
"The envisaged economic bloc will act as a one-stop-shop for investors keen to exploit existing opportunities across the 13 devolved units in western Kenya," said Oparanya.
He added that governors were committed to opening up investment interventions in key sectors such as tourism, education, health, financial service, and infrastructure.
All governors from the region recently met to discuss the area's development agenda.
"We reached a consensus and reaffirmed the establishment of the investment bank that will play a critical role in accelerating our development agenda through bankrolling identified projects," said Oparanya.