Kenya and Tanzania trade war that cost Kenyan firms Sh7.5 billion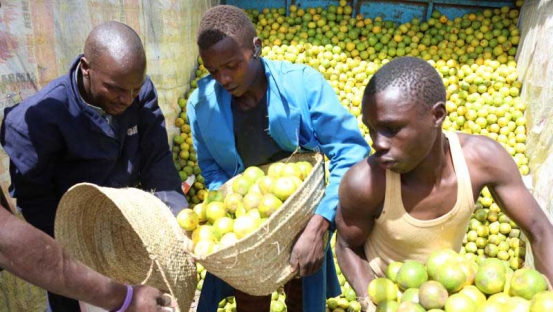 As the dust settles on the spat between Kenya and Tanzania, and calculations on exactly how much each side lost continue, questions are emerging on whether this is the last diplomatic row between the two countries.
Indications show the standoff may not be the last as rivalry between the two neighbours has been there since the 1967 Arusha Declaration in which Tanzania adopted socialism, putting it on a collision path with Kenya's capitalist ideals.
However, while Tanzania is economically poorer, analysis by Weekend Business shows Kenya as the biggest loser whenever there is a dispute between the regional economic giants.
Kenya loses more money in terms of exports. The balance of trade between the two countries stood at Sh22 billion at the end of last year in favour of Kenya. In 2016, Kenya exported goods worth Sh34.8 billion to her neighbour while it imported Sh12.8 billion worth of products.
Because of the escalation of tensions between the two countries, Kenya's exports to Tanzania have fallen by a staggering 60 per cent from Sh12.5 billion to a paltry Sh5 billion in the first six months of 2017 when compared to a similar period last year.
It is also worth noting that Kenya usually gives in to more of her neighbour's demands than what it receives in return whenever there is a disagreement.
For instance, despite finally allowing her northern neighbour's goods to its markets after a two-month standoff, Tanzania has still retained the duty it had imposed on Kenyan products - which is part of what created the tiff in the first place.
"We are still paying some of the excise duties we hoped to have reduced but these are issues we will pick up during our meeting in September," a representative of the Kenya Association of Manufacturers (KAM) told Weekend Business.
On the other hand, as a reciprocation, Kenya has allowed Tanzania's Liquid Petroleum Gas (LPG) into the country after citing safety and security risks for the earlier ban.
"The ban has been lifted, we no longer have a problem at all," Petroleum Principal Secretary Andrew Kamau told Weekend Business.
Tanzania had blocked unprocessed foods, milk products and cigarettes from Kenya and introduced a Sh5,000 fee for business visas even for a one-day visit.
Milk processor New KCC, cigarette manufacturer BAT, all the cement makers, Vivo Lubricants, which markets Shell lubricant brands and Bidco Oil Refineries were among the 20 Kenyan companies heavily affected by the ban.
It is not clear yet if Kenya has lifted the ban on Tanzanian wheat. A meeting supposed to be held last week to iron out some of the sticking issues collapsed.
Meeting rescheduled
This is after Tanzanian officials became non-committal, though officials at the Trade Ministry in Kenya say the meeting has been rescheduled to September 9.
"To my knowledge, the borders have been re-opened for business but we have a bilateral meeting set for September 6 to 8 in Tanzania," Trade Principal Secretary Chris Kiptoo said of the new developments.
But with the two countries operating on radically different economic policies while at the same time engaging in a battle for dominance in the East African region, analysts have pointed out that the cooling down of temperatures is just a lull before another big storm.
Since independence, the two have engaged in an on and off diplomatic war but the latest has been viewed as the most severe since 1977 when President Julius Nyerere closed the Kenya-Tanzania border, leading to the collapse of the East African Community.
"The two countries have to get over who is bigger than the other because there is so much to lose if they cannot get along and so much to benefit if they do away with the barriers of trade we are seeing," says Robert Shaw, a public policy and economist.
"We share one of the largest borders in East Africa and our economies are fairly stronger than the other countries in the region, so I don't see why there is bad blood," he says.
So bad is the suspicion and rivalry between the two states that Tanzania continued blocking Kenyan goods into her territory for over a month even after a deal lifting trade restrictions was signed on July 24.
Things have been further complicated by suspicions by the Kenyan government that the National Super Alliance political grouping had a parallel tallying centre in Tanzania during the just concluded General Election. Dar es Salaam has disputed the allegations.
Among the complaints that Tanzania has raised against Kenya is the lengthy period it takes for inspection and approval of entries for Tanzania Breweries Ltd (TBL) consignments at the border.
Invoked rules
In addition, it says the Kenya National Bureau of Statistics (KNBS) conducts double checks on products approved by the Tanzania Bureau of Standards and Tanzania Food and Drugs Authority, which it claims is discriminatory.
Tanzania also claims Kenya has invoked the EAC rules of origin and imposes duties on TBL products by insisting Redds and Castle Lite beer are manufactured in South Africa while they are manufactured in Tanzania.
Kenya, on the other hand, accuses Tanzania of subjecting its goods to the highest number of non-tariff barriers in the region.
For example it says that to register a product in Tanzania, Kenyan companies are forced to pay $2,000 (Sh200,000) while the rest of the countries charge $1,000 (Sh100,000).
Kenya also says its exports to Tanzania are subjected to verification three times — at the manufacturer's premises and at the border which consumes time and is costly.
The Kenya Association of Manufacturers details the challenges in a document on the ongoing trade barriers between Nairobi and Dar esalaam.
"There are numerous institutions involved in imposing levies and carrying out inspections on goods. Besides, some of the levies were recently raised by 100 per cent. Discriminatory levies and permits which apply to imports from Kenya and not applicable to locally-produced dairy products are thus making our products uncompetitive," says KAM.
"It has been observed that EAC intra-regional trade is declining since 2015. This could possibly be attributed to the increasing restrictions imposed by partner states on country-specific stays of application and duty remission," it says.
Trade between Kenya and Tanzania constitutes over 45 per cent of the entire trade within the East African Community. Combined, the gross domestic products of the two countries amount to 76 per cent of the region's economy.
As at the end of last year, Kenya's economy was worth an estimated $70 billion, Tanzania $47 billion, Uganda $25 billion, Rwanda $8 billion and Burundi $3 billion.
Economic lead
Supported by good infrastructure, a stronger manufacturing sector and strategic geographical position, Kenya still maintains a strong economic lead over her neighbours.
Some quarters have, however, projected that Tanzania's economy - which has been growing by seven per cent annually partly due to rapid industrialisation - would overtake Kenya by 2022.
Patrick Kamau, who teaches diplomacy and peace studies at the United Stated International University, says this thought alone has made Tanzania test whether it can upstage Kenya's influence in the region.
"In any geographical region, countries with the most wealth and military might hold hegemonic power over their peers and it is natural that Tanzania is flexing its muscles and Kenya is reacting as demands the principle of reciprocity in diplomacy," he observes.
"But if anyone is doubting Tanzania's increasing influence they should recall that Uganda and Rwanda have opted to pass an oil pipeline and standard gauge railway in the south," says Mr Kamau.
"At the same time, Tanzania is weaning itself off Kenyan goods. Since Kenya exports more to Tanzania than what it imports, it is the biggest loser in the standoff."
Kenya's major exports to Tanzania include palm oil, soap, flat rolled iron, sugar confectionary, and household products. In return she imports paper and paperboard, maize, electricity transformers and poles, textiles, rice, animal products, pipes, wheat, maize, onions and fruits.
But in the last five years, Kenya's exports to her neighbour have dropped 26 per cent from Sh46 billion in 2012 to Sh34 billion last year, according to data from KNBS.
"Total export earnings from the EAC registered four per cent decline to Sh121.7 billion, to account for 51.9 per cent of total exports to Africa, during the review period," said KNBS in the Economic Survey 2017.
During the period, imports from Tanzania dropped from Sh14 billion in 2012 to Sh11 billion in 2013, then rose to Sh18 billion the next year, dropped to Sh16 billion in 2016 before a sharp drop to Sh12 billion last year.