Kenya rich on paper but majority struggling to make ends meet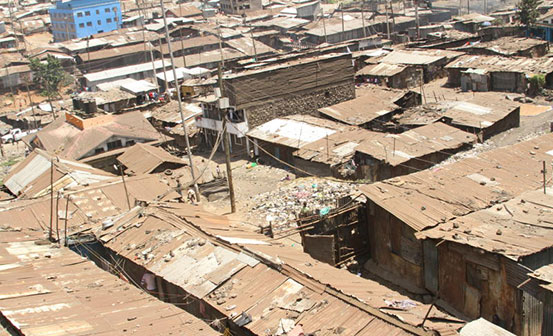 As a wave of labour unrest sweeps across the country with doctors and lecturers staying out of hospitals and lecture halls, one thing has reinforced the hard line stance by these professionals—a belief that Kenya is wealthy.
With the Gross Domestic Product (GDP) — or the total value of goods and services the country produces annually— standing at Sh6.3 trillion as of 2015, doctors, lecturers and teachers might be excused for believing the Government coffers are brimming with cash.
And why not? Didn't Kenya in 2013 join the prestigious club of not-so-rich but not-so-poor middle-income economies after it rebased its GDP? Kenya's GDP expanded overnight by 25 per cent after policymakers adopted a different base to calculate its size, shrugging off the rather disconcerting tag of being described as a 'poor country.'
Kenya had grown richer, hurtling past a number of African countries in the race to the pinnacle of the continent's economic supremacy. Kenya became the ninth largest economy on the continent and the fourth largest in sub-Saharan Africa. However, Kenya's expansive GDP made the country richer without adding a single sufuria of ugali in Kenyans' households.
Least developed countries
As much as Kenya claims to be wealthier, the standard of living for its citizens pales in comparison to that of its peers in the continent. Income for Kenyans—including salaries, interest rates on capital, wages and dividends—have not been enough to help them ride the wave of high cost of living, forcing some workers to vent their frustrations in the streets.
And except for a few super companies such as Safaricom that have declared super-profits, returns for most Kenyan-owned corporations have been dismal. A good chunk of profits earned has been carted overseas, lining the pockets of foreign investors and not Kenyans.
Official figures indicate that while Kenya ranks ninth on the continent in terms of GDP, Kenyans rank 21st on the continent as far as the standard of living is concerned. Compared to Kenya, life is less costly for the citizens of Seychelles, Sierra Leone, Sao Tome and Principe, Namibia, Mauritius, Guinea Bisau, Ghana, Equatorial Guinea, Cote d' Ivoire, Congo Republic, Cape Verde, and Botswana—all of whose GPD is smaller than Kenya's.
Expectedly, Kenyans are also poorer than South Africans, Nigerians, Angolans, Egyptians, Algerians, Moroccans and Libyans who have a bigger GDP than Kenya's. This is Kenya's underbelly, for long hidden from the public glare and featuring only in conversations among economists. But the truth is, Kenya is not as rich as it has been billed.
To measure the economic well-being across different countries, the World Bank uses a database known as Gross National Income (GNI) per capita, using Purchasing Power Parity (PPP). Using GNI per capita, Kenya ranks below such countries as Cape Verde, Swaziland, Zambia, which the United Nations has classified as least developed countries (LDCs).
Kenya's GNI per capita, adjusted for price stands at $3,070 (Sh318,051). "GNI is calculated by dividing GDP by the population. High population therefore means low GNI per capita. If you factor in inflation, the GNI value can even be lower in real terms, that is what it can buy," says University of Nairobi lecturer XN Iraki. He adds that "it reflects the average income of a country's citizens."
The flaw in GDP is that it measures everything that is produced within the country, including that which is produced by foreign firms and which, often times, is then shipped abroad. GNI, on the other hand measures income by the nationals of a country, including those outside the country. Economists reckon that most of what is 'earned' by Kenyans is not much, with multinational corporations raking in a huge chunk of the country's profits and repatriating them to their mother countries.
Indeed, foreign investors are the most active at the Nairobi Securities Exchange (NSE), a situation that has not only occasionally threatened the stability of the country's capital market but has also seen shareholders lose out on dividends. Although Economist David Ndii insists we are not in such positions as some countries where major economic sectors are controlled by foreign companies— a fact that has seen them lose out to capital flight— a number of sectors in the Kenyan economy are under the grip of foreign players.
The sectors range from the newly lucrative oil and gas, through banking to telecommunications. With our new-found oil discoveries, Kenyans with limited capital outlays or skills necessary for the exploration and mining have been left out with foreign companies such as Britain's Tullow Oil running the show. In telecommunications, Safaricom is 40 per cent owned by UK's Vodafone, Airtel Kenya by India's Bharti Airtel and Telkom Kenya by British private equity firm Helios (60 per cent).
Kenyans have tried to maintain a stranglehold in the financial sector. However, as many as half of the lenders operating in Kenya are foreign-owned. In addition, Kenyans have been selling their shareholding to foreign investors, a fact that might have dented the country's GNI.
A good example is the celebrated Two Rivers Mall, which last week opened its doors to the public. Billed as one of the biggest shopping malls in sub-Saharan Africa, Kenyans celebrated the project as yet another one of local investment milestone. But as it turns out, the project that was the brainchild of entrepreneur Chris Kirubi's Centum Investments is now 50 per cent owned by UK-based multinational Old Mutual after the latter injected Sh6.4 billion into the project.
Chinese firm Aviation Industry Corporation of China (AVIC) has also invested heavily in the project leaving Centum with a minority stake in the project. Kirubi also dispensed with his shares at Haco Industries to South Africa's Tiger Brands, and now the firm is known as Haco Tiger.
In the financial sector, Old Mutual acquired a controlling stake in both UAP and Faulu Microfinance. British multinational life insurance and financial company Prudential Plc acquired Shield Assurance Company as the insurance sector attracted more capital inflows. Moreover, some Kenyans have chosen to invest and stash their cash outside the country, denying their country much-needed income.
Moreover over the last 10 years, firms have been folding up moving into such countries as Ethiopia, Egypt and South Africa where the business environment is more accommodating, denying Kenyans much-needed income and government taxes. Firms that have since left include Eveready, Cadbury, Sameer Africa and Nestle Kenya. The net result has been that our earnings—profits, salaries, wages, interest rates and dividends—are far less lucrative. And the fact that a good chunk of the population, about 89 per cent, depend on meagre returns from their small kiosks and jua-kali sheds that make up the ubiquitous informal sector has not helped.
Most of these people in the informal sector earn less than the Sh12,000 that is the minimum income gazetted by the Government. "They earn very low wages— a minimum income which can't catapult them to higher investment," said Maseno University economics lecturer Dr Scolastica Odhiambo. This is also the case with salaried people whose paycheck has also not been impressive forcing many workers such as the doctors and civil servants to agitate for higher pay.
Lack of high capitalisation
Dr Odhiambo notes that less than five per cent of Kenyans have super salaries where they earn more than Sh600,000 per month—a salary that can easily enable one to invest by, for example, purchasing a house in Nairobi. Poor profitability by listed firms has also meant poor dividends for shareholders with a number of investors receiving as little as Sh100 after every financial year. But even worse, as profits by corporations have been squeezed most companies have opted not to declare dividends or issue bonuses.
Our analysis on the 64 listed companies at the NSE found that over a third (20) of the companies had not paid dividends since 2014. A further 15 companies have been reducing their dividends per share. Wages have also been poor and erratic. Agriculture is, for example, one of the country's significant moneymakers contributing over a third of GDP. "We are not investing in high value industries," indeed, most of what we earn in terms of exports of tea, coffee and flowers—and which finds its way into the computation of our country's GDP—is foreign owned.
Dr Odhiambo adds that most of our investments are in real estate with payback time being between 25 and 30 years. "The reason Kenya's GNI per capita has been poor is because most of the firms have been moving out of the country for the last 10 years. They have also moved with the profits that would have come into the country," she said, noting that lack of high capitalisation as other countries such as Egypt, Nigeria, Botswana and Ghana is also to blame.
In such sectors as EPZ, Chinese and Indian-owned manufacturing firms have enjoyed tax holidays for as long as ten years, neither paying taxes to the government nor pumping the money back into economy, a situation that has denied the economy much-needed income.
After ten years, some of these companies have left without having done much in terms of technology transfer to locals. "The government has to come up with a policy to increase high-value investment," said Dr Odhiambo.