Kenya Airways Chief Executive Mbuvi Ngunze resigns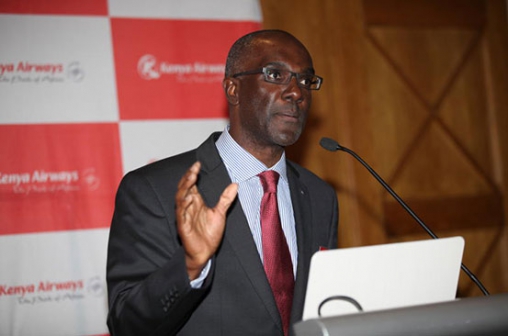 Kenya Airways Chief Executive Mbuvi Ngunze has resigned after a turbulent two-year stint at the helm of the airline.
The decision comes months after the national carrier pilots had demanded his exit.
The airline yesterday announced Mr Ngunze would be leaving early next year. A statement by KQ board chairman Michael Joseph said the CEO would, however, be staying to help with the transition and leave office in the first quarter of 2017.
His resignation comes a month after Dennis Awori resigned as chairman of the KQ Board. The pilots, through their lobby, the Kenya Airline Pilots Association (KALPA), had been pushing for the removal of the chairman and CEO citing mismanagement that they said had resulted in numerous hitches and flight delays.
"Today, Mbuvi is announcing that he will be leaving KQ effective first-quarter 2017. By that time, he will have worked with KQ for over five years and as the Group Managing Director and CEO for two years, and felt it was a natural point in the company's evolution to pass on the baton," Joseph's statement read in part.
"While I regret this decision, I respect his position. Mbuvi will stay on until a successor is found which is expected to take some months."
Amb Awori and Ngunze are not the only senior officials to leave KQ following pressure from the pilots. Others include former human resource director Alban Mwendar.
The expected exit of Ngunze will without a doubt throw Joseph a curve, considering he will have to induct the new CEO, though he is also a newcomer to KQ and the airline industry. He will have to summon his genius as well as a touted iron fist that saw him steer Safaricom to being the largest company in the region.
Ngunze joined the airline in 2011 as the chief operating officer and took over from Titus Naikuni as the CEO in December 2014. He inherited a company that was in deep financial ruin. In just six months after he took over, he announced the biggest loss in the airline's history. The airline recorded a loss of Sh25.7 billion for the year ended March, 2015.
This worsened in the following year, hitting another record low of Sh26.2 billion for the year to March, 2016. In his statement, Joseph conceded that that Ngunze presided over tough times and had managed to navigate the challenges and was starting to achieve a degree of success in turning around the airline.
"What is critical is that these challenges have been faced with measured responses that are now clearly bearing fruit. These actions have included successfully negotiating bridge financing for the business, revisiting the commercial offer of KQ and organisation, monetising assets to keep the business in operation, fleet rationalisation and improved utilisation, reducing costs and improving productivity," he said.
"The operational losses of the business have reduced substantially under his watch and KQ more than broke even at the half-year period. Operation Pride will clearly place KQ on a stronger footing and provide a stable base for long-term growth."
The five-year stint at the national carrier and in particular the two years he had been the CEO might be seen as a stain on his otherwise remarkable career.
Ngunze was before joining KQ a high-flyer in the corporate world, where he worked with multinationals including French cement maker Lafarge and PricewaterhouseCoopers (PWC).
Prior to joining KQ, he was overseeing Lafarge's Tanzania operation as general manager of Mbeya Cement. He joined Lafarge in 1998, initially working for its subsidiaries in East Africa - Bamburi Cement in Kenya and Hirima Cement in Uganda.
He later moved to Lafarge's headquarters in Paris and was in November 2006 appointed Group Vice President for Iinternal Communications.
In March 2009, he was appointed General Manager of Mbeya Cement in Tanzania.
Why you need an interior designer
Interior decor has been known to increase the aesthetic value of spaces since time immemorial. Designers help to give your property the 'wow' factor.