Small banks to feel the biggest pinch as new lending rates 'spoil the party'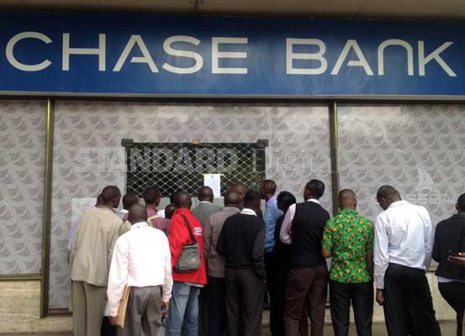 Small banks will have to make the most painful cuts on earnings from interest after the new law spoiled the party for lenders in the country.
Credit Bank, Jamii Bora Bank and Middle East Commercial Bank have emerged as top three casualties under the new interest rate controlled regime given that they will have to cut their rates by the biggest margin to comply.
Data from the Central Bank of Kenya (CBK) shows the three lenders were charging on average about 21.5 per cent, 21.2 per cent and 20.9 per cent as at June 2016, handing them the sweetest interest spreads in the sector. An interest spread is the difference between what banks pay on interest for deposits and what they charge borrowers.
Small banks have been charging spreads of as high as 15 per cent in a bid to compensate for their high cost of operations compared to the large banks that had access to cheaper deposits. Also to feel the biggest squeeze will be Chase Bank and Guaranty Trust Bank who have been charging way above 20 per cent. Other lenders on the list of top 10 banks who will suffer most is National Bank of Kenya, Family Bank, Africa Banking Corporation, Bank of Africa and NIC Bank.
On the flip-side
With the new law, their rates will almost be halved and the spreads minimised to about seven per cent. They will be required to cut their rates by between 6 per cent to as high as 10 per cent on average. The reductions will be bigger for individual unsecured loans given that they attracted the highest rates in the industry. For instance, Guaranty Trust Bank (Kenya), which was the first mid-sized bank to comply with the new Banking (Amendment) Act 2015, will be shedding off on average 5.7 per cent. The bank announced that it had joined the majority of lenders in the industry who have now capped interest rates on all existing and new loans at 14.5 per cent effective September 2016.
"In complying with the spirit of the new law, we will be capping the interest rates on all existing and new loans at the proposed rate of 14.5 per cent. The changes will be implemented beginning September 2016, " said Ibukun Odegbaike, the Bank's Managing Director for East Africa. "GTBank working with industry stakeholders, remains supportive of the new law; our focus is ensuring that we continue to serve our customers diligently, meeting their banking needs through our suite of products and services while upholding high standards of customer service," she added.
On the flip-side, First Community Bank and Citibank will largely leave their rates unchanged given that on average, they were charging even lower rates than the current maximum. The two lenders were charging 11.7 per cent on average. Others to see small cuts include Housing Finance, Guardian Bank and Habib Banks who will cut their rates by about 2 per cent on average to be in compliance.
Financial inclusion
The new law, which sets rates at a maximum of 14.5 per cent has handed borrowers a major reprieve and boosted their purchasing power. At this rate, consumers with existing loan will enjoy an immediate benefit on their monthly repayments. Banks have advised customers to visit their branches to review their loan terms.
Borrowers have also the option of reducing their monthly repayments, reducing the term of their loans while keeping their monthly repayments at the same levels or opt for a top up.
Barclays Bank of Kenya, Equity Bank and CfC Stanbic Bank are the biggest losers among the big banks in the current rates given that they will reduce their margins by about 4 .5 per cent on average. But consumers should expect some shocks in coming months after lenders warned that they may have to come up with more stringent credit rating methods to ensure that only those with super credit records benefit from the new rates.
"In complying with the law, we will work to minimise any unintended negative consequences on the broader economy, such as a reversal of the positive strides made towards financial inclusion through certain groups of people and SMEs being excluded from access to banking services," the Kenya Bankers Association (KBA) said in a statement last week.
To seal the fate of banks, the CBK told Commercial banks and mortgage finance companies that they had until September 14, 2016 to cut lending rates. In a circular to all chief executives of commercial banks and mortgage finance companies, CBK Governor Dr Patrick Njoroge put the commencement date of the Banking (Amendment) Act 2016 on September 14, 2016 putting to rest excuses by banks not to comply with the new law.
Njoroge warns in the circular dated August 31, 2016 that lenders that charge borrowers more than the stipulated interest rates will be fined Sh1 million or their bank chief executives imprisoned for one year.
"A bank or financial institution which contravenes the provisions of subsection (2) commits an offence and shall, on conviction, be liable to a fine of not less than one million shillings, or in default, the CEO of the bank or financial institution shall be liable to imprisonment for a term not less than one year," said Njoroge in the notice.
He said the law requires lenders to disclose all the charges and terms relating to the loan before entering into agreement with borrower. The new Banking Act caps the maximum interest rate chargeable for a credit facility at no more than four percent of the base rate set and published by the Central Bank of Kenya. Also, a lender is required to set the minimum interest rate granted on a deposit held in interest earning to at least 70 per cent of the base rate set by CBK.
How to make Kenya an investment model for Africa
Kenyans welcome Japanese Prime Minister Shinzo Abe's commitment to making Kenya an investment and cooperation model to the rest of Africa. Japan's commitment makes it easier for Kenya to realise its dream of being the gateway to, first, East and Central Africa.