How materials plant will revolutionise construction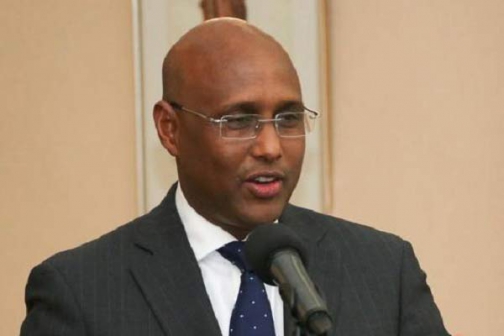 Industry, Trade and Co-operatives Cabinet Secretary Adan Mohamed was right, last week, when he said setting up of a construction materials' supermarket will revolutionise the sector.
But the hope, which springs eternal in an optimist's heart, is that Mr Mohamed will rise to the occasion and give the country a chance to reap maximum benefits from the Chinese investment. The CS will do this by, first, ensuring ordinary Kenyans invest in the proposed supermarket.
This would not be hard to do were Mohamed to use his office as cabinet secretary for co-operatives to drum up support for the investment among members of co-operative societies and chamas.
The advantages of having co-operators have a reasonable stake in the investment are many. At the very least, they would not only earn a profit from every purchase they, and other Kenyans, make but they would also reap dividends from foreigners.
This conclusion is borne out of the realisation that the size and range of investments coming under one roof would make Kenya a manufacturing hub for the entire continent in line with the Chinese earlier commitment.
Another advantage is that a significant local shareholding would encourage the Chinese investors to source the bulk of their raw materials locally. This is important because the country has witnessed a regrettable situation where local vehicle manufacturers continue to import fully-built kits for local assembly almost half-a century after they set up assembly plants.
Not surprising, this has had only a negligible effect on the local economy and it would be a pity were a government led by such well-qualified and experienced team of technocrats to fall into the same runt as their predecessors.
Understandably, these former ministers were good at the politics of their day but were green-horns when it came to finance and economics. Obviously, Mohamed would need to call on the services of his colleagues and other Kenyans conversant with international contracts to ensure that the local investors are not led up the garden path as former investors in the ill-fated Pan Paper Company were.
In the event that the raising of local capital takes time—and time is usually of essence in such instances—the CS may consider persuading the entire Cabinet to agree to the Government taking up the local stake initially. This could be sold later to interested Kenyans by floating a special investment bond open to members of co-operatives and the public at large.
It would be expected that the Chinese investors—provided they are truly interested in being partners in the country's development—would find it easier to agree to Kenya's requests because they require foreign investors to walk the same path back home. This has forced many foreign firms that resist locals having more than a token ownership in developing countries come to terms with the Chinese conditions.
RULES OF ENGAGEMENT
No one should disabuse Kenyans that they do not have a competitive advantage that would persuade foreign investors to agree to local ownership—and a significant voice in day-to-day management.
Just as the huge Chinese population is the lure that draws foreign investors to the country, the combined population of sub-Sahara African and Egypt—which is a Comesa member country—have a potentialmarket that is irresistible to serious players. And it is incontrovertible that Kenya is a natural gateway to this market.
Yet, another advantage of Kenyans ensuring they have a reasonable financial stake in the Chinese investment would be that it would clarify the new rules of engagement for all future investors be they in agriculture, industry or finance.
The development would send out a clear message that the old days when the country's citizens were reduced to the status of mere by-standers as foreign investors raked in the billions are over.
Additionally, the country would benefit from the payment of all due taxes because the presence of Kenyans in key positions—a pre-condition to be captured in the contractual agreement—would deter many shenanigans perpetrated at many foreign firms operating locally.
Interestingly, many so-called experts who advise developing countries to bend backwards to attract foreign investors are the same ones consulted to help in tax avoidance.
Cytonn reports Sh630m net profit
Cytonn Investments has reported a Sh630 million in net profits following a strong performance in its real estate investments. During its Annual General Meeting held on Friday, the investment firm also announced a 42.7 per cent return on equity in a period that saw it diversify its real estate investments.