NSSF moves to recover billions in stolen prime property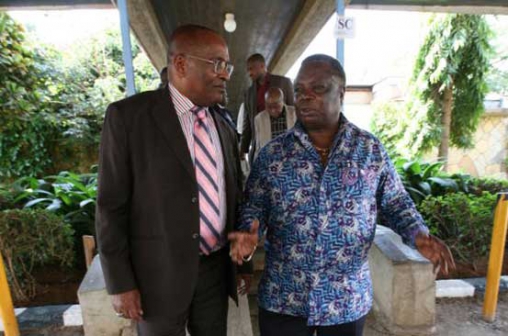 The National Social Security Fund (NSSF) board of trustees has moved to reclaim all its properties that were fraudulently acquired.
NSSF lawyer Patrick Ochiwa of Cootow Association Advocates said the fund had reclaimed a 14-acre prime land in Mombasa's Nyali area with a market value of Sh1.7 billion.
NSSF Trustee Chairman Gideon Ndambuki said the pension fund will contract the National Youth Service (NYS01) to erect a perimeter wall around the said plot to deter encroachments. He said the fence will reduce the cost of hiring a private security company to manage the plot in the posh area of Nyali.
"Fencing will start this week and we advise people who had the appetite to grab NSSF property to keep off as we shall not relent in reclaiming it," Ndambuki said.
The plot along the Mombasa-Malindi road was subject to a 15-year legal battle between NSSF and Koinange family. "NSSF won the court battle after the Court of Appeal ruled in its favour. Let me advise members of the public to stop encroaching on private land before inquiring on its status," he said.
Ndambuki said NSSF plans to develop the plot which he said was bought early 90's before it was leased to a private developer. The fund has also announced that it has taken over Hazina Plaza with an estimated value of Sh450 million located on plot Msa /Block XX/328/329 within Mombasa Island.
The building used to house Mombasa's iconic hotel Hotel Polana.
According to NSSF's Public Relations & Communication manager Christopher Khisa, the pension fund has since leased the building to Techno Holdings Limited for a period 10 years. "Repair works are underway and we expect the hotel to be fully operational by mid-2017,'' said Khisa.
Last week, Ndambuki said that all its properties in private hands would be reclaimed and developed for the benefit of retirees. Ndambuki in the company of nine board members visited a plot in Mombasa North which had been reclaimed from developers after a lengthy court battle.
"I warn speculators and land buyers intending to buy this property to keep off because they shall lose their money," he said.
The Secretary General of the Central Organisation of Trade Unions (COTU) Francis Atwoli said NSSF was planning to construct modern conference facilities, which are in high demand in the country.
The Federation of Kenya Employers (FKE) Chairman Eng Erastus Mongera said the lobby had an obligation to protect NSSF property so that workers could benefit when they retire. "We want to ensure pensioners live a dignified life when they retire," he said.