Flight chaos hits Kenya Airways as key players locked in crisis talks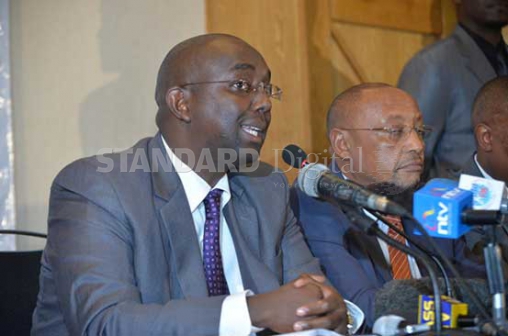 Thousands of Kenya Airways customers were forced to reschedule their flights as the pilots' strike formally started.
The national carrier had experienced disruption due to what it said was a strike by its pilots even as the pilots' representative, Transport Minister James Macharia and board chairman Dennis Awori were holed up in crisis talks.
Pleas by the KQ top management and the Transport Cabinet secretary were ignored, with officials of the pilot association holding firm to their demands.
"The strike is on," Paul Gichinga, the Secretary General of the Kenya Airlines Pilots Association, said.
The meeting was punctuated with several breaks as the Kalpa officials went into a closed-door meeting to craft an agreeable resolution.
The airline issued apologies to travellers whose flights were scheduled for afternoon, with the strike taking off in earnest at 12.
A brief statement by the airline acknowledged the flight disruptions.
"We are currently experiencing delays and cancellation of 10 flights to various destinations in our network and we are advising our guests on the mitigating measures. We request that you bear with us as we work to normalise our operations and we will keep you updated," read the KQ statement in part.
The airline reckoned that the flight disruptions inconvenienced the airline's guests, adding "this is highly regretted and we are working to reduce these disruptions".
The Kenya Airline Pilots Association (KALPA) had on Tuesday issued a two-day notice to the carrier, saying its members would stop flying planes until Kenya Airways Chief Executive Mbuvi Ngunze resigned over what it called "questionable" turnaround measures.
KQ had also obtained a court order on Wednesday barring the planned strike. However, by Wednesday late afternoon the airline and KALPA issued a statement, saying the union had agreed to defer its strike.
"We have had some disruptions this morning as a result of the pilots' strike announced on Tuesday and in spite of our agreement yesterday," Kenya Airways said on its Twitter feed.
By the time we went to Press, dozens of Kenya Airways pilots were still holed up in a meeting with Transport CS and Awori to broker a deal.
Kenya Airways, which is 26.7 per cent owned by Air France-KLM , is one of the largest carriers in Africa, ferrying 10,000 passengers a day with a fleet of Boeing and Embraer jets.
But the airline has been selling assets, including planes, and plans to lay off 600 people as it tries to stay in operation after three and a half years of financial losses.
"Our pilot fraternity is a vital part of our business and we are working together to resolve any outstanding issues," stated the KQ statement released later yesterday afternoon.