Kenya ready to go it alone in oil pipeline deal if Uganda pulls out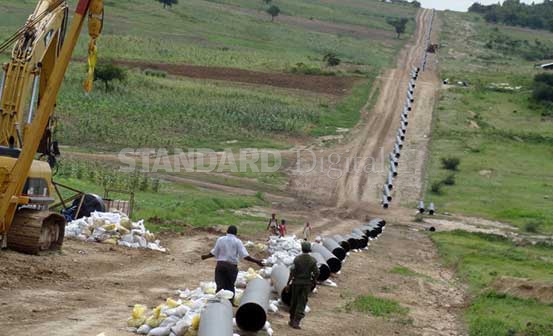 NAIROBI: Kenya will next week hold talks with Uganda to determine future of the planned crude oil pipeline.
Energy Cabinet Secretary Charles Keter also said in case the talks fail, and Uganda pulls out to join Tanzania in constructing a similar pipeline, Kenya will go it alone.
He also maintained that Tullow Oil's future in the country is secure since the pipeline will still be constructed.
"The pipeline route from Hoima to Lokichar to Lamu is the best option for Uganda given that Kenya will charge them cheaper compared to Tanzania per barrel of crude oil transported through the pipeline," said Mr Keter.
The CS also added that given Kenya will be transporting 100,000 barrels a day through the pipeline, while Uganda will transport 200,000 barrels, the pipeline will be of more benefit to the latter.
Security threat
Speaking at his office, Keter downplayed fears that giant French oil company Total was arm-twisting the Ugandan government to take the pipeline to Tanga in Tanzania, at the expense of Kenya, saying Total has invested only a third in Ugandan oil and therefore could not have the ultimate say.
Total has been a vocal opponent of the Kenyan pipeline, citing insecurity along the route since the pipeline will snake close to the Somalian border where Al Shaabab militants are hiding. Keter's assertions come even as the executive director for Tanzania's Petroleum Development Corporation, James Mataragio, announced that construction of the Tanzania-Uganda oil pipeline will begin in August and complete in two years.
Mr Mataragio added that construction of the $4 billion (Sh 405.8 billion) project will be carried out by UK's Tullow Oil Plc, France's Total E&P and China's Cnooc.
Neither Ugandan nor Kenyan oilfields have started commercial production. So determining the pipeline route is vital in helping oil companies reach a final investment decision.
Britain's Tullow Oil, which is operating in Uganda and Kenya, favours the Kenyan route, saying it is cheaper as costs will be shared by more operators.
Keter's assertion that Kenya will go it alone in constructing the pipeline come after claims emerged that Kenya plans to transport crude oil to Mombasa through lorries and rail.
Principal Secretary Ministry of Energy and Petroleum Andrew Kamau was quoted saying the Government will soon start transporting crude oil through trucks from the oil fields in Lokichar to Eldoret and rail from Eldoret to Mombasa using special containers known as iso-containers.
Government sources said the remoteness of the vast Northern Kenya, economics and safety concerns are some of the main reasons why the government had opted to transport crude oil through truck and rail.
A task force has been established to explore that possibility.
A petroleum consultant who is part of that team told Weekend Business that the route from the oil fields in Lokichar to Eldoret was less risky.
Mr Kamau argued that Kenya will not be the first country to transport crude oil via trucks and rail. Other countries that have done the same include the US, Canada and Russia.
Africa Oil and partner Tullow Oil first struck oil in Lokichar in northwest Kenya in 2012. The recoverable reserves total an estimated 600 million barrels.