Kenya must win big in World Trade Organisation talks, says Foreign Affairs CS Amina Mohammed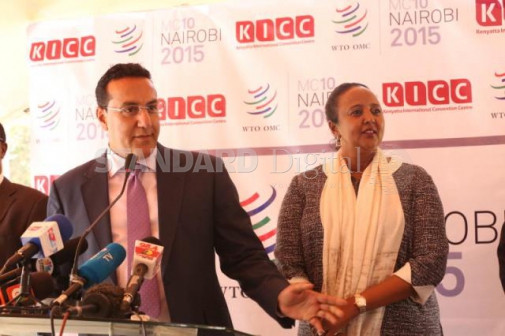 Foreign Affairs Cabinet Secretary Amina Mohammed has said Kenya must have its way at the international trade conference that will be held in Nairobi next week.
Kenya will be lobbying together with other poor countries for increased market access for agricultural exports to the developed nations, among other items on the agenda.
"We are looking forward to a balanced, acceptable, realistic and implementable negotiated package for developing countries in terms of market access," affirmed Mohammed, adding: "There are no two ways about it."
She was speaking after the venue for the conference, the Kenyatta International Convention Centre (KICC), was officially handed over to the World Trade Organisation.
Ms Mohammed confirmed later yesterday evening that Liberian President Ellen Johnson Sirleaf would be arriving in Nairobi for a State visit ahead of the conference.
Liberia will be formally joining the WTO – which is the global body with the mandate to promote international trade between different countries. Liberia and Afghanistan are the newest members of the global body and their accession will be formally endorsed in the four-day conference that open on Wednesday afternoon.
Mohammed said unlike past conferences that have ended in acrimony, the Nairobi meeting must yield the outcomes that are favourable to developing countries including Kenya, because it was 'far overdue'.
Developed nations have on several occasions staged a walk-out in the past, throwing the discussions into disarray, but Kenya's Foreign Affairs CS is upbeat that the divisive issues will be finally discussed and a way forward found. This will be the tenth meeting by the trade ministers of the WTO under the Doha Development Round which started in 2001, but whose initial agenda remains largely unresolved.
Non-tariff barriers ensured exports from poor countries find it difficult to access the markets in rich nations – since the producers in those jurisdictions are granted concessions by their respective governments.
Various stakeholders have asked if the Kenya is ready to carry the burden of failed negotiations and at what price, even it is the first in the region and comes months after Kenya has hosted high profile leaders, President Barrack Obama who came for the global entrepreneurship summit and last month Pope Francis was also around.
Experts blame politics, inefficiency for Galana project failure
High costs due to inefficient use of fertiliser, water and land as well as political wrangles between the national and county governments could have contributed to the dismal performance of the Jubilee government flagship food security project Galana Kulalu.