The day Kalonzo hid in Saitoti's office to evade being thrown in jail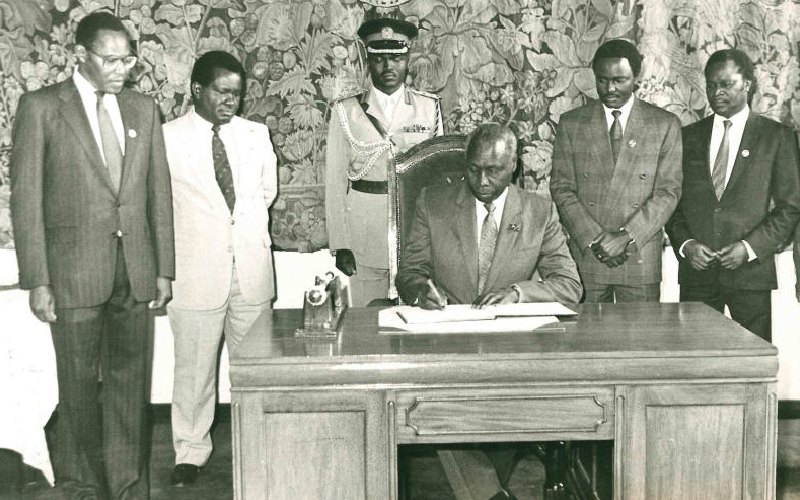 Traumatising. A nightmare. That is how one of Kenya's most enduring politicians describes some of his darkest moments in politics.
In the case of the hunter becoming the hunted, the High Court wanted Kalonzo Musyoka, a lawyer who was also the Deputy Speaker of the National Assembly jailed.
Kalonzo had been jolted by the screaming newspaper headline "Deputy Speaker committed to civil jail."
To avoid being hauled to jail, the smooth-talking Kalonzo ran to the office of the Vice President, George Saitoti for refuge.
The setting of his melodrama had been scripted by his detractors soon after he triumphed in the 1988 General Election and secured his Mwingi North parliamentary seat.
He rubbed his foes the wrong way when he expressed interest to be the Deputy Speaker.
This Kalonzo explains in his memoirs, Against All Odds, is what triggered a series of plots to embarrass him.
"After the 1988 mlolongo elections, I became Deputy Speaker of the National Assembly. Many politicians thought I wanted to be Speaker and went out of their way to frustrate me."
This is how Kalonzo and his partner Musili Wambua were almost thrown in prison after they were accused of defying court orders directing them to produce some documents to the law form of Murimi and Company Advocates which was representing Matunda Estate.
On the other hand, Kalonzo's firm was representing an insurance company that was interested in purchasing some property from Matunda Estate.
The documents had been given to the insurance company which wanted to use them as collateral for a loan which would then be used to purchase the property.
The other law firm learnt of this development and demanded the documents back. The insurance firm had already used the documents to secure a loan.
Contempt of court
It is against this background that High Court Judge Frank Shields gave orders that the documents be returned in seven days.
When his orders were not complied with, Shields directed that Kalonzo and Wambua be arrested for contempt of court.
At the time, Wambua was out of the country on his honeymoon. The saga, Kalonzo believes, was orchestrated to ensure that he was not elected as Speaker.
He writes that at one point he was forced to retreat to Mwingi from where bad press still followed him indicating that he had gone to consult his god.
Although Saitoti had saved Kalonzo from being arrested, he and Nicholas Biwott would later lead him into another embarrassing trap.
"One day Biwott and Saitoti came to my office. They told me, Steve, we would like you to move a motion to censure the Daily Nation. With your eloquence, you are the right person to do so."
Kalonzo says that he regrets this censure, which momentarily locked out the newspaper from covering parliamentary proceedings for he later realised this was a set up by Saitoti and Biwott who conspired to put the anti-press money on his back.