Report: Covid-19 slowed the wheels of justice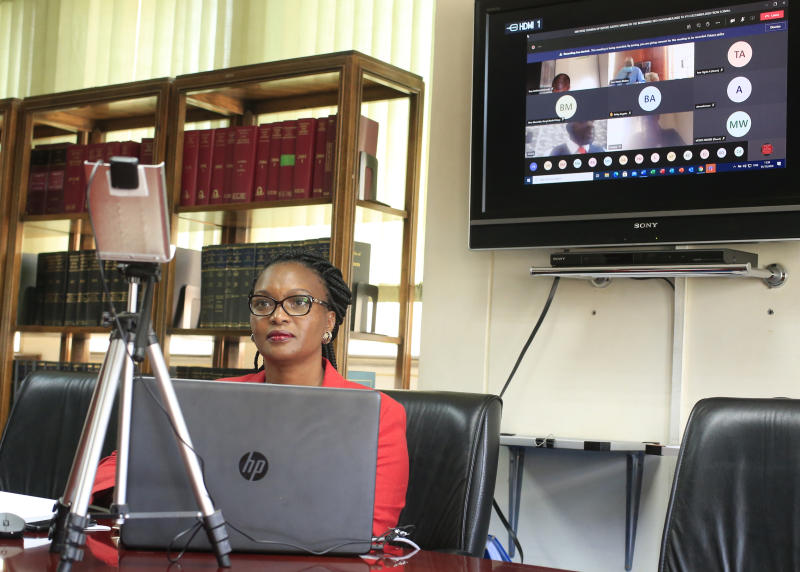 The Covid-19 pandemic has slowed the wheels of justice while more Kenyans are languishing in remand prisons awaiting trial. A study conducted by the Judiciary reveals that judges and magistrates have resolved 26 per cent fewer cases during Covid-19 than the previous years.
Prior to the pandemic, courts settled at least 89 per cent of cases filed by the State or litigants. This was around 469,359 cases. During the pandemic, this number has gone down to 289,728 cases.
Among the reasons why cases are stalling is litigants' absenteeism, which shot up to 22.09 per cent. The report reveals that technology locked out at least 6.02 per cent of litigants from accessing court services.
The highest contributors of the adjournments were police, prosecutors, and lawyers.
"The study results showed that the pandemic adversely affected the resolution of cases in courts. Therefore, efforts geared towards enhancement of the resolution of cases to pre-pandemic levels or much higher should be prioritised," the 54-page-report reads in part.
Scaling down of court operations stands at 12.85 per cent. In effect, this led to the rise of backlog by 11.65 per cent. Judiciary closed its doors to litigants sometime in March last year. On June 8, 2020, then Chief Justice David Maraga issued a statement to guide the resumption of open court sessions.
The modalities on resumption were to be spearheaded at court level through the court user committees.
Mr Maraga said after reviewing the spread of Covid-19, it was a risk to have litigants and lawyers congregate in courts for hearings. He directed judges and magistrates to continue hearing and settling cases online.
"Taking all these factors into account, we have come to the conclusion that while it is prudent to upscale court activities, it will not be wise to have open court sessions at this time. We must emphasise that this does not mean that courts have closed down as some want to claim," said Justice Maraga.
He said courts are high-risk areas as hundreds of thousands frequent the place in search of justice each day and some end up in prisons.
Being a public institution and dealing with different groups of people each day, he said, courthouses risk being contamination sites and a dangerous one as police officers, accused persons who some end up in prisons, other litigants who sue and are sued in a private capacity, lawyers, and court officials converge at the same point to spin the wheels of justice.
However, over time, it has adopted a hybrid system for cases, where some appear in physical courts while others have their cases online. At least 30 per cent of all courts have been using virtual courts.
Although courts have adopted technology, it emerged that the electronic management case system was yet to be put in law.
"There is a need to legislate on electronic case management to cover the operations of virtual courts. The registry manuals could be reviewed to incorporate the diverse practice directions that were issued on the use of technology and incorporate new ones for posterity."
The use of open courts stands at 7.47 per cent while the use of e-filing is 12.46 per cent.
"To move the courts back to the pre-existing performance on the rate of resolution of cases, which from Judiciary of Kenya averaged at 90 per cent for the past three years before the emergence of the pandemic, the leadership of individual courts should devise court specific strategies," the report continues.
The research was conducted in all courts – the Supreme Court, four Court of Appeal stations, 39 High Court stations, six Employment and Labour Relations Court stations, 26 Environment and Land Court stations, 125 Magistrates' Court stations and 47 Kadhis' Courts stations.