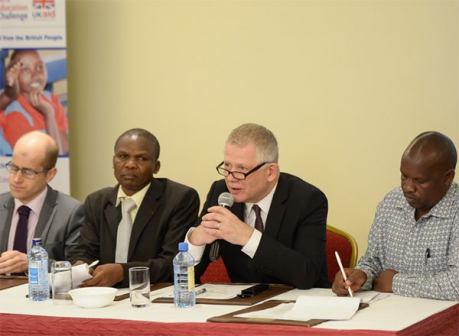 A new mentorship programme for teachers being piloted in Kenya is showing great potential for improving performance in schools.
The National Leaders of Education model is designed to harness the expertise of successful school principals and deploy it to increase the leadership and teaching capacity of schools that do not perform well.
Already, 42 schools in Nairobi have signed up to the model with impressive results, with teachers saying the model is making a difference in the management and performance of schools.
The new model is being piloted in Kenya by Education Development Trust, A UK based organisation with a regional Africa office in Nairobi. The model has been successfully implemented in the UK.
Education Development Trust CEO Steve Munby said practical advice from experienced and talented school heads can have a bigger impact than external monitoring on its own.
"School-to-school improvement provides a faster and more sustainable improvement model, provided it makes the most of the best schools and school leaders. This builds capacity and has the best chance of improving results," he said.
Munby said the NLE model identifies 'system leaders' and builds their capacity to bring about rapid and sustainable improvement in other schools.
The model pairs high and low performing schools of similar profiles where head teachers agree on a measurable target for improvement, based on the theme of 'instructional leadership' and improved quality of teaching and learning. The paired leaders meet regularly for coaching, support and challenge against the school improvement target.
Peter Kimondo of the Ministry of Education's Directorate of Policy and Partnerships said the government was willing to discuss how the model could help improve the performance of schools in Kenya.
The officials spoke yesterday during a Girls Education Challenge dissemination workshop meeting under which Education Development Trust together with other partners are is implementing the Wasichana Wote Wasome project which aims to enhance enrolment, retention and learning outcomes for marginalised girls in Arid and Semi-arid lands and urban slums.
Head teachers in the programme attest to how it has made a positive difference in improving education standards.
"The essence of the model is to walk together . I remember when I first went to my mentee school, I asked two pupils –a girl and boy – to read 12 words. The boy could read only two words and the girl could read only one. I then held a session with the teacher of that class and coached him what he needed to do to improve the reading. When I went back four weeks later the children could read more than 8 words" said Leonard Wawire, Youngstage Education Centre, Nairobi.