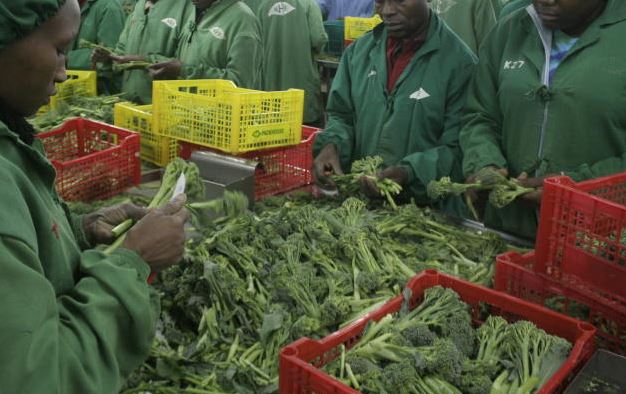 There is a glimmer of hope for the recovery of Kenya's horticulture sector from the shocks caused by the coronavirus pandemic as demand for produce increases.
Industry stakeholders say while the output still remains below the pre-coronavirus level, the easing of coronavirus-related restrictions in key markets in Europe has reinvigorated the industry.
As a result, processing factories and packhouses that had been shut or operating below capacity for the past four months are coming back to life and workers who had been laid off are being recalled.
The suspension of air travel and closure of international borders to limit the spread of the deadly virus hit horticulture, a sector that contributed Sh122 billion of Kenya's export earnings in 2019, hard.
But the recovery is bittersweet for avocado farmers as exports are picking up at the tail end of the avocado season.
Read More
The world went into lockdown in February as the avocado season set in. "It is a relief that the markets are now opening up, but business is picking up when the fruit is going offseason," said John Mwangi, an avocado farmer in Murang'a County.
It has been a tough year for farmers, especially those who grow various crops and fruits exclusively for the export market.
"The biggest market for my avocado is abroad, but this year almost all the fruits that I would ordinarily export I sold locally, while some rotted in the trees," said Mr Mwangi.
The Fresh Produce and Exporters Association of Kenya (Fpeak) said despite key markets for Kenyan produce being closed, revenue from fruits and vegetables increased.
Comparative to January and June last year, horticulture earnings rose to Sh81 billion this year, up from Sh76 billion. Fpeak Chairman Apollo Owuor, however, warned the industry is not yet out of the woods, although the outlook is positive.
"The market is not fully opened. There are still lockdowns in France and Germany, and we have not fully resumed flights," said Mr Owuor.
The low frequency of passenger flights directly impacts the export of fruits, vegetables and flowers because most of it is exported in the bellies of passenger planes.
"We are getting some good signals; we are hoping for more flights and tourism to pick up so that we can have a significant number of passenger airlines coming in as well," he said.
"Most operators were affected by cash flow issues, but there was a relief when the government started paying VAT returns, which brought a few operators back to business because cash flow issues were heavy, especially when you're not selling anything and you have obligations to meet."
Nathan Ndung'u, who owns Avoveg Ltd, an avocado packhouse and exporting company in Embakasi said he is glad the fruits are now moving more freely, and farmers are supplying them as usual.
"The pandemic had brought the sector to its knees and there have been several nosebleeds. The containers had been caught in the high seas, and normal transit times of 25 days took up to 60 days," he said.
The company was forced to stop exportation when the pandemic struck back in May.
While avocado, which is exported by sea was not as affected as more perishable fruits and vegetables that rely on air freight, quality issues with the fruit taking longer at sea and the long wait to receive payment affected operations.
Earnest Muthomi, chief executive Avocado Society of Kenya, conceded that while there were issues, the pandemic had not entirely crippled the sector.