Posta bets on Sh1b bailout to stay afloat
Postal services across the world have been under attack for years. The volume of mail delivered has consistently dropped as advances in technology ravage what was once a revolutionary service.
While the number of households and businesses has increased, the rise of the internet has meant the need for postal services has exponentially dropped.
As a result, most of these State institutions are drowning in debt, have shuttered hundreds of outlets and witnessed several once-enviable job positions become redundant.
But there is a generation of Kenyans for whom the post office evokes fond memories – from picking a stamp to making a day of going to pick up mail, or even just finding out what special delivery would be waiting when that green slip of paper is slipped into your mail box.
However, few would fail to see that postal services are struggling, with their financial situation complicated several times over by the coronavirus pandemic.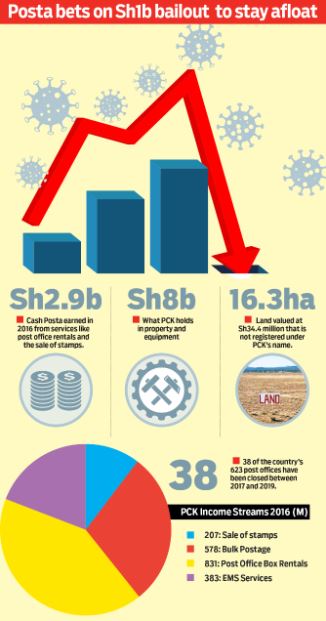 Slashed revenues
Speaking to the Financial Standard, Postmaster General Dan Kagwe admitted Covid-19 has eroded Posta revenues by 75 per cent, meaning it cannot pay salaries or meet other financial obligations.
"We have written to the government asking if it's possible to get a grant to pay the workers, and the little money we have left over goes into administrative expenses," he said.
"We are looking for a small cushion of about Sh1 billion to get us up on our feet."
Already, Kagwe is dealing with a disgruntled workforce.
Early last week, the Communication Workers Union (COWU) urged the government to intervene on what they said was mismanagement at the corporation, and reverse its fortunes.
Take a quick survey and help us improve our website
Take a survey
"The ailing parastatal faces mounting debts estimated at Sh4.9 billion in non-payment of salaries or pension to its 2,000 staff and retirees, and failure to remit statutory dues and settle payments to suppliers against annual income of just Sh2.2 million," said Benson Okwaro, the COWU secretary general, in a statement.
"By the end of this month, the staff will have gone without salary for four months. We are concerned as a union that the government ... has abandoned the corporation."
Data from the Auditor General indicates the Postal Corporation of Kenya (PCK) spends Sh2.2 billion annually on employee salaries. By the end of this month, wage bill arrears will stand at Sh750 million.
Kagwe, however, said the cancelling of international flights in March disrupted transfers of international parcels and letters, eating into Posta's revenue plans.
"We had signed a partnership with Amazon that would allow consumers in Kenya to make orders and have items delivered to their houses through our postal network," he said.
"However, most of these partnerships halted because we were depending on hubs like JFK (in the US) and the direct flights that Kenya Airways had just started making."
Postage stamps
In its heyday, Posta revenues were nothing to sniff at. In 2008, for instance, it recorded Sh13.9 billion in annual revenues.
However, in the years since then, this figure has declined by more than 75 per cent.
Further, the last quarter of the year is traditionally an important time for PCK revenues. It is when people buy postage stamps and send success cards to a portion of the nearly 1.7 million candidates sitting primary and secondary education exams. This year, disruptions to the school calendar mean this will not be happening.
Posta, which was established by an Act of Parliament (PCK Act 1998), operates as a commercial public enterprise.
The corporation's mandate includes the provision of accessible, affordable and reliable postal services to all parts of the country. But over time, it has become a loss-making venture.
It is not a situation unique to Kenya. Postal corporations the world over have been struggling. The United States Postal Service (USPS) had been atrophying from financial turmoil way before the arrival of Covid-19.
"Over the past decade, post offices have been closed across the country, rural mail delivery is stretched thin, and thousands of post office workers' positions have been eliminated," wrote The Guardian in a past article.
"The outgoing postmaster general recently warned that without immediate support the agency could run out of funds within the year, and in that case might need to shut down."
And now, exposed by Covid-19, the situation is bleak and recovery is looking almost impossible.
In the UK, postal workers have complained that they are exposed to the virus as a result of handling non-essential mail. And the delivery workers who take mailed items to homes, the risks are higher.
For PCK, the mushrooming of delivery companies eager to pick items from wherever they are and deliver them right to a customer's doorstep has eaten into the corporation's service, Posta Dispatch, a door-to-door delivery option.
And as fewer Kenyans see the need for a post office box, the revenue raised from this has been on a decline.
And then the parastatal's foray into international business was affected by Covid-19.
"The coronavirus caught us unawares, and when airports closed and passenger planes were grounded, our international business was affected. PCK ferries letters and parcels using passenger flights, as unaccompanied luggage, and with the cancelling of international flights, we were unable to complete orders," said Kagwe, whose contract was renewed last March by ICT Cabinet Secretary Joe Mucheru.
But even before the pandemic, financial records show Posta has been struggling over the years.
In the seven years since it posted Sh13.9 billion in annual revenues from delivering letters, parcels and a nascent money transfer and banking business, the corporation's earnings dropped to Sh3.6 billion in 2014.
And then in 2016, the Auditor General declared the parastatal insolvent.
"The current liabilities of Sh5.3 billion exceeded the current assets of Sh1.5 billion, resulting in negative working capital of Sh3.8 billion," said the then Auditor General Edward Ouko.
"The corporation was, therefore, unable to meet its financial obligations as and when they fall due. The corporation was technically insolvent and its financial statements have been prepared on a going concern basis on the assumption of continued financial support from the government and creditors."
According to this report, PCK also wrote off Sh1.5 billion debt to its subsidiary, the Kenya Post Office Savings Bank.
"The trade and other payables balance of Sh5.3 billion as at June 30, 2016, includes Sh1.5 billion being outstanding debt owed to Kenya Post Office Savings Bank," said Ouko in part.
"However, no reconciliation was (made available) to confirm the accuracy of the outstanding debts."
Cash receipts
According to the Auditor General, PCK made Sh2.9 billion in cash receipts in the 2016 financial year, which was a drop from Sh3.5 billion in 2015.
The money included Sh207 million from the sale of stamps, Sh578 million in bulk postage, Sh831 million in post office box rentals and Sh383 million from its EMS services.
In an attempt to reverse its dwindling fortunes, in 2017, PCK announced it was laying off 1,280 employees.
But compounding its troubles is the fact that some of its prime assets have been illegally privatised and risk being fully usurped.
Ouko's report indicated that PCK holds assets worth Sh8 billion in property, plants and equipment. Of this, 16.3 hectares valued at Sh34.4 million are not registered under PCK's name.
These include 28 post offices spread across the country, including in Kangundo, Kagio, Kikambala, Kithimani, Siaya, Narok and Rongai.
According to the Kenya National Bureau of Statistics, 38 of the country's 623 post offices have been shuttered between 2017 and 2019.
Workers at the corporation are now concerned that the company's remaining assets and revenues will dim even further, leaving nothing of the once giant corporation.