Why the real estate bubble burst won't happen soon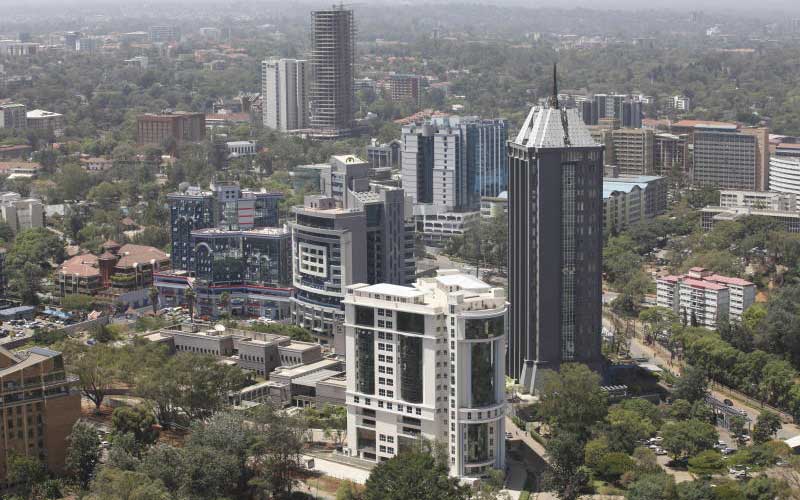 Many areas in Nairobi look like giant construction sites, with cranes towering over the skyline. The city is a major driver of the real-estate sector, which has been growing steadily since the start of the century.
The real estate comprised 13.8 per cent of the country's gross domestic product in 2016, up from 10.5 per cent in 2000, according to Kenya's National Bureau of Statistics.
Over the past decade alone, property prices in Kenya have grown five-fold, according to HassConsult.
It is not just malls that are sprouting up around the capital, but apartments, detached and semi-detached units, and bars and restaurants as well.
But now, questions are being asked as to whether it's all been too much, too quickly. Empty housing blocks and office spaces are a common sight.
According to property services company Broll Kenya, there are occupancy rates as low as 60 per cent in some buildings in Upper Hill and Westlands. An oversaturation of malls is also causing concerns.
In the past seven years, nearly 50 malls have been built in Nairobi, with 19 more under construction. The property sector has enjoyed strong growth for over a decade, with some investors, such as Centum which owns the Two Rivers project and Tatu City posting a six-fold return.
Some foreign investors are betting big on Nairobi's property sector.
Hass Petroleum and White Lotus broke ground in May 2017 on The Pinnacle, a twin-towered, multi-purpose building that is set to become Africa's tallest, at a cost of Sh22 billion.
Home ownership
But there are fears that the cost of housing is too high for the majority of Nairobians. The rapid growth of prices in the country's property market has made home ownership an unreachable goal for many people.
Despite the demand, many new units will remain empty. In some of Nairobi's attractive neighbourhoods – such as Kileleshwa, Kilimani, and Lavington – demand has reached a plateau. Savvy investors are rolling out more furnished apartments and are using the short-term rental website to keep them occupied.
While casual observers would see empty apartments as a sign of a stagnating market, others argue that they are a way of people choosing to extend the speculative phase to wait for better prices.
Is this a bubble? Will the local property market crash?
The answer depends on whom you ask. Some people argue that high prices of homes in Kenya are based on demand and supply, while others believe the prices are exaggerated and a major correction is imminent.
Housing bubbles starts with an increase in demand, in the face of limited supply, which takes a relatively extended period to replenish and increase.
One of the significant reason for a Bubble to occur is increasing demand that supersedes supply, which eventually leads to a property bubble as the prices rise to levels that are unaffordable by the public.
Marketing values
However, it can be argued that there is no bubble in the Kenyan market. Instead, the rising demand for land, fluctuating marketing values, and the rapid price increments show the rising phase of the local real estate market that is characterised by low supply, high demand leading to increasing prices.
The more than 44 million people and it's 4.2 million strong capital Nairobi acts as a gateway to a regional East African market, with a population of about 150 million people.
Thus, the industry has been accelerating at a rapid speed and making a substantial contribution to the country's GDP growth figures on the back of rising demand for multiple-use and residential developments.
Domestically, there is an increase in population, incomes are on the rise and economy has been outperforming attracting the interests of global funds and institutional investors.
More than 200,000 homes need to be built a year, but only 50,000 new units are being built annually, leaving around 150,000 Kenyans un-housed every year with middle-income earners in urban areas most affected.
In Nairobi, more than 67 per cent of all residents live in informal settlements.
The proportion of owner-occupied households in the urban areas currently stands at just 18 per cent, compared to 82 per cent in rural areas. Kenya has also been witnessing a lot of diaspora inflows.
The country received Sh163 billion in 2016 and it is projected to receive more. Over 60 per cent of this money goes to real estate with the other percentage going to support families.
The Kenyan market is thus not experiencing a bubble but the normal real estate cycles of rising demand, peaking market, falling market then bottoming out.
-The writer is a property lawyer