Local goods to get special preference in State tenders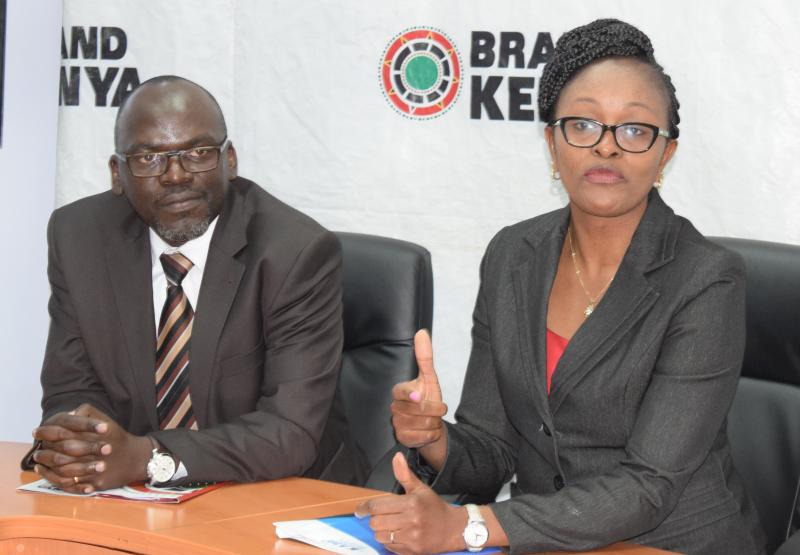 Brand Kenya acting CEO Damaris Ngugi addresses the press after signing partnership with Kenya association manufactures acting CEO Tobias Alando (left) that will synergize both the organisations efforts to authenticate and promote locally made products in local and global markets. [David Gichuru, Standard]
Manufacturers who adopt the Made in Kenya brand will be given preference when bidding for State tenders.
This follows a partnership between the Kenya Association of Manufacturers (KAM) and the Brand Kenya Board in a move meant to boost the mark's uptake.
Local manufacturers target a 40 per cent access to State procurement for locally manufactured products.
Brand Kenya Board Acting Chief Executive Damaris Ngugi said this is in line with the changes outlined by Treasury Cabinet Secretary Henry Rotich to the Public Procurement and Disposal Act that are friendly to local manufacturers.
"Manufacturers who embrace the mark will get preferential treatment in Government procurement automatically," she said.
Ms Ngugi noted that the partnership with manufacturers would improve the authenticity of the items as well as promote locally produced goods - both at home and abroad.
"The mark was developed to boost the manufacturing industry by authenticating all Kenyan goods and services for the local and international markets. It will be placed on all Kenyan products and comes with a promise of authentic, organic and high-quality products," she said.
Done online
Kam Chief Executive Tobias Alando said the mark would propel local brands, encourage patriotism and also help fight counterfeits.
"It should not be looked at as tax burden or a bottle-neck but as an opportunity for local manufacturers to market their products," he said. Ms Ngugi said about 24 companies are willing to embrace the mark and she is optimistic that by the end of next year, all local manufacturers would be on board.
Application for the mark will be done online. Manufacturers can visit Brand Kenya website and follow the procedures.
She said the process will be easy as most manufacturers had met most of the requirements such as a go-ahead from Kenya Bureau of Standards and had filed their income tax.
Alando said the promotion of local products would boost President Uhuru Kenyatta's Big Four Agenda which outlines manufacturing as a key pillar. "While Kenya is the most industrially developed country in the East Africa region, manufacturing only accounts for 8.37 per cent of GDP," he said.
The mark is tipped to boost the Buy Kenya, Build Kenya initiative by promoting a consumer base for local manufacturers.
It was launched by Deputy President William Ruto this month.