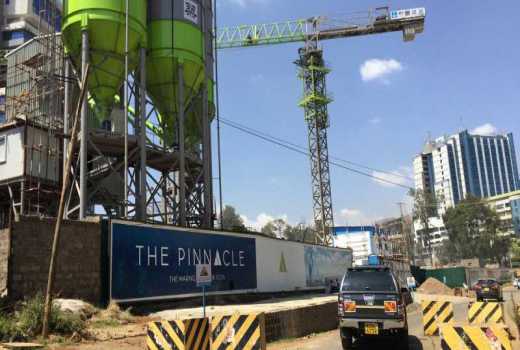 Kevin* has just moved his start-up into a new luxurious office block along the tree-lined Milimani Road.
At face value, you can't help but be impressed by the location.
The six-storey building is surrounded by trees and thickets sports wide, floor-to-ceiling glass entrances, granite floors, a stone perimeter wall, basement and ground parking with 24hr CCTV surveillance.
Five minutes to one side is State House, and to the other is the Arboretum with Lenana Road running just behind. I ask Kevin how a startup, recently housed in a co-working space can afford such prime location and the answer is unsurprising.
Besides, his startup occupying half a wing of one floor, the rest of the building is empty.
Read More
"Negotiating the leasehold was very easy and they (agents) were almost begging us to take it," he laughs.
All over Nairobi, bright red - To Let signs are draped alongside gleaming new skyscrapers laying evidence to a city in the throes of a real estate glut.
This glut is most poignant in the commercial property segment - the epicentre of which is Nairobi's Upper Hill district dubbed Nairobi's financial centre.
Formerly belonging to the State-owned Kenya Railways, Upper Hill has over the past ten years attracted a rush of investors and developers slowly transforming into a city within a city.
The migration has been led by financial companies, insurance firms and pension funds that had little difficulty putting together the heavy capital required, with land prices going for upwards of Sh600 million per acre, according to recent estimates by real estate firms Hass Consult and Cytonn Investments.
Hospital Road alone hosts the new headquarters of Britam Holdings - one of the tallest building in the country towering at 32-storey as well as Kenya Commercial Bank's 21-storey tower.
Opposite the two newcomers is Equity Centre, the headquarters for Equity Bank and previously the most prominent building on Hospital Road before the new towers came up.
As firms and developers race to put up new commercial property around Upper Hill, concerns are mounting that the city could be teetering on the brink of a costly property slump.
The oversupply of commercial property available for both purchasing and renting in the city against low demand is forcing owners and landlords to cut prices in order to appeal to consumers.
This is leading to significant losses and at the same time eroding the overall values of the prime assets raising questions on whether the property crash Kenyans have been warned about severally in the past is finally nigh.
The latest Hass Property Index covering the fourth quarter of 2017 indicates significant drops in rents and sale returns relative to previous years.
"Asking rents for all properties fell by 1.2 per cent in the quarter and overall fell by 3.9 per cent in the year," explained Ms Sakina Hassanali, head of development consulting and research at Hass Consult.
The highest declines in 2017 were reported in Lavington, Kileleshwa, Upperhill and Westlands where rental prices fell by 13, 14, 11 and 10 per cent respectively compared to 2016.
Ms Hassanali, however, explains that this is largely with respect to residential property where homeowners who occupied older buildings are moving houses as newer developments at similar price points enter the market.
This has particularly affected family apartments that are over-supplied in the residential property segment. A three bedroomed apartment in Lavington that could have rented for Sh70, 000 last year, for example, is renting for around Sh60,900 today.
Although the Hass Property Index cites last year's lengthened election period and an interest rate cap that reportedly cut developers' ability to raise funds, Ms Hassanali contents that a prolonged glut in commercial space in Upper Hill could hurt developers and landlords for the foreseeable future.
"Upper Hill is largely oversupplied, we've known this for a while now and I think it will take a few years for businesses to take up that amount of commercial space," she explains.
This self-correction – the point at which available demand grows and catches up with the available supply steadying the market – will take at least a few years spelling bad news for property owners hard pressed to repay loans lent on high-value projections.
"What you will see is prices flattening and rents reducing over time as some developers might panic," explains Ms Hassanali. "We've also seen people convert their buildings mid-construction where a property that started off as a commercial building is transformed into a hotel as the developers avoid adding on to the glut."
This means not only will building owners and developers have a difficult time to fill their leaseholds, the delay could also lead to depreciated values on their assets.
One property agent explains that landlords are cutting asking prices by as much as 40 per cent in some high-end office buildings. "I know buildings in Westlands and Upper Hill that opened with an asking price of Sh140 per square feet and are now taking as low as Sh100," he explains.
A spot check by the Financial Standard found that Upper Hill's two leading towers Britam Towers and the 33-storied UAP Old Mutual Towers are struggling to fill empty floors.
Despite the UAP Old Mutual Towers opening its doors two years ago, at least eight floors remain empty with the rest largely occupied by the parent company's Old Mutual and UAP Insurance offices.
UAP Old Mutual has employed the services of four real estate companies – Knight Frank, Broll, Regent and Axis – to help find tenants.
Britam Towers has also started letting - contracting Knight Frank, Axis and Pam Goldings to help with the difficult task of filling up its 32 stories.
Just next door is KCB Towers built by the bank's employees' pension scheme and is reportedly 90 per cent let, with the estate agents informing us that only the 12th floor is vacant.
One of the challenges that has made it difficult for the high-end office blocks to fill up is the fact that building owners insist on letting entire floors to only one tenant.
This is in contrast to similar property in the city's central business district where landlords allow sub-letting.
This makes it possible for smaller tenants to take spaces that fit their lean operations and budgets.
In addition to this, the minimum six-year lease period offered by most of the high-end office blocks further heightens the competition for tenants and adds more uncertainty as to how much longer the existing empty space will remain unoccupied.
Just down the street from the UAP Old Mutual Tower and next to the Rahimtula Tower stand giant concrete mixers and a steel crane excavating the foundation for what is set to be Africa's tallest building.
At 70-storey and 900 feet, The Pinnacle is expected to surpass Johannesburg's Carlton Centre currently towering over the continent at 50 stories and 223 meters.
The Pinnacle is expected to be completed by the end of next year and is developed by Hass Petroleum at an estimated cost of Sh20 billion.
The Pinnacle will house a new 45-storeyed Hilton Hotel, a five-star restaurant on the 42nd floor, the largest banqueting and conference facilities in Nairobi, a luxury spa and gym, and an open-air infinity pool.
The development also houses residential apartments spread across 42 floors in addition to five floors of retail space and a luxury mall spread across three floors.
Another 20 floors will be reserved for Grade A offices.
The lack of adequate Grade A office space – characterised by raised floors, certified green buildings, and parking ratios of more than four bays per 100sq metre - has been cited as one of the reasons that the existing commercial office space is taking longer to get tenants.
A recent report from Broll Property Group covering the first quarter of 2017 indicates that average occupancy levels for commercial space are lowest in Upper Hill at 61 per cent with Nairobi's Central Business District leading at 90 per cent occupancy. Karen, Kilimani, Mombasa Road and Westlands were reported to have 88, 80, 85 and 74 per cent occupancy respectively with the property firm saying developers were having a harder time selling than renting.
"Key challenges within the office market continue to be a slow increase in supply within new office locations such as Gigiri and Karen, a limited supply of pure grade A office developments in Nairobi as per international standards," said Broll in its report. "These challenges continue to limit higher rental growth in the market and continued delays in completing projects on time negatively impacts the office supply cycle."
According to Gideon Ngure, a marketing manager at real estate company PDM Holdings Kenya, there is a big demand for Grade A offices but little supply.
"We opened Vienna Court which is a pure Grade A development with 120,000 square foot in January last year and we are now at 70 per cent," he explains. "We lease for $1.5 (Sh154) per square feet and the demand from clients is above market and we expect to hit 100 per cent occupancy by the second quarter of this year," he said.
Property experts are however quick to allay fears of a serious bust in the commercial property market despite the stagnating demand and rising supply.
Infrastructure development
"We are seeing quite a lot of space coming onto the market in 2018 and lesser into the next year so we expect some of the oversupply to be reabsorbed as the economy recovers," explained Bob Woodhams, CEO of property firm Knight Frank, one of the leading agents for commercial space in the city.
Mr Woodhams said the supply of office space is expected to stagnate in the coming years - helping alleviate some of the supply glut. "In 2016 we had two million square feet coming on stream and last year this went up to 2.5 million," he explains.
"This year we expect 2.4 million square feet and this will go down to 1.5 million in 2019 so as the supply slows down, we expect demand to pick up and consequently a recovery in prices."
Mr Woodhams explained that Upper Hill is further disadvantaged due to its traditional congestion that should improve with infrastructure development in the coming years.
The district's proximity to the law courts, the central business district and the expanding infrastructure such as the upgrading of Ngong Road is expected to improve its viability.
"There is a lot of good quality space in Upper Hill but it's still suffering from congestion and this makes it a less popular location so if you give someone the option they would still pick Westlands over Upper Hill," he explained.
"Normally it would take six to nine months to let an office building in Westlands but now it might probably take between nine months to a year to fully let out the same."