Why some great Kenyan brands are slowly fading from the market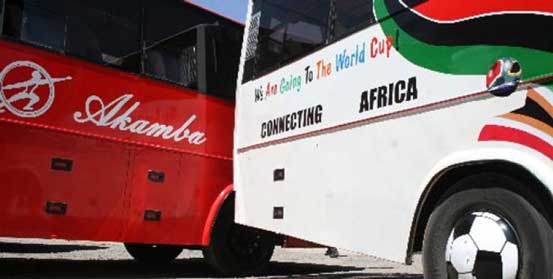 NAIROBI, KENYA: There was a time, two years ago when Achieng' did all her monthly shopping at Nakumatt Supermarket. She remembers wheeling the shopping cart between neatly arranged rows of shelves, slowly and carefully shifting her gaze from one shelf to the other.
Clean and spacious, Achieng says, Nakumatt offered her a certain shopping experience unavailable in other retail stores. And she loved it.
Among the foodstuff that she never failed to put in her shopping cart was Mumias Sugar. Just as she did not get into just any supermarket, she also did not buy just any sugar.
She loved Mumias Sugar though she couldn't really tell the reason. Never mind that shopping at Nakumatt and buying Mumias Sugar cost her relatively more compared to the other similar brands. It was worth it.
And she was not alone in her admiration of these two brands. In fact, the Superbrands East Africa survey of 2015 ranked Mumias Sugar and Nakumatt among the Top 10 brands in the country. Although Nakumatt was still featured among the top ten brands as recently as January 2017, it has fast been turning into a shell. The stores where Achieng used to do her shopping are ghastly empty. And the amiable employees in their trademark blue t-shirts who used to serve her with passion look disheveled and demoralised, ironically ashamed of the entry of a customer.
Her favourite brand of sugar, Mumias, disappeared from the shelves even before machines at its milling plant in Western Kenya went silent.
It was quickly replaced by nondescript brands which, though cheap, have not really gained Achieng's trust.
She has no particular preference or taste for the brands.
Captivating brands
And for shopping, she thinks she might just as well do it at the kiosk in her neighborhood.
"Look, every friend of mine used to shop at Nakumatt. And almost all of them loved Mumias Sugar, so I really don't understand why they are struggling," she says.
It is not just Nakumatt and Mumias Sugar that have won consumers' admiration, only to disappoint them for the long haul. There are several cases of brands that have become popular with Kenyans, only to suddenly disappear.
More business people have found it easier to build captivating brands, but difficult to put in place mechanisms that would ensure their posterity. The result is a situation where these brands continue to stand on flimsy grounds.
Nakumatt is reeling in huge debts that have seen it fail to pay suppliers.
While a number of reasons have been given for the woes facing the retail chain, they are moslty underpinned by poor management which has seen the business go down together with perhaps its most valuable asset: the promise of good shopping experience to its customer.
Not long ago, Chase Bank, currently under receivership, was a darling of small and medium enterprises (SMEs). Not only had the lender aggressively sold the narrative of being the best SME bank, customers who banked with it agreed that it had a brilliant proposition for SMEs.
So much that prominent organisations such as the United Nations Sacco also banked with them.
Indeed, by the time things went bad for the bank, it had already secured a Sh5 billion line of credit from the African Development Bank which it was supposed to use for lending to SMEs.
The bank had also been named Best Company to Work for in a survey by audit firm Deloitte East Africa. Unfortunately, its financials were not as rosy as its brand.
Financial reports alleged cooking of the bank's books, triggering a run on deposits that saw Central Bank of Kenya place it in receivership.
There are many other instances of good-brands-gone-bad. Kenya Bus Services (KBS) was one of the most popular transport firms in the country, just as Akamba was popular for transporting passengers. Unfortunately, both collapsed.
Though there have been efforts to resuscitate KBS, it has not really been successful. XN Iraki, a lecturer at the University of Nairobi opines that these businesses have not been branding.
"I would call it window dressing not branding," said Iraki, noting that real branding increases firm value and ensures longevity.
Dr Iraki cites such brands as Apple, IBM and Virgin as examples of those that have been built for posterity.
"I asked this question sometimes ago: How comes once a Kenyan brand seems to be doing very "well" trouble follows? For example Uchumi, StageCoach, Mumias, Nakumatt . Great brands are built on sound economic and management fundamentals, not public relations."
Prof Justus Munyoki, who teaches brands and marketing at the University of Nairobi, noted that in most of these cases, the brand collapses when stakeholders, such as employees, do not own the brand. "So, you find employees calling the brand 'this thing,' instead of 'our thing," he says.
Indeed, there have been cases of employees stealing from the company with impunity, because, as Munyoki puts it, "they don't care whether the company collapses or not." He says that succeeding companies have tried to let even customers own the brand by diligently communicating about it to them.
For example, charitable events such as Equity Bank's scholarship are only meant to make the customer believe that if the bank succeeds, we also succeed.
Dr Iraki suggests that companies outsource branding functions, just as companies have done with other functions. "If we can outsource other functions, why not branding ? This will avoid branding to hoodwink investors and other stakeholders or just massage the ego of the CEO or managing director," suggested Iraki.