Why Safaricom is betting on big data to rake in billions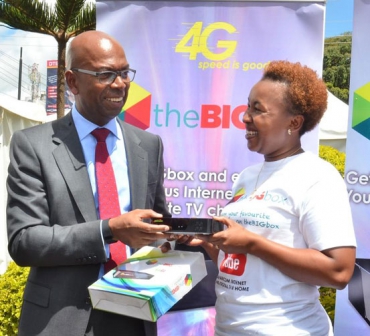 Safaricom CEO Bob Collymore with Sylvia Mulinge General manager Consumer Business during the unveiling of Safaricom TV
SUMMARY
Safaricom is strategically positioning itself for the fortune where big data will form the bulk of revenue for telecommunication companies.
Telco's recent deals and investments signal where the service provider will be turning for revenue in the future
Big data is increasingly considered as the 'black gold' of the information age that has seen most activities become ditigised.
Pioneers in the sector, mainly the big five technology giants - Google, Facebook, Amazon, Microsoft and Apple – are turning the hundreds of terabytes of data generated through their platforms each day into revenue.
The business model is sustainable and builds on itself. In the operations, tech companies provide an online platform where users can obtain different services such as photo sharing and publishing, navigation, search among others.
In return, users pay for these services by accepting to cede their data in exchange for the services. The more users log in the service, the more big data is generated giving application developers more insight on how to attract more users for more data creating a cycle.
Revenue basket
Safaricom is strategically positioning itself for the fortune where big data will form the bulk of revenue for telecommunication companies.
While earnings from voice continue to make a large part of Safaricom's revenue basket, growth has plateaued in recent years. According to company financial reports, growth in voice revenue has fallen from 8.5 per cent in the 2008/2009 financial year to 2.9 per cent recorded in the last financial year.
In fact, average earnings per user from voice, went down five per cent in the last financial year - from Sh305 in March 2016 to Sh291 in March this year.
This is what is informing recent deals and investments by Safaricom, signaling where the giant service provider will be turning to in growing revenue in future.
With M-Shwari and KCB M-Pesa, Safaricom has already demonstrated how M-Pesa data can be used to create successful financial products. Safaricom last year revealed that an average of two loans are processed every second on the M-Shwari and KCB M-Pesa services averaging Sh1,500 to sh2,500.
"A lot of these loans are taken at the crack of dawn," explained Collymore, while presenting the firm's financial results. "They are taken at 4:00am by traders who want to buy some stuff, go sell them and by 7:00am, they have probably repaid the loans."
Financial products
Information mined from such data is useful in creating targeted financial products limiting trial and error and allowing the firm to maximise on available resources.
Last week, Safaricom revealed it is working to launch an online commerce platform known as Masoko that will be modeled along America's retail giant Amazon.
"This offering will not be holding inventory and neither will it be an anyone-can-sell arena," said Safaricom Chief Executive Officer Bob Collymore in an interview with Bloomberg recently. "Safaricom is carefully screening all the merchants before giving them access to the platform."
This model, also adopted by Chinese online retailer Alibaba, relies on big data generated by both sellers and customers to create strategic insight into trends in online retail that can be used to improve products and user experiences.
Amazon knows more about its frequent users than many of them probably understand.
From analysing browsing and purchasing data, Amazon can tell when their users are running low on frequent supplies, what items they are likely to buy and which ones won't be bought.
This data is vital for retailers and can net handsome rewards for tech firms. Alibaba, the world's largest online and mobile retailer in the world, recently entered a partnership with Pepsi to have the later leverage on the former's vast digital reservouir.
"Through this collaboration, we will fully take advantage of Alibaba's platform and data to carry out more innovative experiments, perfect PepsiCo's products and services, and enhance online consumer experiences," PepsiCo CEO and President Mike Spanos stated.
"Our joint effort with Alibaba will help us lead the ever-changing consumer trend and better serve Chinese consumers."
Safaricom will be angling for this type of revenue stream for Masoko once the e-commerce site generates enough traction amongst both sellers and buyers to create the required critical mass that can generate insightful data. Apart from the retail sector, Safaricom could also tap into its partnerships and investments in several other sectors to gain competitive advantage.
Safaricom's partnership with Little, the ride sharing app developed by software firm Craft Silicon, positions the firm strategically to reap from valuable data on the country's transport sector.
A big reason behind Uber's $69 billion (Sh7 trillion) valuation despite making $700 million (7o billion) in loses in the first quarter of this year is the treasure trove of transport data it has from major cities around the world.
Early this year, Uber launched Movement, a platform that published anonymised data (data from which the patient cannot be identified by the recipient of the information) from more than two billion trips across the world that can help city authorities with transit planning.
Safaricom's other investments and partnerships in health through it's M-Tiba platform and Linda Jamii service are also vital in providing the firm an edge on gaining vital data on the healthcare sector.
Data on key indicators such as access to health services, frequency of users' access, common illnesses and demographic spread can all be gleaned from analysing users' data on these platforms.
Safaricom's recent announcement that it will be opening a music streaming service is also another strategy that will see the firm establish itself in the lucrative digital streaming service currently reaping billions of shillings for firms such as Apple and Netflix.
It is also becoming more urgent for telco, the market leader in Kenya's digital economy, to re-position itself for the growing big-data economy.
In addition to falling incomes from traditional sources, increasing regulatory and competitive pressures are other catalysts that are driving Safaricom's shift.
In June this year, the government directed telecommunication service providers in the country to establish a mobile money wallet that will be interoperable across networks.
Interoperable mobile money transfer is expected to dilute the strategic advantage in terms of users and merchant network that Safaricom has with M-Pesa.
In addition, several service providers are slowly chipping away Safaricom's key revenue gold mines; data and money transfer.
Last month, Visa announced the launch of mVisa - a mobile payment app seen by many as a threat to Safaricom's Lipa na M-Pesa service.
The app allows consumers to make payments through either scanning QR codes or special USSD codes in the case of users with feature phones with transactions free of charge.
Already, consumers belonging to several banks including Cooperative Bank, Family Bank, NIC and KCB can use mVisa on their networks with several merchants reportedly coming on board.