From school dropout to cake boss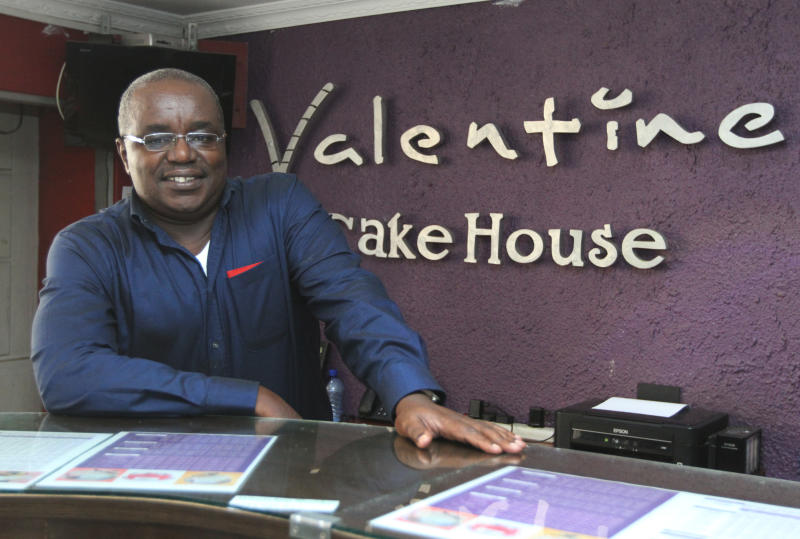 Mathew Gathua is a high school dropout. Not out of choice, he points out, but because back then, fortunes were not smiling down on his family. But today, seated behind his desk with an array of trophies displayed on a table, one can tell that the fortunes have changed.
The award-winning baker behind Valentine Cake House is celebrating 20 years of excellence.
Valentine Cake House was last year listed by KPMG among top 100 mid-sized companies.
Today, Valentine Cake House has 20 branches countrywide, with the 21st one opening soon in Eldoret. The 50-year-old recounts the rough journey that has led to the present.
Where did it all begin?
When I dropped out of school, I did a stint as an amateur mason in Kiserian. Then an uncle who worked at the coast invited me to Mombasa to be a kitchen hand at a friend's restaurant. It was while doing the dishwashing duties that I interacted with bakers, whose work station was next to mine.
I would watch them closely as they did their thing, and in one year, I was promoted to assist the bakers. For two years, up to 1992, I worked at Golden Beach Hotel. I then got a job at Intercotinental Hotel where I worked for a further two years. I job-hopped a lot.
Was there a reason for the job-hopping?
I believed, still do, that when I reach my comfort zone somewhere, then it is time to move on because if I stay, I am not getting any new challenges or even a promotion.
When did you start out on your own?
In 1996. I quit employment, having saved Sh27,000, which at the time was my three-month salary. I used up Sh26,000 buying an oven and borrowed a mixer from a friend.
With his skills and from his small room, the self-taught baker made cakes that he sold at Sh10 a piece at school gates and at the Kenyatta Public Beach. I would sell two tins a day, each with 36 pieces, making profits of approximately Sh420 a day. I was doing well, but soon after, I had to go back to employment.
Why?
My mother was hospitalised at Kenyatta National Hospital. And by the time she died, my savings had been gobbled up by trips to visit her. So I looked for a job in Kilifi in 1997. As I was settling into my job, a Sacco called to inform me that I would be receiving my late mother's savings as her next of kin.
With the Sh30,000 they sent me, I bought a mixer and opened a small cake shop in Bombolulu. I had one employee then. I called the little shop Valentines because when I travelled to Nairobi around February 14, I would be awed by how much red was on display in the city. It fascinated me. So the name was fitting.
When did you move to Nairobi?
This happened in 1999. I realised that the cakes we sold in Mombasa at Sh8,000 retailed at almost thrice the price in the city. There was a lucrative market in East Africa's business hub.
When I moved to Nairobi, I had to get a job because I realised that my capital was not nearly enough. Luckily I got a job at Sarova Panafric, where I worked for two years until I had enough money to set up in Ongata Rongai. The store is still in operation.
How did you move from one to 20 outlets?
Slowly. The fact that I had worked in the hotel industry for a while meant that it was easy for me to get referrals to new clients. Then I participated in an expo at KICC, where I distributed cake and business cards like candy. At Rongai, I delivered cakes to Catholic University, who were my biggest clients. Most of my customers were referrals though. In 2005, I felt I was ready for a second outlet in town and so I opened shop at Old Mutual building. I needed to be closer to my clients.
Loan or savings to finance your business; which should aspiring business people consider?
Not loans. That is from experience. I once took a loan of Sh100,000 to operate another cake outlet in Komarock and it flopped. I was supposed to be paying back on a weekly basis and it was such a struggle.
I was often hiding from the agents. I only managed to pay the loan later and it had gathered interest by then. Small savings and small beginnings are better than taking loans.
What is the biggest challenge you have faced running the business?
That would be high taxation. Also, lack of incentives to afford the industry access to low, or no-interest loans. I run a transparent company, contributing to fighting unemployment and also chipping into the economy through taxes. But the taxes are too many and some too heavy.
When we delay on taxes, they are on our necks, and yet we don't even have access to credit for expansion or mitigation of unforeseen circumstances. I would appeal to the government to come up with incentives through which we can borrow money at no interest. That way, we will honour our taxes and pay off our loans while creating employment opportunities.
Actually, some unregistered bakers who do their work from home reap greater benefits than most established bakers as they do not pay taxes and create little, if any, employment opportunities.
How have you managed to remain relevant all these years with the stiff competition?
Through resilience and hard work. The market is very competitive, as many people love copying what others have done. But consistent quality is a customer magnet. Newbies in the business should not forget to leverage on social media for advertising and should never be tempted to stop advertising.
You also have a school. What prompted that?
In 10 years, I have trained over 12,000 bakers. I wanted to teach others like I had been taught. We have over 10 students at a time.
The course lasts three to four months. After the first few sections of the course, a student should be in a position to bake a cake, sell it and pay their fee in full. It is my way of giving back because I was given opportunities too. Through my Naomi Kairu Foundation, 126 students have completed high school, some proceeding through university. We also adopted St Luthma Children's Home in Ruiru half a decade ago.
What is the one thing you know for sure about making business dreams come true?
For 9 years, I admired a photo of a BMW convertible, my all-time dream car. That is the photo you see stuck there on the table. Today I drive one just like that. If you do not have a big dream, you will never make anything out of yourself. Becoming successful was always my motivation.
Maintaining oneself at the highest level is one of the greatest challenges. Mandela was in prison for 27 years. Think about what you can do in those years. Yet he came out and still found purpose in life, and achieved his dream as an old man. I tell the youth: you are not in prison, so maximise that time.
How has the business been affected?
Weddings and other events ground to a halt with the onset of Covid-19 and demand for cakes has thus greatly tanked.
Have you had to make changes?
I have been forced to lay off 60 of 280 workers, with the rest working in shifts. But I'm optimistic the future is bright. Soon, things will improve. You cannot lose hope in business.
You have to keep trying. That determination is what makes one better going ahead. When I see other people holding on, it gives me the courage to keep trying.