I hit pay dirt with seedlings – then nearly lost it all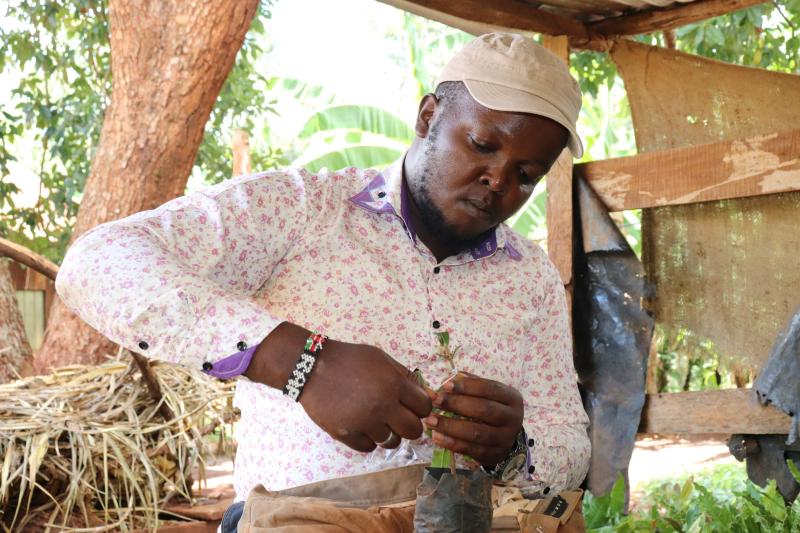 Opportunity favours the prepared. It's a mantra Morris Gakuru, who runs a tree nursery, lives by.
By 2012, Morris had tried running several businesses, including masonry, selling second-hand clothes and operating a boda boda. However, none of them brought in enough money to stop him living hand to mouth.
But he was nothing if not determined. Morris had dropped out of school in Form Two due to a lack of school fees. In the time since, he'd learnt the value of hard work and perseverance.
So when a community water project reached his maternal grandmother's home in Kamiu in Embu County, nothing was going to stop Morris from getting into agribusiness.
Getting started
With Sh20,000, he planted and grafted 1,000 seedlings on land he'd been allocated in the home.
"I used soil from the farm and bought manure from my neighbours. I moved around the village carrying a sack so I could collect mango and avocado seedlings from farmers," says Morris.
"When the seedlings germinated and grew to an appropriate height, I hired someone who grafted them as I watched and learnt."
When the 32-year-old sold those seedlings at a minimum of Sh100 each, he knew he was on to something that could be big. So he scaled up production.
From every sale, he'd plough back the profits to increase the quantity of seedlings he had and the variety he was offering.
This strategy has birthed a nursery of neatly arranged seedlings that occupy most of the space in his grandmother's farm.
The nursery, which Morris calls Branded Namor Horticulture Nursery, has more than 200,000 seedlings that include grafted avocadoes, mangoes, macadamia, oranges, apples, trees and flowers.
The un-grafted seedlings stand out with their blossoming green leaves, while the grafted ones have a characteristic scar at the joint between the root stock and the scion.
The secret
At the time of this interview, among Morris' stock were 60,000 Hass avocado, 80,000 macadamia, 20,000 mango and 5,000 passion fruit and lemon seedlings.
His nursery is certified by the Kenya Plant Health Inspectorate Services (Kephis) and Horticultural Crops Development Authority (HCDA).
Morris credits his success in the seedlings business to good planning and timing.
He ensures that every rainy season, his nursery has thousands of seedlings to meet demand.
But that's not to say Gakuru's journey to success has been flawless. In 2015, he nearly lost his investment after a gang attacked him at night, stole from him, beat him up and left him for dead.
After months in a hospital bed, he left the facility confined to a wheelchair and with a medical bill of more than Sh1 million.
The recovery
His business had suffered while he was away, but as soon as he got out of hospital, he'd be wheeled to the nursery to oversee operations as often as he could manage it.
"I kept selling seedlings and the proceeds from the nursery paid 80 per cent of my hospital bill, while friends and family paid the rest," says Morris.
He's since moved from a wheelchair to using crutches.
"I have seen the hand of God from the time when I was confined to a hospital bed with severe injures and facing an uncertain future to today, when I'm almost fully recovered and my business is thriving."
He now needs one major operation to be able walk unaided by crutches, but the surgery isn't cheap, so he's saving up for it.
Driven by this goal, his nursery is a beehive of activity every day as about 10 workers move about either watering the seedlings, putting soil in planting bags, grafting seedlings or attending to customers.
"Selling seedlings is like trading in soil. The soil from the farm can't support this business, so I buy it from farmers. I also buy high-quality manure that I mix into the soil to fertilise the seedlings properly," Morris says.
And then there's the grafting, which he says is not something just anyone can do as it's a delicate procedure that requires experienced hands to incise a Y-shape cut on a root stock and a V-shape cut on a scion.
Seedlings also require a constant water supply, and fortunately for Morris, his farm is served by the Kamiu-Kavanga irrigation project. But not all his customers have the same fortune.
"When the weather is favourable and rains come as expected, the seedling turnover is high. However, due to climate change, the rains tend to delay so sales plummet."
Given his past experience, Morris is wary of saying how much his business brings in, but admits his earnings have enabled him to purchase land, a vehicle, buy dairy cows and set up a mini-mart.
"There's money in agribusiness for those who don't mind the dirt. I would urge even educated youth to venture into it instead of complaining about joblessness," Morris says, adding that the Government should support youth-driven agribusinesses by advancing capital and buying their produce.