Chef Ali: Early run in kitchen has paid off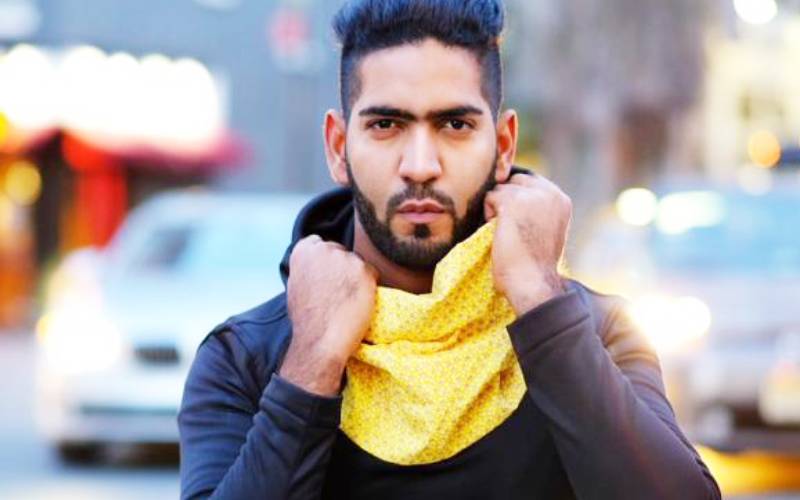 "As a child, I spent a lot of time cooking with my grandfather. He taught me many special recipes and how to buy the best quality ingredients," says Ali Mandhry.
"I wish he was here today to see how his teachings shaped my life."
At the young age of 17, Chef Ali was selected to prepare a meal for a former president at Sarova Whitesands. At 23 he got his own cooking show, Tamu Tamu, with Nation TV and later Celebrity Kitchen Raid with Zuku.
Since then he has travelled the world, appeared on talk shows, radio programmes and international baking conventions. Today he appears on a TV breakfast show and on radio where he shares recipes and cooking hacks.
Ali shares his love for food and all things cooking with Hustle.
Being Muslim, you come from a culture where men don't traditionally handle the kitchen. Did you face criticism for your passion?
I did from some relatives, but mostly I had great support from my parents and my grandfather, Adam Jarady, who I spent hours with in the kitchen. My parents saw my passion and supported me, sending me to Utalii College straight after high school. My grandfather died when I was doing my finals. It broke me but I also knew that I had to make it, for him.
I went on to intern at Sarova Whitesands, Mombasa. The Chef, Yogen Datta, was hesitant to take me on because I was just over 16 at the time. I told him I knew what I wanted to do with my life and had no interest wasting time on partying or drinking like so many people my age were doing. He took me on.
You were young, how did you withstand the pressure?
It wasn't easy. Executive chefs are typically very hard on trainees; they yell, they tell you off, they never spare you. But that's because the kitchen is a crazy environment. If you cave under pressure, you're in the wrong profession.
The first duty I was given was washing dishes. I had never washed dishes in my life. When I got home and told my mum, she asked me if I still wanted to work in a kitchen. I said yes, I was ready to do whatever I needed to do.
After a week of endless dishes, Chef Yogen told me I'd passed his test and started me on cooking stations.
Many chefs would have opted to stay in the hotel industry, why didn't you?
Right after graduating, Utalii gave me a teaching position. I was 19 and very honoured that they trusted me with their students. I also liked that flexibility of time which allowed me to explore other things.
I was approached by Nation TV to host a cooking show, Tamu Tamu. What I made from one day's shoot was equivalent or more than what I was making as a teacher for a month. I couldn't believe it.
After that show, I hosted Celebrity Kitchen Raid on Zuku TV, where we would go into a celebrity's house and cook something with them.
Who was your favourite celebrity to cook with?
Many were interesting like Fareed Khimani and Kalekye Mumo. But one of my best ones was Collins Injera, because he really got into it. We made a strawberry trifle and baked a cake.
Are you also a pastry chef then?
Yes, I am. When I was 12, I'd bake cakes for my classmates' birthdays and make some money from it. Later as a teen, I would post pictures of my cakes on Facebook and some officials of a convention that takes place in Virginia, USA saw my pictures. I was invited to the National Capital Area Cake Show. I got the International Hall Of Fame Award, given to people who have shown great skill in unlikely situations. I was the first person to win the award. I attend the convention every year.
Have you worked with other celebrity chefs?
Yes. Jamie Oliver, a renown British chef who received an honour from Queen Elizabeth for his work with disadvantaged youth. He is also famed for revolutionising healthy eating in schools. I worked with him to promote the same concept in Kenya, where we travelled to several schools, educating them on using natural organic options for their student meals. I did this between 2015 and 2017.
My all-time honour, however, was appearing on a show with Osama El Sayed, a chef based in the United States and Dubai, famed for improving poultry and meat handling standards. He also orchestrated a banquet for President Bill Clinton.
My adoration of him though came from my childhood. My grandfather and I watched all his shows. I tweeted about how he inspired me, and he saw it and invited me to join him on his show.
We were live on TV in Dubai and he introduced me as 'this remarkable chef from Kenya'. It was iconic.
Has your road to success been that easy?
No chef has it easy, but I've taken my challenges in stride. I've picked the right path for my personality. I love food and I love people. It makes my day when I'm walking in the market and someone stops me to ask about a recipe. I take selfies, sit and chat with complete strangers about cooking. That's fulfilling to me.
What's your signature dish?
Chicken or beef biriani and samaki wa kupaka. My dishes are typically Swahili since that's where I was born and raised. I use the tastes and textures from my culture but also pick things from my travels around the world.
You've been in the food industry for a while, what are some of the things you'd like to see done differently?
One of my passions is to reduce food wastage, particularly in the hotels. This is another reason I opted out of working in hotel kitchens. Food that comes back to the kitchen after a buffet, for instance, is all thrown away. It is not given to the staff or donated to charities. I know part of the reason is the argument that food easily gets contaminated, but why not handle food in a way that it is still palatable at the end of service, and then send the surplus to those who need it?
I am part of an initiative called Global Goals that is run by the United Nations, a list that the world hopes to achieve by 2030. The second goal is zero hunger.
How did you become part of the initiative?
They were looking for chefs who could champion the cause against hunger. Since I came from Kenya and we are a country challenged by food security, I made a good fit. Working along other chefs, I've travelled to Stockholm for the Eat Forum and other cities, as we share ideas on how to put food on every table around the globe. One obvious solution is to stop wastage.
What's in store for you and your brand?
The very top; Jamie Oliver, Gordon Ramsey. I want to represent Kenya globally, using my influence to champion causes like encouraging young people to follow their passions and also, spread the news and activism to feed the world.