How to make millions from bamboo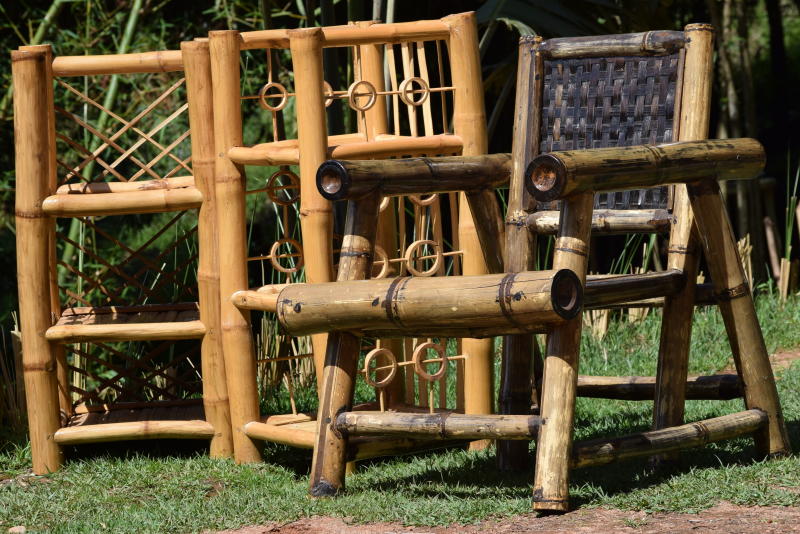 Mr Boniface Soli, 55, has been working at the Kenya Forestry Research Institute (Kefri), Muguga along the Nakuru-Naivasha highway, for over 26 years. This experience convinced him bamboo farming is one of the most lucrative businesses one can engage in.
"A harvest can bring in millions of shillings. For instance, we sell one bamboo stick at Sh40 and in a month we can have orders for about 200,000 pieces. This means that we can make about Sh8 million that month," he says.
Mr Soli adds that bamboo seedlings cost Sh200 and are in high demand.
"We plant them in greenhouses, and in less than six months, you can start cutting bamboo sticks for sale. In about four years, the trees have matured for harvest."
From putting food on your table, paper in your printer, a floor under your feet, furniture in your house and a fence around your compound, bamboo has plenty of uses.
It is used in construction, makes charcoal, pulp, boards, cloth, furniture, food, fuel, medicine, utensils, matchsticks, toothpicks and crafts.
In construction, bamboo can be used to build most sections of a house, and as flooring, it provides a more flexible, smooth, bright and stable alternative to wood. It also has high resistance and insulation qualities.
In countries like Indonesia and China where it is in high supply, bamboo is used in water desalination, providing a filter that sieves the salt from water.
In Kenya, the sap from shoot tips is used for brewing an alcoholic drink dubbed ulanzi, which has about 5 per cent to 5.5 per cent alcohol content, and is similar in taste to beer.
"We sell two varieties of products — laminated and culm products. Culm products refer to unprocessed bamboo, which makes items such as seats and beds," says Mr George Migom, who works at Kefri's Karura workshop.
A two-seater couch made with culm bamboo retails at Sh8,000, with a one seater being sold at about Sh6,000.
"We also sell curtain blinds made with bamboo that cost Sh2,500 per square metre, while a complete coffee set made with a table and four stools costs Sh25,000."
Bamboo does well in average annual temperatures of about 20 to 27°C.
According to a Kefri senior scientist and bamboo expert, Mr Gordon Sigu, the most prevalent bamboo species in the country is the alpine bamboo, which occurs naturally in the highland ranges and mountains of Eastern Africa.
"Before planting bamboo cuttings, the seedlings are raised in a nursery for six months," he says.
A bamboo tree can grow up to 30 metres tall, 30 centimeters in diameter, with walls 2.5 centimetres thick. Each clump is harvested once or twice a year.
"This is not just the poor man's timber, it's green gold," Mr Sigu added.
And this is something Mr Juvenales Njuguna has seen. About 10 years ago, he bought a 20-hectare piece of land in Isinya. He used it to engage in several agricultural activities, among them rabbit and pig farming, but they flopped terribly. In his quest for a profitable venture, his neighbour told him to consider bamboo farming.
He did, and today, Mr Njuguna has amassed a fortune he says is in the millions of shillings, and has employed 20 individuals to oversee his bamboo plantation.
He is well known among bamboo farmers, having farmed more than five million seedlings, which he sells to farmers who mostly use the trees as windbreakers around greenhouses, and traders who use it to make finished products like furniture.
"I usually grow solid bamboo, which is a drought-resistant shrub and can thrive with minimal annual rainfall," he says.
Njuguna sells bamboo poles at Sh400, bamboo mini-clumps at Sh500, seedlings at Sh200, bamboo plantlets at Sh50 and bamboo sticks at Sh35.
He says that to grow bamboo, one needs to plant seedlings in the centre of a hole with one foot of top soil to the right, and other foot to the left. And use plenty of water.
"On one acre, you can plant between 160 and 240 seedlings, depending on the space you leave on the edges.
"Bamboo clumps that are meant for the production of edible shoots, animal and chicken fodder are planted on a spacing of 2 metres by 3 metres. The same spacing can apply to bamboo clumps being planted on wetlands or soggy land," Njuguna says.