GoBeba: Why ex-OLX CEO is still betting on eCommerce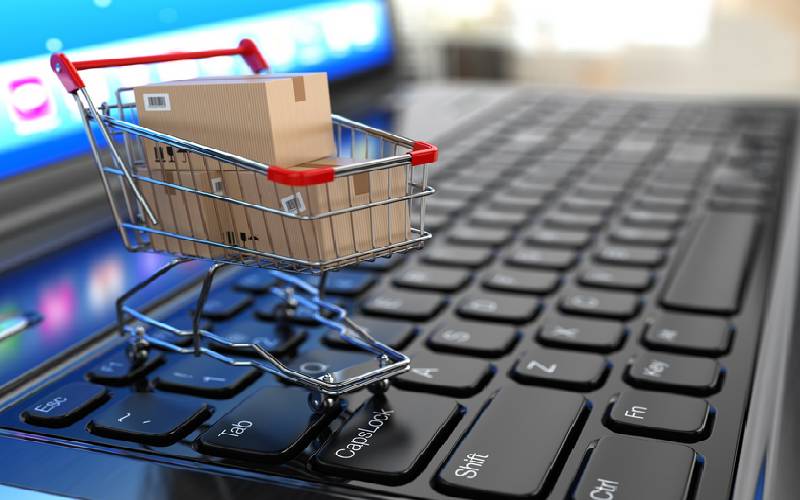 "If anyone in eCommerce thinks they have enough market share to settle back and relax, they'd be very mistaken. There is no competition in the Kenyan eCommerce platform because none of us have begun to scratch the surface," says Peter Ndiang'ui.
He's the co-founder of the on-demand logistics platform GoBeba, and a former CEO at OLX, which closed its physical offices in Kenya last year.
GoBeba specialises in delivering groceries and gas to homes and businesses. Their customers access their services via a web platform and voice calls, with deliveries guaranteed within the hour.
GoBeba is looking to leverage on the combined 30-year experience of its co-founders Peter, 41, and Leslie Mbogo, who's a former head of product at Amazon USA.
Peter spoke to Hustle on what inspired the duo's decision to walk away from seven-figure salaries and start their own business in Kenya.
Everyone seems to be diving into eCommerce. Is there risk of the sector getting overcrowded?
We're a long way from that. Our consumer spend is approximately Sh3.5 trillion to Sh3.8 trillion shillings annually – eCommerce currently takes up less than 0.8 per cent of the market share in Kenya.
When we compare that with developed countries, we can project how much room we have for growth.
In the UK, digital spend is at 13 per cent. In the US, it's at 10 per cent and in India, which mirrors the Kenyan market more, it's 1.5 per cent to 2 per cent. Being that Kenya is one of the leaders in digital growth in sub-Saharan Africa, we have the ability to scale up our numbers.
Is this what informed your decision to start GoBeba?
I had worked in the digital space for more than 12 years, eight of those in Australia, and then I moved back to Kenya to take up the role as founding CEO of OLX, bringing the company from zero to 100 million consumers in five years.
I felt there was a window in which I could branch out to do my own thing, and if I didn't take it, I would be stuck in a comfort zone and fail to get out. When I found the right business partner in Leslie, who had a similar background and vision, we jumped at the opportunity to build something together.
Did you know exactly what you were going to build?
We were interested in the digital platform because that was our expertise, but we kept our minds open. The idea was to find a significant problem to be solved and marketed in a large way. We did our research and came up with delivering groceries and gas to homes and businesses.
GoBeba has both the digital and voice option for customers to process their orders. What informed this decision?
It was very deliberate. Our service is about solving the logistical nightmares of distribution and fragmented retail in developing urban cities.
To do this, we had to reach customers at their convenience. An online platform was the obvious way to go. However, in Kenya, and most of Africa, consumers still want to hear a human being on the other side of the call. Therefore, we opted to include voice calls as a part of our service.
It's interesting that in this market, even after a customer places an order online, they'll call to ensure their order is being processed. This is likely born from distrust because of systems that haven't served our customers well. We want to change that and walk our customers slowly into the digital world.
How did you roll out your plan?
Cheaply, at first. Many entrepreneurs make the mistake of investing heavily in a concept that hasn't been tested, and then realising down the line that their vision and the vision of their potential consumers is very different. You can correct course, but it's usually an expense that could have been avoided.
For instance, we went on Facebook to advertise our services and got zero customers in the first two weeks. This cost us about Sh10,000, so we weren't shooting ourselves in the foot. We then got the idea to place a poster at a petrol station and acquired 10 customers in two weeks.
We didn't get caught up in the fact that we were an eCommerce platform. If advertising using traditional methods worked, why not incorporate that, too? Always follow the customer that was the core of our roll-out plan.
What's your growth been like since that petrol station poster?
Retail is vastly about acquiring and retaining customers. Our growth curve had to be determined based on the cost of customer acquisition versus the value return of that customer. As a guideline, the 12-month value of a customer needs to be at least five times the cost of acquisition.
For instance, if it cost me Sh100 to get a customer and I sell them 10 cylinders of gas over 12 months, and my commission is Sh100 per cylinder, then my profit from that customer would be Sh1,000. This equals 10 times the investment of Sh100. That's business sense.
Is the formula working for you?
It is a gradual build up, but yes, the formula works. We launched in October 2018, by December we were merchandising Sh300,000 worth of goods per month. Currently, we're at Sh5 million. Our growth rate has been 10 per cent to 15 per cent weekly.
Aside from sticking to the formula, what else would you attribute your growth to?
Learning the business before jumping into it, and working the problem from the ground up. Leslie and I left lucrative jobs where we had numerous people working under us. Now, we had to do everything. It's humbling, but you also learn the ropes in a way no one can teach you.
In the beginning, we did deliveries ourselves. I remember having to get a smaller car because my personal one was too fancy. We laughed at what a customer would think if they ordered flowers and they were delivered in a four-wheel drive.
We had to make many adjustments and just do the work. Starting out for us was more labour intensive than it was capital intensive.
How much have you used to date?
We have got approximately Sh10 million in investments and used Sh5 million.
With that, we've built a customer base of 1,000 served by seven staff members and 100 crowd-sourced riders. We keep five of them in-house for quality assurance.
What were your main challenges coming from representing a multinational company to going it alone?
The biggest one was building a reputation. Leslie and I were so used to flying the Amazon and OLX banners that it never occurred to us that we would walk into a petrol station to pitch our idea and be asked who we were.
We had to gain trust from scratch, despite our credentials. We also had to keep ourselves extremely motivated so that we weren't tempted quit.
You see, at any one time, if we wanted, both of us could get hired again at top levels almost anywhere in the world, from London to San Francisco.
What makes you stick it out?
We have a big enough goal. Our vision is to be a part of the growth of a digitally-enabled industry and drive eCommerce to between 5 per cent and 10 per cent market share in 30 cities in Kenya and sub-Saharan Africa.